Pathaan is everything a spy thriller should be and Shah Rukh Khan is our own Ethan Hunt
Directed by Siddharth Anand, Pathaan stars Deepika Padukone, John Abraham, Dimple Kapadia and Ashutosh Rana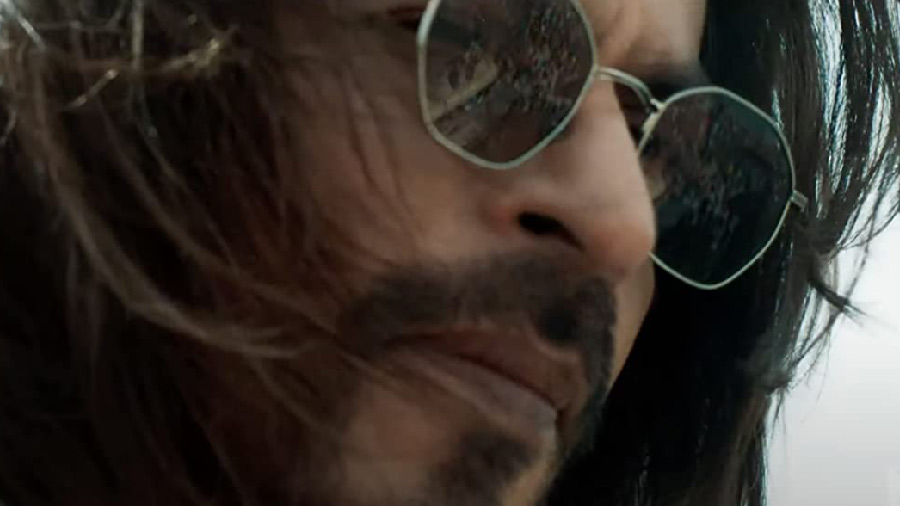 ---
Calcutta
|
Published 25.01.23, 05:35 PM
|
---
Good news Bollywood buffs! The King is back and so, it seems, is Bollywood. 
Pathaan is everything you could want from an action spy thriller — non-stop action, over-the-top action set pieces, a powerful lead, a formidable villain, stunning locations, a bikini-clad femme fatale, humour and a quotable dialogue every other minute ("Ghungroo toot gaye Rafe… naach" and "Mausam bigarne wala hai Rafe, apni kursi ki peti bandh le" are two from the opening act itself and the few that were not completely drowned out by the loudly appreciative audience cheers).  
There is also the lack of a cohesive story and a need for the willing suspension of disbelief (questions like don't you have to chart flight plans in Moscow, or, how did the pilot know where to look for the terrorist device will occur), but then that is par for the course of any action adventure and not just Bollywood ones.
Shah Rukh Khan is Pathaan, an elite soldier who undertakes covert operations under the aegis of J.O.C.R, an IMF-like organisation, made of "tootey footey ande ke chhilke". Pathaan is a guy who doesn't always toe the line when it comes to taking orders and will always do the right thing even if it puts his life in danger, much like Ethan Hunt. And he is after a deadly virus developed by a terrorist outfit, much like in Mission: Impossible 2.
And much like all the other Mission: Impossible movies, of which you can see the influence of on director Siddharth Anand throughout the film, there are gravity-defying stunts with action moving from car chases to top-of-the-truck fights, to train-top combat, to bike chases on frozen lakes. And Pathaan pulls off all of them pretty darned well.
Shah Rukh is an arresting presence through the film, looking age-defyingly hot in messy man buns, aviators and with his aaaaaabs (maybe I should have put in eight 'a's because it sure looked like there were more than six). He smoulders as well as he glowers and lands his punches and kicks with absolute conviction, each of his avatars drawing loud hoots and cheers from the audience. This larger-than-life character is exactly what King Khan needed after a four-year hiatus.
It is in the romance department — and this pains me to say about the Raj — that Shah Rukh could use some help. His chemistry with the absolutely sizzling Deepika Padukone should have been fireworks; it feels like a damp squib instead, despite Deepika giving it her all. Pathaan and Rubina's antagonistic relation, thanks to all the double crossing, should have been the perfect ground for some sexy tension but it never quite hits the right note.   
Deepika is well cast as a former ISI agent who works with the villain of the film — Jim, played with creepy, sociopathic aplomb by John Abraham — but draws the line at mass murder. She meets Shah Rukh beat for beat when it comes to fighting bad guys in hand-to-hand combat and shooting the enemy with bad boy guns but she is head and shoulders above him (this is not a dig) when it comes to drumming up the sexy vibe. 
A paragraph or two can be dedicated to John as the villain, which he is surprisingly good at playing. An ex-RAW agent who feels wronged by his own country, Jim is the leader of Outfit X, a group which terrorist and extremist organisations across the world outsource their work to. Yes, "terrorists have gone corporate" as Asutosh Rana's character jokes. John delivers most of his lines with creepy deadness that is chilling, and the childish smile while he talks about people dying is just plain scary.
The most earnest of all the actors is Dimple Kapadia, who plays the chief of J.O.C.R, building on her Tenet role. It is her earnestness that adds heart to the film. 
Pathaan drew cheers and claps from the audience in almost every scene — whether it is Shah Rukh appearing in a man bun wearing edgy clothes, whether he is doing some jaw-dropping stunt, whether he is delivering a particularly punchy dialogue or just appearing topless. But the scene that drew the loudest cheer was when a familiar keffiyeh appears through a hole in the roof of a train where Shah Rukh is being held captive. 
The audience noise reached eardrum-splitting level when Salman 'Tiger' Khan follows the keffiyeh and shows off his trademark action moves in a nice tie-in for the YRF spy filmverse.
Pathaan is paisa vasool, but for full paisa vasool, stay after Shah Rukh and Deepika finish dancing (another thing SRK looked uncomfortable doing) for the Karan-Arjun moment that will make you nod your head and send you home with a smile on your face. Bollywood is in good hands again.