Paoli Dam is back in Zee5 crime thriller Kaali 2
A chat with Rohan Ghose and Aritra Sen, who created and directed Kaali 2, streaming on ZEE 5 from May 29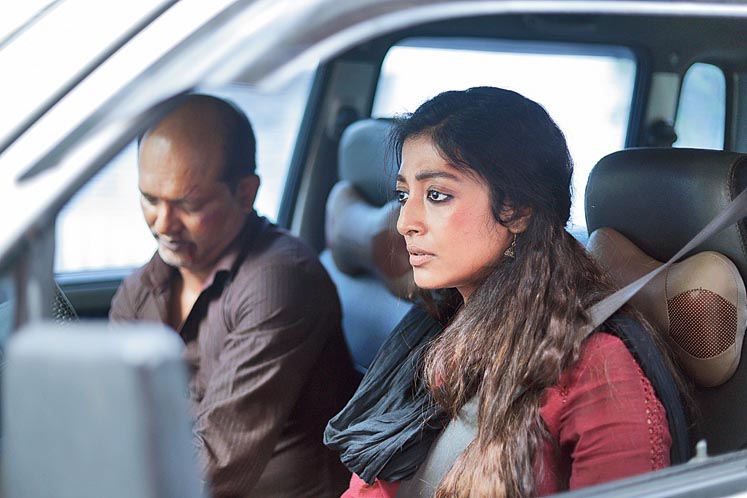 ---
---
Season One saw her playing a single mom going all out to save her son. And now Paoli Dam is back in the crime thriller Kaali 2, where the cast is bigger, the stakes are higher and the situations "bigger and badder". We chat with Rohan Ghose and Aritra Sen, who created and directed Kaali 2, streaming on ZEE 5 from May 29...
When and why did you decide to do a sequel to Kaali?
The sequel to Kaali was decided while writing Season 1 itself. The initial story was a very time-bound one and to extend the realm we had to tell a much bigger story of Kaali over a greater span of time. Hence we decided to end Season 1 on a cliffhanger, which would keep the audience looking out for the next season.
Why did Kaali resonate so much with the viewers?
Kaali is the story of a common mother. It is essentially an underdog story knitted in the form of a hero's journey, which resonates with people time and again. How far can a mother go to save her son? On top is the ticking time bomb structure in which we almost have a clock to which the season plays out. This format keeps the audience glued and hooked.
Kaali was made very realistically but it showed the underbelly of Calcutta, which is not quite often explored in our cinema. Mumbai has seen a Satya long back but Calcutta has mostly been romanticised except in Kahaani. Places like Kiddepore, Chetla, Taltala have such graphic and textured locations that the underbelly can be explored. Also, all the characters are very believable, hence people get connected to Kaali's world really soon in the series and stay hooked through her tumultuous journey.
Tell us about the plotline of Kaali 2?
The season ended on a major hook point. We firstly solve this issue in Season 2 but following an unusual structure. We see Kaali living under a disguise with her son in a small Calcutta suburb. All hell breaks loose when a notorious assassin is sent to kidnap her while the main man behind a drug cartel in South Asia is being transported for deportation by the Calcutta Police. Eventually we find out how this cartel leader Jinliang was involved in Kaali's story on the fateful night that played out in Season 1. Due to the emergence of Jinliang and Swapan (another drug lord who is back and ready to take Jinliang head on) and because of Kaali's untimely intervention in Season 1, a major consignment of drugs which was supposed to come to the docks is trapped. What we will see in Season 2 is how this consignment holds the key for the major players of the drug cartel in Calcutta and how Kaali gets entangled in this mess. She holds an important key to this, which we will not reveal here. For this she has to be kept alive and dealt with. But the only way to trap her is through her son and via Aniket. Hence the mother once again faces the humongous task of saving her son but this time not just through arranging money but from the clutches of notorious, highly connected and dangerous criminals who control Calcutta's drug scene. It gets bigger and badder in Season 2.
Why did you decide to direct Kaali 2 along with Abhimanyu Mukherjee? Why bring him in?
Kaali's world has grown bigger and badder in Season 2. The whole scale of the show has increased manifold and on top of that the show is now shot in two languages — Hindi and Bengali, which means each dialogue take is shot twice. The length of the show is almost double of the first season. Several new characters are introduced in the season, for which we needed another director to help us along with the multiple tracks and also the large set piece and action sequences where upto five-six cameras were used. Hence the decision to use multiple directors.
A grand web series like Kaali, which is of more than four hours in duration, has a team of directors who work along with the creators who are the ones responsible right from conception to delivery... this has been the same across the globe for a while and now slowly but surely our country is recognising the same.
How was it like directing Paoli? What happens to her character arc in the series?
Paoli was exemplary in Season 1. Everyone loved her performance. It is always a pleasure to direct her. Paoli is now a close friend and it is very comfortable for us to work together. After Season 1 we almost knew each other's comfort zones and ways of reacting to a situation. She has perfectly fit into the character that we envisioned. She also watches a lot of web shows, so her reference point is perfect. When we tell her something she is quick to connect and execute that. Overall she has delivered a powerful performance yet again. This time the character has a lot of shades and goes through metamorphosis and that was challenging. Also the fact that unlike the first season, where we literally followed her in every scene, there are newer and equally powerful characters but like the brilliant actor she is, she managed to carve out a niche for herself and stand out. She pulled off the performance very naturally.
How did you cast Abhishek Banerjee?
Abhishek really attracted us in the small role he did in Typewriter. We were writing Kaali 2 then. We instantly thought of casting him as Jinliang, who also has an X factor, which he could master very easily.
How was it like directing him? Who does he play in the series?
It was an absolute pleasure. Jinliang is a major drug lord of South Asia who works for a Chinese drug conglomerate and is based out of Calcutta to oversee a giant consignment which has come to the docks for distribution across eastern India. He plays a pivotal role as a roadblock in Kaali's path to safeguard her son and return to a normal life.
What did you think of Abhishekh's performance in Paatal Lok?
Abhishek was absolutely brilliant in Paatal Lok. The role was really challenging. He had very few lines, so had to express everything by his actions, which is so tough. We are very proud of him.
What can the audience expect from Kaali 2?
A racy journey with Kaali through the dingy lanes of the Calcutta underworld. They will feel her pulse as a mother, whose greatest treasure and identity is under threat. She can pounce like a lioness to protect her cub and also be sly as a fox to use her brains to manipulate situations in her favour. She undergoes a transformation with time and through the twists and turns realises that sometimes all that one has to choose in life is the tougher option in order to survive.
How challenging was it to plan and shoot the action sequences? Did everything go according to plan?
The entire series is full of action... almost every episode has a set piece. Action means a lot of meticulous planning during prep. Our great directorial and production design team were at work day in and out to ensure we could pull this off. Vikram Dahiya from Sacred Games has done some important shootout sequences. We worked with Vikram in Season 1 as well and we are now tuned to understand each other's game. Nothing really goes as per plan when you are shooting in tough conditions... one has to improvise. Our DoP Srijit Basu has really shot this series well. It looks cinematic and very realistic and that was the aim. A lot of action depends on the edit and Sumit Chowdhury who has worked as an editor with us for all our directorial work is a great action sequence builder. He salvages most of the things that do not go according to plan on the table. Paoli suffered a very serious head injury during a critical action scene and during a car chase scene we met with an accident that had Aranyak Chatterjee — our main AD — crash his head against the windscreen. So there is a fair share of toil and hard work when you are on the run shooting in difficult situations. Our production designers Rwiddhwarita Khan and Riddhie Basak have done a fantastic job to create the difficult world of Kaali for the screen.
How difficult was it to deliver the show during the lockdown?
Kaali 2 was supposed to release during the last week of March. But due to the lockdown we started losing key resource who couldn't travel to work. The post-production involves a lot of human resource who are really skilled in a particular department like CG works or foley. That cannot be done at home for a show of this scale. We had to provide machines and resources to people's homes so that they could deliver high-quality post-production during the lockdown. As people couldn't work together in studios it took a lot of time but finally we are ready with the show. Riddhie Basak, our post head, has put in relentless work night after night staying at our office to get this show ready along with Shomi Chatterjee who is the sound designer.
Chandan Roy Sanyal plays a don. How was he to work with?
Chandan has actually worked with us twice before and is someone we consider a dear friend. He plays a don but his character is not straightforward. There are a lot of shades to it and it is intrinsically entwined in Kaali's world. Chandan is a natural actor. He used to come on set and you could feel the character almost around you. His work ethics are perfect and it was great to work with him in a role which will be quite different from his image. He plays the role of an intellectual don to be precise, something which we guess you cannot find anywhere but in Calcutta.
How did the team direct the episodes? How did you agree on tone, style?
In a web series, the creator is the one on whom lies the responsibility to set the tone and style. The creators are the showrunners. In our case we were directors as well as the creators of the show, which helped massively.
The division of direction work was not episodic but were based on tracks and characters. As all episodes are a mash-up of all tracks, hence it feels seamless. For the set pieces we have directed all major action sequences together. Before embarking on the shoot, during the prep we had clearly agreed on the style and references, hence shooting together was fun. Also, as the first season was primarily our brainchild, the character and nuances were ingrained while the major characters introduced in the second season were thought through while writing the screenplay. Abhimanyu did respect that and allowed us to make the major choices in terms of characters and nuances while interpreting the screenplay .
What were the challenges of directing Kaali 2?
The sheer magnitude of the show is daunting to say the least. Also sitting in Calcutta and making a crime thriller and that too in two languages is challenging. There are so many great national crime thrillers coming out. We are constantly inspired from them to up our game.
Regional content has truly become national and international. This makes our job more difficult as the parameters of judgement go up. But our budgets and constraints are still the same. We work with infrastructure and budgets that are a mere fraction of basic Hindi shows. But the good thing is that because the medium is for everyone and the language is Hindi, hence our audience base has increased manifold. This is the gain and the perks of all the hard work of delivering a show in two languages.