One page of Sonchiriya, I wanted to do the film: Sushant Singh Rajput
In an interview, SSR shows how he is more than just his movies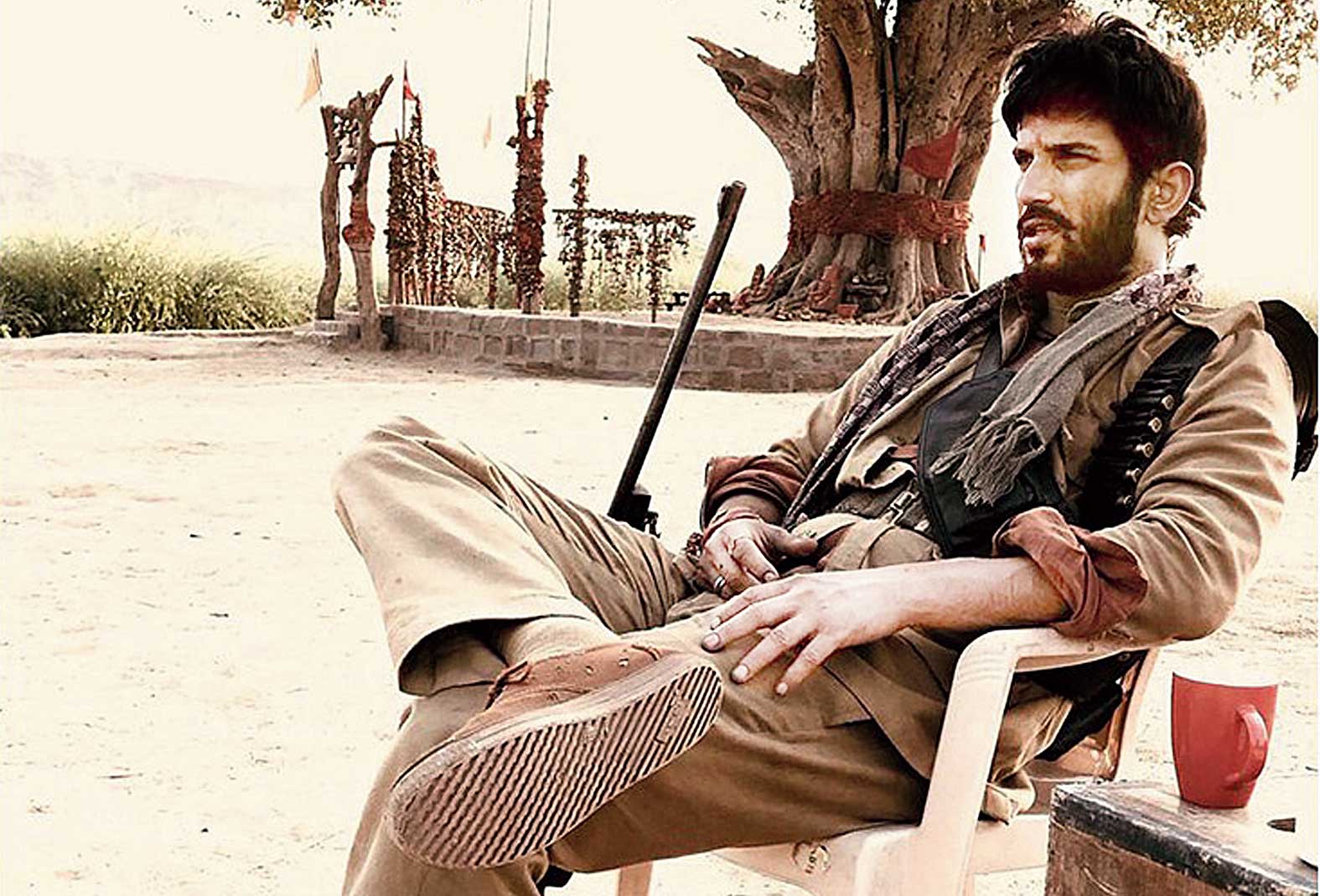 ---
---
Conversations with Sushant Singh Rajput are always fun simply because it can turn any moment. The actor has four films this year — Drive, Dil Bechara, Chhichhore and, of course, Abhishek Chaubey's 1970s-set dacoit drama Sonchiriya, that releases this Friday. We met the 33-year-old actor recently in a sea-facing suite at the Sun'n' Sand Hotel in Juhu in Mumbai. "Let's watch the sunset," said Sushant, pulling up two chairs as close to the French window as possible. So that's what we did — watched the sunset and talked about the stories that fascinate him, learning fresh perspectives and why he's not losing any sleep over last year's #MeToo rumours.
In a recent interview, you said you don't want to be pigeonholed into being described as an actor, a star, or even an engineering dropout, because that would stop you from looking at the larger picture. What is the larger picture?
To continuously do what I want to do. And that keeps on changing. There are two things that are true, that I know of. One is very concept-based, bookish knowledge to which we must pay attention to in the present. And the second is I like it when I pay attention. So, even as my mind is wandering, I am also already paying attention to what is happening around me.
The great thing is that everything I've ever wanted to do was because I want to have more free time and be happy. It all starts from paying attention in the present. Even if I have great dreams that are not selfish, everything starts from being present. Even if I'm successful by a marker that is widely accepted but I don't have free time — I started working because I wanted to have more free time. This is mathematics — you can't continuously invest in something to have more of it in the future when you have limited time. So, I can't be investing more free time when there's limited time, that doesn't make sense.
The great thing about paying attention is I'm intrigued; I'm excited, all these great things happen and I'm happy and those around me are excited and happy. That adds up. While this is a great thing, this is also what I think I should do as an actor — observe people. So, when I pay attention I see the conflicts, I see why they like what they like, I see the problems and then I'm more specific in choosing my films.
If you don't want to be known only as an actor or as a star…
No, no. That's not what I said. I'm not very fascinated with nouns. To make sense, to have a communication going, to put something out there, we need context. So, we play characters and 'be' actors, but I can also be an engineer. I also have interest in space, in technology, in policies. What I can do is to be sure of what I exactly like, not what I would like to like, and allocate time accordingly.
Is it true that you chased Abhishek Chaubey to be a part of Sonchiriya?
I was chasing Chaubey for any film! I couldn't meet him because he doesn't meet that many people and likes his work. And I couldn't find a common connection between us who could introduce me to him but I was always intrigued by his work. And suddenly this happened. What he was reading to me was absolutely fantastic. He read just one page of Sonchiriya and I told him that he could stop if he wanted to because I wanted to do the film. I read the script when I got it and called him again just to confirm that he knew I was being serious (laughs).
Was there anything specific that intrigued you about this character?
I can pick out specifics, but that was not the reason why I wanted to do this film. Personally, stories that are true that I don't know enough about always fascinate me. Once you've got me curious, you've got me hooked. For stories that are not based on real events, I am interested in what the audience will take away after watching the film. These things are sufficient for me to say 'Yes' to a film. How much I'm going to enjoy working with a team, what I am going to learn while filming or how interesting my character is are questions that come later.
Given he was one of the directors you wanted to work with, how did this collaboration enrich you as an actor?
I now know his perspective as a filmmaker; that's the most important thing. That's what I look for, not just in filmmakers, but in general. If there is somebody who's courageous or smart enough to know and cultivate his or her own perspective and it's original, then I would like to see it.
This film also required you to learn a new dialect…
Of course, but it's not difficult for anybody if one puts in time. A kid learns a language in two years, it takes a little longer for grown-ups, but it's no big deal.
Are there skills that you've learnt for other films that have stayed with you?
Yes, absolutely. And that was the intent. One of the things after you've minimised the loss is you maximise the wins. When I'm acting and the camera is on, I'm there. But when the camera is off and I have a day off, what do I do? This is when I start looking at what else I can take away from the experience of making that film.
It starts at the very beginning — if it's a film that revolves around a subject I am interested in, I get very excited about it. For example, any films that have anything to do with the future or that give you a fresher perspective of the past; essentially a film that commands your attention. Say, if it's a film talking about the future, it could do with technologies or the disruption because of that, a simple story of a family whose life changes because of technology or it could be about space, and I could get to go to NASA. That's the chain reaction that sends me down interesting paths.
Like with NASA, I started sending these brilliant kids who couldn't go but wanted. I can send kids because money is lying in my account. So why don't I use it?
You are sending kids to NASA?!
In 2017, I sent two boys to the US Space Camp Center for a week-long program. One of the boys was adjudged the 'best trainee camper'. This boy, who probably would have never had the chance, is today dreaming of becoming an astronaut and has a massive poster of Neil Armstrong in his room. I want to start sending more kids like him. I hope to send about a 100 this year. These kids are brilliant and they just need to experience different things. And it's not all altruistic. Seeing them happy makes me very happy today… so I win as well (laughs).
Well, more power to you! There's no easy way to segue to this, but last year there were rumours and #MeToo allegations against you, and your co-star released a statement saying they were false. What went through your mind at that time, and did that in any way make you rethink your behaviour on set?
First of all, the allegations weren't true. So, I don't need to check my behaviour. In the context of what I was feeling, I don't think it really matters. #MeToo was a movement that was long overdue. When a movement like this emerges and isn't pre-planned, there are casualties. And that's fine, but it was unfortunate that it was me. Thankfully, in my case, the narrative was found to be untrue very soon and it's over now. All the negative rumours that came out seemed like a paid smear campaign… I don't know why anyone would do that and I don't care. My conscience is clean.