One of Us Is Lying Season 2, Fifty Shades Darker: Movies and TV shows dropping on Netflix today
From buddy cop romance to action-packed thrillers, Netflix is offering a variety of shows and films to choose from this weekend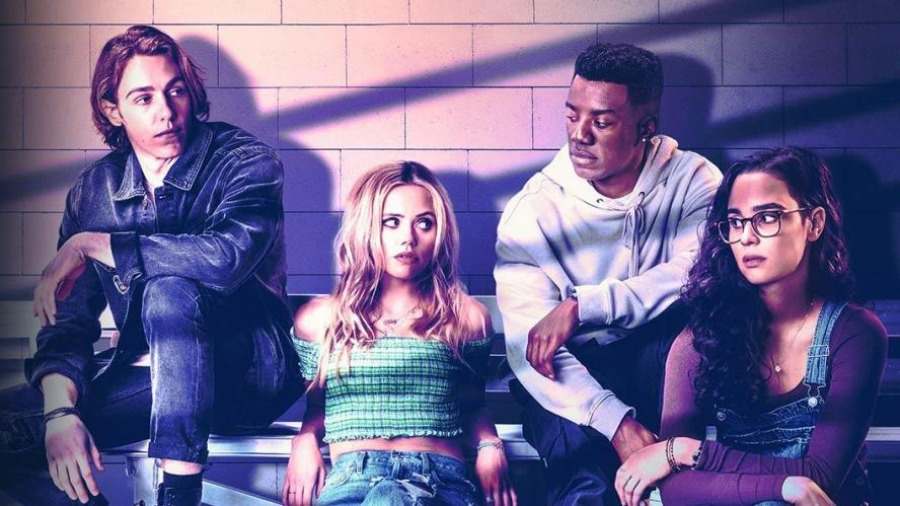 Bayview High deals with the aftermath of Jake's death in the latest season of One of Us Is Lying.
IMDB
---
Calcutta
|
Published 16.11.22, 02:11 PM
|
---
From murder mysteries to big screen classics, streaming service Netflix is set to release a variety of shows and movies on Wednesday. If you are looking for content to binge on this weekend, here's a list of all the titles dropping on the streaming platform today.
One of Us Is Lying (Season 2)
Based on Karen M. McManus' best-selling novel of the same name, One of Us Is Lying is a murder mystery set in Bayview High School. In Season 1, five students were sent to a detention room but only four walked out alive. The dead student, Simon, was about to reveal secrets about other students on a gossip app. Bronwyn, Addy, Nate and Cooper —known as the Murder Club— had the opportunity and motive to murder their classmate but all of them plead innocence. Addy's boyfriend Jake is revealed to be the murderer in the final episode of Season 1 but he, too, dies under mysterious circumstances. The new season follows the developments at the Bayview High School following Jake's death while a new threat emerges for the four members of the Murder Club and threatens to expose them.
The Bourne Supremacy (2004)
Jason Bourne (Matt Demon) is falsely framed in a CIA operation and forced to return to his old ways as an assassin. His newfound romance with Marie has him wanting to leave his past behind. But when she's murdered by a CIA agent named Kirill (Karl Urban), Bourne sets out on a revenge quest to find the man responsible for Marie's death. In an excellent cat-and-mouse game, director Paul Greengrass delivers amazing action scenes that keep you on the edge of your seats. 
Ride Along 2 (2016)
Helmed by Tim Story, this buddy cop romance is a sequel to the 2014 film Ride Along. James (Ice Cube) takes Ben (Kevin Hart) along to bust a drug racket involving an influential businessman Antonio Pope (Benjamin Bratt). However, with Ben's wedding day approaching, the two have little time to expose the crime. As in the first film, Ride Along 2 is filled with raucous comedy and action sequences. Hart and Cube's chemistry sets the screen on fire in this potboiler set in Miami.
Fifty Shades Darker (2017)
In this sequel of Fifty Shades of Grey, Christian Grey (Jamie Dornan) starts getting nightmares after Anastasia Steele (Dakota Johnson) leaves him. While he tries to get her back into his life, Ana's editor Jack Hyde (Eric Johnson) and Grey's former sexual partner Leila (Bella Heathcote) create problems for Grey. The film, directed by James Foley, is an adaptation E. L. James's 2012 novel of the same name. 
Get Out (2017)
Jordan Peele's directorial debut Get Out is a psychological horror film revolving around a black photographer Chris (Daniel Kaluuya), who decides to visit his girlfriend's (Allison Williams) parents during a weekend getaway. Although they seem normal at first, he is not prepared to experience the horrors ahead. The film is scary, funny and a thought-provoking commentary on racial prejudice in America. It challenges the stereotypes associated with different communities and exposes the deep-rooted bias that people of colour endure in the society. Peele's film earned four nominations at the 90th Academy Awards — Best Picture, Best Director, Best Original Screenplay and Best Actor.
Instant Family (2018)
Mark Wahlberg and Rose Byrne play Pete and Ellie Wagner, respectively, in this comedy drama. The two adopt three siblings, played by Isabela Merced, Gustavo Quiroz, and Julianna Gamiz. Helmed by Sean Anders, this heartwarming story depicts the challenges one faces while raising foster children. The film begins with the hopeful parents visiting a foster care centre where they like one of the teens, Lizzie (Isabela). But she has two younger siblings, Juan (Gustavo) and Lita (Julianna). Although this seems like more of a challenge, Pete and Ellie agree to adopt all the three siblings.