A puja at home sets off a string of events in the serial Khorkuto (on Star Jalsha) which finds Gungun (Trina Saha) in the kitchen making a vow to stir up some magic in the haari! The guests are in two minds about what to expect but those in the know in the family break into a cold sweat! Gungun spells disaster in the kitchen, but no one has the heart to tell her about it. They try to dissuade her but to no avail.
Gungun, the well-intentioned wife, enters the kitchen and starts pouring things into the haari. She calls the dish Chotkano Pindi... the idea being that one has to put in everything that one sees in the kitchen. "I learnt about it in Africa," she tells her husband later. "Oh, and they had a Bengali name for it?" asks her husband.
Gungun starts by putting in all the masala in generous proportions. Then she asks for the soya sauce and pours almost half the bottle into the haari. She does the same with the chilli sauce. A huge amount of salt goes in. Then she asks for two bananas. She follows it up with milk, butter, ghee and sugar. She then puts in a huge bowl of vegetables, and then adds rice, dal, oats and oil! Dollops of chilli powder go in.
By then Chandan Sen, who was helping her in the kitchen, has run away. With the addition of each new item, Gungun's confidence grows. She orchestrates everything with the air of a masterchef!
The elderly women, dressed in crisp saris, immersed in deep thought and focused on the puja, hear snippets of conversation and instructions from the kitchen and their eyes grow wide in disbelief! They look at each other. "It is one of the most hilarious scenes I have ever shot for. We just could not stop laughing. We had so much fun shooting the sequence. When I first got the script, I was so surprised! We shot for one-and-a-half hours to get the scene right. There were more than 15 ingredients," smiles Trina.
Gungun then asks for meat, fish and eggs. But it is puja, so those are not available. She figures a way out. She puts in large chunks of soya bean and paneer and chillies into the mix, which she stirs lovingly, beaming a hearty smile. "Gungun is a simple, straightforward, innocent, fun-loving character. She has no complications. The story of the joint family, the ambience and the interactions have really connected with the audience," says Trina, who sharpened her own cooking skills during the lockdown.
"I like to experiment with food but not to this extent of course. I learnt how to make biryani, I made desserts during lockdown," she says.
Finally, Chotkano Pindi is ready. Everyone sits down and Gungun serves with great enthusiasm. The scenes that follow can make one weep with laughter. Someone faints. Another goes into shock. A few start calling out for water!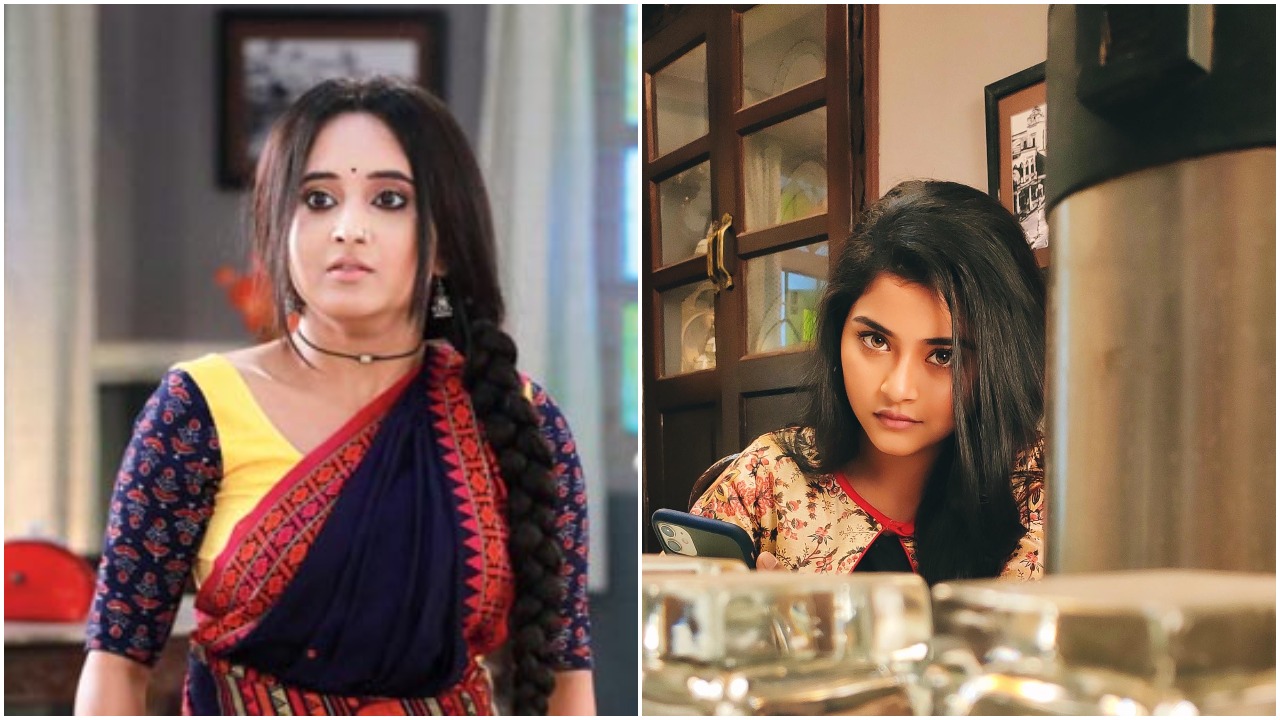 (L-R) Soumitrisha, Oindrila Sourced by the correspondent
In this episode of Mithai (on Zee Bangla), Mithai (Soumitrisha) helps out Nipa (Oindrila Saha) to cook aloor dom! Nipa has been asked by her would-be mother-in-law to prepare the dish. But Nipa can't cook! Her mother had falsely claimed that she is a great cook and now Nipa is in a fix. Sid (Adrit) — once he gets to know — criticises the charade. But for now, Nipa has to cook the dish!
So Mithai, unbeknownst to the mom-in-law, runs out of the house and climbs on to the kitchen window. Nipa is in the kitchen pretending to cook while Mithai is outside, hanging from the window, and giving out instructions to Nipa! Mother-in-law can see Nipa busy in the kitchen but cannot see Mithai! "We had a ball shooting that sequence. Everyone is loving the show," smiles Soumitrisha.
First, Mithai tells her to pour oil in the kadai, to which Nipa asks which oil? "Shorsher tel," replies Mithai. Nipa picks up the wrong bottle of oil, and Mithai tells her to find a bottle in which the oil is reddish in colour. From the first floor of the house, Sid sees Mithai hanging from the window, and goes, 'Hey you, what are you doing there?" Mithai cannot hear him. "Now, add tejpata," Mithai continues. Nipa picks up the wrong container first and then gets the right one. Mithai tells her to add shukno lanka, holud. "Give a pinch of holud," she tells Nipa. "I'll ruin my nails," protests Nipa.
"It was such a fun scene to shoot. The most challenging part was to control our laughter! My Dida and Thamma really enjoyed watching the episode. During the lockdown I would watch YouTube videos and try my hand at cooking... I tried making dosa, but it did not come out well. However, the only real-and-reel connect is that I made Chingri Maachher Malai Curry following my Dida's instructions... she guided me. It was so good," smiles Oindrila.
Meanwhile, Soumitrisha, who plays the pro chef on screen, has a fun trivia to share. "I don't cook! But I am almost like Mithai in real life. I am jovial, fun-loving, confident, free-spirited... I talk a lot. And I am a foodie... I love having biryani, mutton dishes, ice cream, cold coffee with ice cream, dark chocolate, nolen gurer mishti, doi," says Soumitrisha.
Coming back to the scene, Sid comes down to investigate and is appalled! Mithai jumps down. "The first time, my elbow hit his nose. That take was cancelled. On the second occasion, I landed on his feet," smiles Soumitrisha.
Finally, Nipa emerges from the kitchen with a bowl of aloor dom and mom-in-law grins from ear-to-ear after tasting it! All's well that ends well!