Obi-Wan Kenobi and Darth Vader's epic lightsaber duel steals the show
The most-watched series premiere in its opening weekend, Obi-Wan Kenobi might return for another season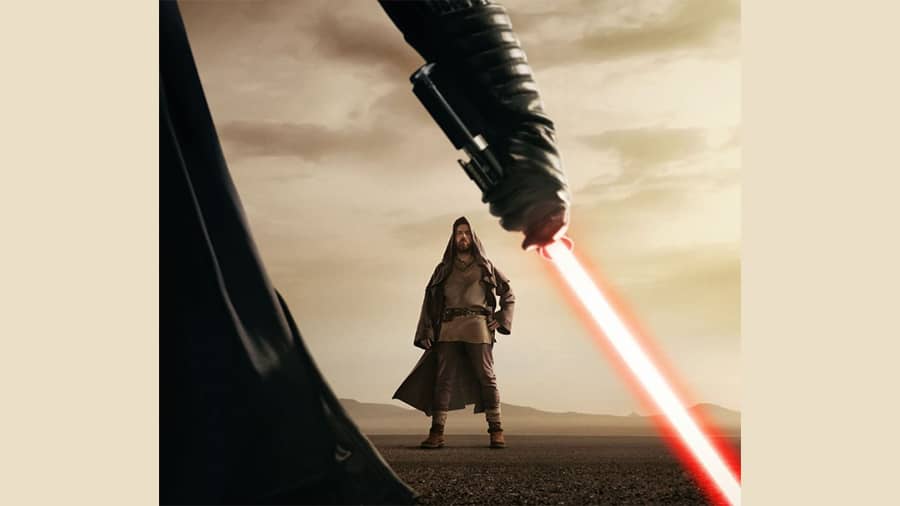 Obi-Wan Kenobi and Darth Vader face-off in a lightsaber duel in the show's finale.
@obiwankenobi/Instagram
---
Calcutta
|
Published 23.06.22, 03:03 PM
|
---
Highly anticipated spin-off show Obi-Wan Kenobi, which promised to chronicle the years that the Jedi master spent on Tatooine before his appearance in the first Star Wars movie, ended with an interesting finale. 
The show was already put in a tight spot as it had to make its way in between existing Star Wars lore. The choices made by the show-makers added more plot holes to the franchise by the end of the final episode. However, Episode VI was enjoyable with Obi-Wan Kenobi (Ewan McGregor) and Darth Vader — played by Hayden Christensen and voiced by James Earl Jones — engaging in an epic lightsaber duel. 
With the miniseries over, we are left wondering if the series will see a second season like The Mandalorian did or will it end with a single season as The Book of Boba Fett apparently has.
Both McGregor and Christensen in separate interviews have expressed the desire to return with the second season of the show. Disney is known for never missing out on an opportunity to cash in on a popular venture. Yet, it seems that despite the finale of The Book of Boba Fett having a 36% higher 5-day finale draw than that of The Mandalorian season 2 finale, Disney has put the show to rest. So, Obi-Wan Kenobi being Disney+'s most-watched series premiere in its opening weekend may not be incentive enough for a season 2. 
While we wait for a possible announcement of a second season, we are left with a season finale storyline that seemed to not live up to its potential. 
The entire show was based on the hunt for Obi-Wan by Vader and the Inquisitors. Obi-Wan had been hiding on Tatooine while keeping an eye on Luke Skywalker (Grant Feely). By the end of the show, we see that the Jedi rode away from his watch over the boy but apparently remained on Tatooine. The hunt for Obi-Wan seemed to end abruptly after Emperor Palpatine questions Vader's obsession with finding his former master. Even if Vader stopped his hunt, the highly trained Inquisitors could have continued hunting the Jedi putting Luke at risk as well. 
Limitations of the show posed by the existing Star Wars movies were also evident. In the final incredible battle, Obi-Wan regains control over the Force and is able to wound Vader. He is again at the crossroads where he has the choice to take Anakin Skywalker's life or spare it. He had already made the mistake of not killing Anakin in Revenge of the Sith. In the show, Obi-Wan realised that the Anakin he knew was dead and Vader had taken over completely. Yet, he let the Sith Lord live, dooming millions of lives.
Jedi Knights choosing not to kill and Obi-Wan's love for Anakin cannot be viewed as excuses for Vader being spared. Jedis can kill in a life-or-death situation and Obi-Wan had accepted that Anakin was truly dead. The only reason the show was forced to let Vader live is because he had to return for the movies.
Another story arc that showed promise but led to a vague end is that of Reva Sevander (Moses Ingram). The character survives Vader's attempt at killing her twice. She knows Luke's real identity and is intent on making Vader pay by killing his son. However, we again see movie limitations seep in. Reva does not kill Luke and her inclusion in the story arc remains unfulfilled. The only lesson her character delivers is that doing good or bad is up to the individual. While Vader trained to be a Jedi Knight, he chose to give in to his dark side. Reva, having sought vengeance, was overcome by the good in her. It is unclear how future Star Wars shows or movies will integrate Ingram's character.
Obi-Wan pretending to have been killed by Vader only to return to Tatooine in secret would have been a more suitable ending. If a season 2 of Obi-Wan Kenobi does get a green flag, we hope to see more of Ingram and find out how Obi-Wan manages to escape the Inquisitors till he reunites with Luke.