Nusrat Jahan and Nikhil Jain on their happily-ever-after journey ahead
The 'it' couple in a post-marriage chat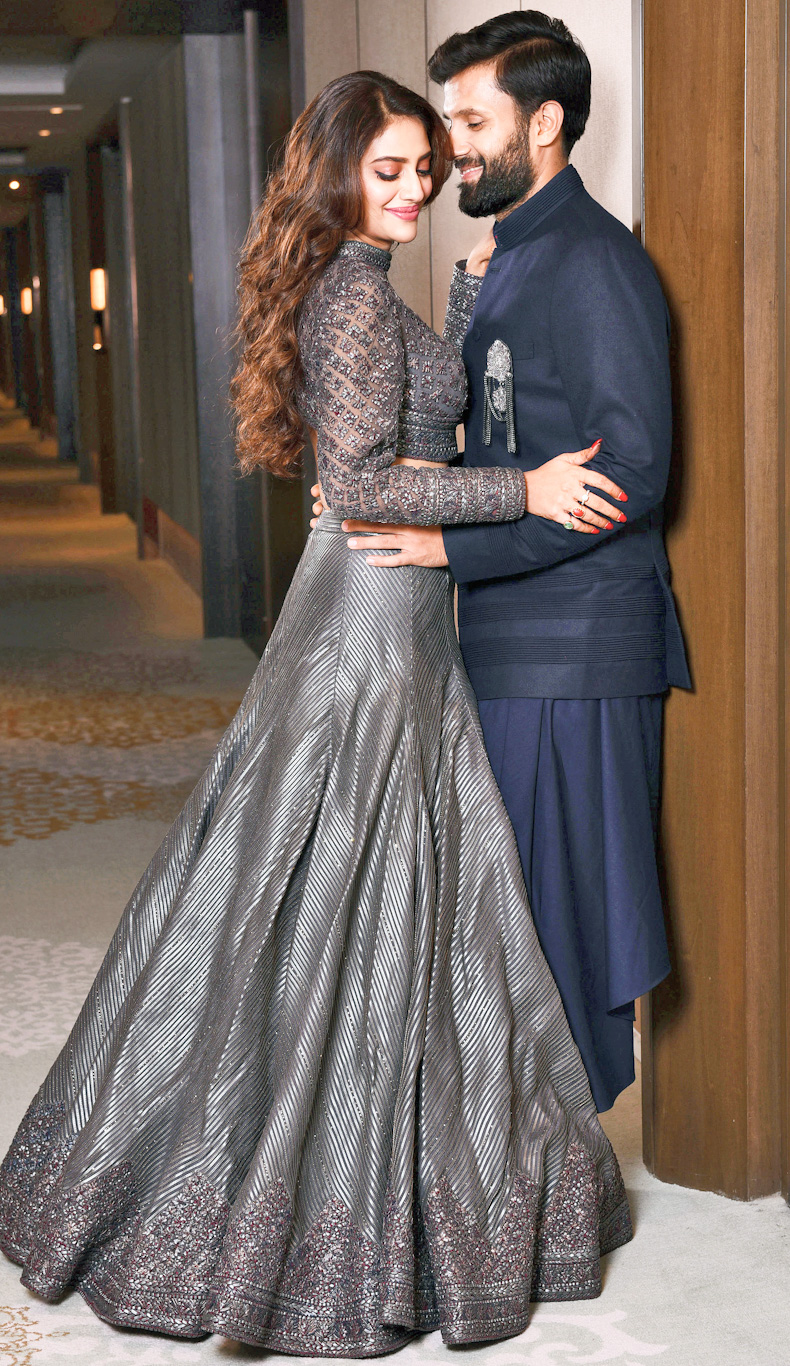 ---
|
Calcutta
|
Published 02.07.19, 08:45 PM
---
Be nice to me," said Nusrat Jahan to hubby Nikhil Jain as the newly-weds settled down for a t2 chat in a suite at JW Marriott Kolkata on Monday evening. The actor and MP tied the knot with Nikhil, an entrepreneur, on June 19 in Istanbul. In the course of the 40-odd minute chat, Nikhil came across as a man who wore his heart on his sleeve. And his bride? As impish and lovely as always!
Let's start from the very beginning... how did the two of you meet?
Nusrat: In short Nikhil, start!
Nikhil: I think it was three years ago, for a Durga Puja shoot. We were launching a Rangoli (sari) store (owned by Nikhil, along with his dad) in Gariahat and the marketing team guys gave her name. I had actually never seen any Bengali film…
Nusrat: Eta barey barey bole aamake okarone chhoto korar dorkar nei…!
Did you know her or know of her?
Nikhil: No… but once we started talking about who we should get, she was topping the list… how popular she is and what kind of films she is doing… we had to get her on board.
Nusrat: The first time I met him was when I was shooting for his brand and we had a selfie, which now when I see, I wonder we used to look so different. I was plumper!
Nikhil: I really liked her personality and aura and I wanted to know more of her, but I did not get an opportunity. I did not want to come across as unprofessional. So I never approached her that way.
So, was it love at first sight?
Nikhil: I would not say 'no', I would not deny it. I liked her in a way in which I have never liked anyone else. I was the guy who didn't want to settle down.
Nusrat: He didn't want to get married.
Nikhil: For me, to share my life with someone, she has to be someone I'd like to be with. My parents were after me for three-four years that I should get married. I was like, no….
When I first saw her, I didn't know we would land up where we are today. I actually asked her out for coffee and dinner for which she clearly said she'll be there, but never turned up. An hour before, she said her mom wasn't well.
Nusrat: Your ego got hurt and you chucked me out of the campaign! (Laughs out loud)
Nikhil: It was obviously not that. It was a business decision. If that was the case, I wouldn't have called her back for another term… she is still not convinced.
Nusrat: I still don't buy his words… but we did the shoot. He was there from the morning. I asked him to have lunch with me. Someone had told me that he had broken up with his girlfriend. I always reconfirm. So, I asked him how his girlfriend was. He said: 'It's complicated'. I said lovely! During lunch, 'Sir' doesn't walk in alone. He comes in with a special friend, nice girl. I was like… didn't someone tell me that he has broken up! (Laughs)
My first impressions of him were he is a nice chap. We could talk like friends. After the third shoot, we thought of hanging out together. You know you click with some people.
Bondhu bondhu chhilo na… jor korey bondhutto dhokabar chesta korey dekhlam aar parlam na! (Laughs)
What was your approach to relationships when you guys met?
Nusrat: We were both messed up.
Nikhil: Not me.
Nusrat: You were having a good time. The kind of perception I had of him was he is Casanova. He must have heard worse about me, given the kind of profession I come from. But when you talk to somebody for the first time, the vibe matters. I couldn't find any similarity with the perception. His friends say he is not the same Nikhil they know. I met an entirely different human being. Did you customise yourself for me?
Nikhil: I don't feel I am making an effort.
Were you guys ready for a relationship?
Nusrat: He was super ready. I was slightly… I was going through a rough time… trauma, mess… a lot of things were happening… media, people, gossip, controversy.... He was my only positive space. He was the only one who gave me that kind of strength. I was like 'Should I go ahead or not?' I didn't want to give someone a fake picture. There is nothing that I probably never told Nikhil about. I decided I can spend my life with him when he helped me overcome all the obstacles. He is my partner for life.
Positivity is what I have imbibed from him. I know however my day is, I can go up and speak to him, even about the most stupid thing. Probably he has become that blank canvas for me which I keep repainting every day.
Nikhil: I think I am living a completely new life. Ever since I have been in a relationship with her, I have completely changed in a good way. I always knew what I don't want, but never knew what I wanted. You have your little pleasures, but you are still unhappy.
Something was missing. And, when she came into my life, the picture was complete. She was the only picture.
She is an actor and now an MP. Mine and her life are completely different, but we never make it look like it. We are there for each other on our important days. We never tell each other that 'I have done this for you'. As a life partner, I couldn't have found anyone better. She might be an actor-politician, but she is the most humble person I have met.
She knows where she has risen from. She once told me she has never seen a better human being than me in how I treat my people. I would say the same about her.
Nusrat: I have never treated my team differently. They are like family. I come from a very middle-class family. So, I value people and relationships. Nikhil takes care of the smallest of details. A person who can make his staff feel special, imagine what he would do for me to make me feel special….
He has made my reality a dream, which I never thought in my life would happen. I was practical. Maybe I dreamt about it at one point, but I don't like building castles in the air. He brought back that in my life and he turned my dreams into a reality. I am living a dream with him, which is so real.
When did you decide to get married?
Nusrat: Nikhil proposed on his birthday. He gave me a surprise.
Nikhil: We were quite quick to get committed to each other.
Nusrat: At this age, you cannot play a college-goer.
Nikhil: We could feel that there was some special connect. We didn't know about the marriage part.
Nusrat: Onek shomoi noshto hochhilo… meeting, going and coming back to each other's house… I was like we should just get married! (Laughs) Just joking!
Nikhil: When you are with a person, you get a hint whether you want to spend the rest of your life with him or her.
Nusrat: It could not have been an impulsive decision for us. It's time to settle down. I questioned him that knowing that I am controversy's child, why do you really want to be with me. He had an amazing answer to give. He said, 'when you fall for someone seriously, whatever baggage he or she comes with, you accept it wholly'. I gave in.
What do you have in common?
Nusrat: Khub ekta kichhu nei. He is vegetarian and only likes chicken. I eat everything.
Nikhil: The biggest common point is how you look at the world.
Nusrat: We both are compassionate and we don't snap at each other. The sari I wore while taking oath was given to me by him the day my name was announced (as a TMC candidate). He said it's for the ceremony and he believed I could (win). It's a big thing… after my parents, I found someone who can boost me up.
Who is more romantic?
Nusrat points at Nikhil
Nikhil: Which I didn't know until I knew her.
Nusrat: I call him cheesy. He likes giving me surprises. I like surprises but some of them have been shocking. So, I have told all my friends… no surprises. He is the only one (whose surprises have been good)… the best surprise was when he went down on his knees and pulled out a ring and it came out of a love story book… and he proposed to me.
Nikhil, when she said 'yes'…
Nusrat: He knew I'll say yes.
Nikhil: A good part of me knew she would say 'yes'…
Nusrat: Good part?! (Laughs)
Nikhil: You can never be sure. I was very nervous. I didn't know how to propose. It was my birthday and she had organised everything. I was dropping her home after dinner. On my way back, I stopped by Victoria Memorial and told her there is a problem with the car and I got down and proposed to her. I didn't plan it. I was thinking what to do… I had a ring in my pocket.
Nusrat: But he is an amazing planner. He planned the entire wedding. I just looked into the decor a little bit.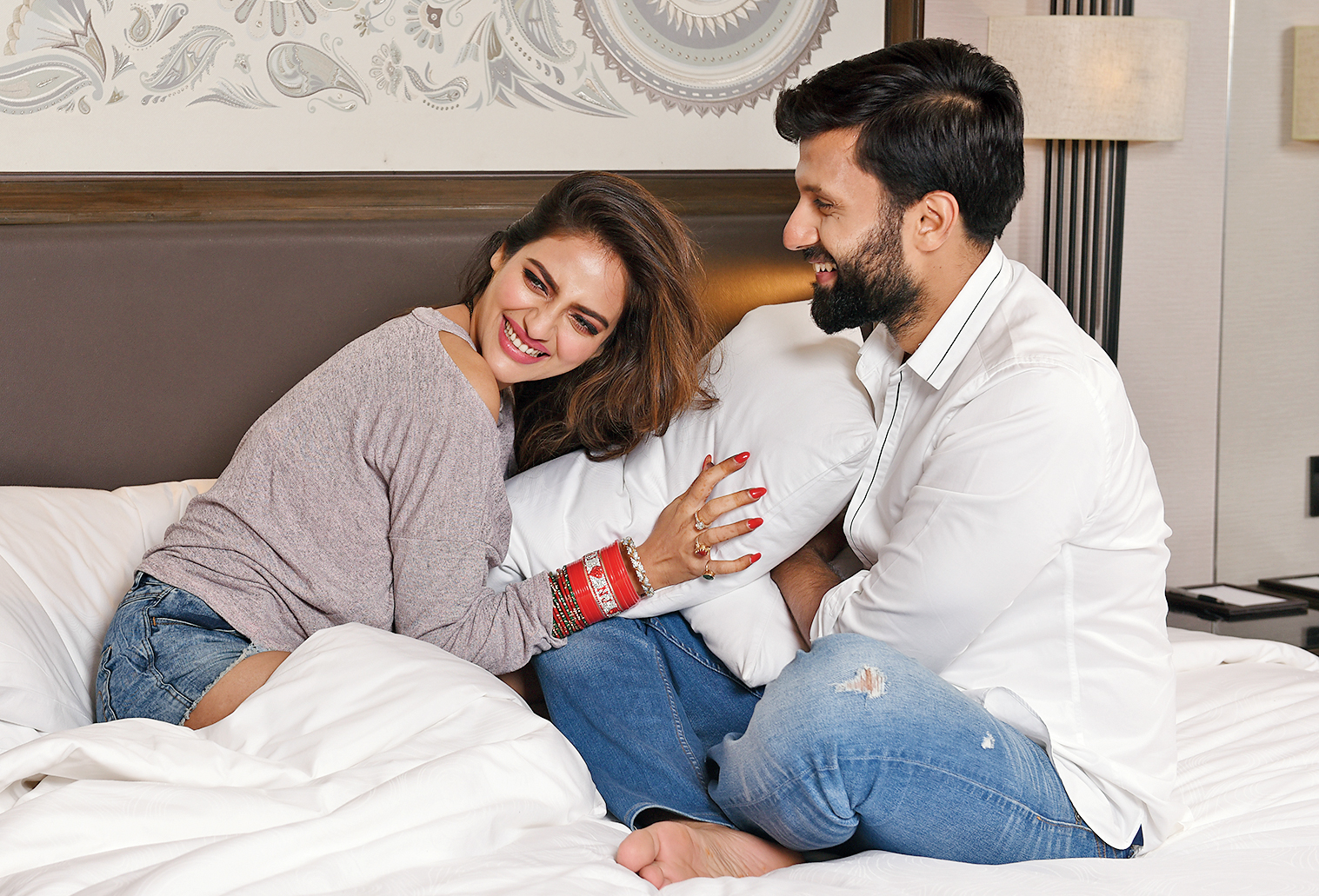 And, you had a dream wedding…
Nusrat: I had a wedding which was not only about decor, shoo shaa, food… it was about celebrating love. Two people getting married and everybody witnessing it. The marriage only had people who we thought would be happy for us… our closest of people.
Nikhil: We knew everyone present by their first names.
Nusrat: Nikhil made it magical for me. Turkey was my choice. Bodrum was my choice. I did my first film (Shotru) in Turkey and it changed my life. So, I thought why not do the next life-changing event there.
Have you had the time to settle down and have a chat?
Nusrat: We make sure we have our me time. I always go with the flow. Most days when I am travelling, I find him travelling with me and being my backbone…. We have a long life together. We are paying attention to things that are important at the moment.
How has life changed?
Nusrat: I wake up with these bangles. That's the only change I feel. Also, a different house.
Nikhil: It has changed. I never imagined waking up with someone. When I see her, wake up with her, now I am here with her… it makes me happy….
We heard that you will kill the person who makes her cry…
Nikhil: Sometimes if I feel it is because of me, I don't know how to react… it's never been like that. We don't fight fight… it might be something silly.
Nusrat: He charges all my friends… 'Did you make her upset?' He likes deciding what I wear (laughs). So, I have a new stylist for life now.
Nikhil: I want the best for her… whatever I can do for her.
Nusrat: I want every girl to get married to the kind of man who takes interest in what she likes and what makes her happy.
Nikhil: The biggest surprise she gave me was in the Parliament.
Nusrat: I kept his surname, Jain.
Which of Nusrat's films have you watched?
Nusrat: Zulfiqar, Love Express, Ami Je Ke Tomar, Crisscross….
Nikhil: My favourite would be Crisscross and Ami Je Ke Tomar.
Are you watching more Bengali films because of her?
Nikhil: Only her films.
Nusrat: Bhari honest chheley!
Nikhil: I have also watched Bolo Dugga Maiki.
Nusrat, you love cooking. What are Nikhil's favourites?
Nusrat: He isn't much of a foodie. I try to cook things for him and put in his tiffin box. I am trying my best. The only things helping me are Google, YouTube and Sanjeev Kapoor.
Nikhil: She cooked amazing kaali dal, aloo and paneer.
Nusrat: I tried my hands at besan wala mirchi… turned out to be nice!
Is Nusrat your favourite actress?!
Nikhil: Of course she is my favourite actress.
Nusrat: I don't like this smile! His phone torch just lit up like a lie detector!
Styling: Sandy; hair & make-up: Babusona Saha;
Jewellery: MIRA by Radhika Jain;
Location courtesy: JW Marriott Kolkata