Notre-Dame de Paris
Live it up...Queen size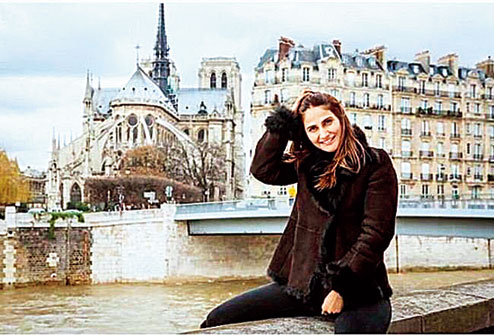 ---
Published 27.08.17, 12:00 AM
|
---
Notre-Dame de Paris
If you have watched Befikre you couldn't have missed the scene in which Ranveer Singh is challenged by Vaani Kapoor (who plays a guide in the film) to slap a cop. The scene is shot near Notre-Dame Cathedral. Entry is free to this enormous 13th century church. If you have time to spare, sit on one of the benches and soak in the ambience. Since I (thankfully) had no slapping on the agenda, I took a stroll by the cathedral and came across puppeteers and musicians and, to my utter surprise, one of them sang Yaadon ki baaraat while playing the harmonica. Wah Bollywood, thank God there is no escaping you!
Locked out
Making an addition to the love locks on the Pont des Arts is a MUST for couples! While Anushka Sharma had Instagrammed a snap of the padlock with her and pet dog Dude's names on it while she was in Paris to shoot for ADHM, in Befikre, Vaani and Ranveer did the same... not as lovers... but as a post-break thing! Being a hopeless romantic at heart, I too wanted to do the same to make my love eternal but tragically, the French government has banned the practice because the padlocks were putting a strain on the bridge. Crushed, I tossed the lock I was carrying into the Seine. Only to then notice a few befikre lovers managing to add padlocks to the railing hanging from the bridge, almost risking their lives!
Glitz + glam + celebs + Champs-Elysees = Queen Club Paris. This is one of the oldest nightclubs in the city that is open on all days of the week. Afrojack, David Guetta, Steve Aoki, Hardwell, Eric Prydz, Bob Sinclar... the list of DJs who have manned the console at this Parisian nightclub is endless.
The first thing to welcome you — once you successfully get past the red velvet rope police at the entrance — is a flight of stairs going down and three giant crystal-studded panther statues that shine bright in this dimly-lit address. If you are not a regular or a Parisian, chances are you would be asked to book a table or to buy a bottle before you are allowed in. The best part about this club is that it's open on all days. From Ladies Night on Wednesday, Disco Queen on Mondays to Friday's Electro House, this party stop has something special to offer besides the performances. What stood out about the music here is that it moves from disco to EDM to funk. So, if you have happy feet, you won't be disappointed. If you are the kind who jumps every minute and requests the DJ for a song, do not try to go DJ waley babu gaana baja do here because no one would bother to even look up from the console, leave aside play your request. Getting drunk and having a lit night is not a problem here but do not try to act cocky with the bartenders or the bouncer because once you get thrown out, there is no way you can tell them: "Tum jaanta hai main kaun hoon?!" It's best you party all night and enjoy that One Dance before calling it a night.
P for Party. P for Paris. And after years of daydreaming about the French capital, a trip to Paris was happening and the best part was getting to party, living the Parisian night and writing about it too!
A gust of cold wind and an overcast sky welcomed me as I waited for my ride from the airport to Saint Germain. I spotted a Mercedes-Benz GL-Class waiting. Whaaaaaat!? With a spring in my step, I got in, trying very hard to tell myself that this was for REAL and not a dream. I took my phone out, went to my playlist, tapped on Paris by my favourite, The Chainsmokers, and let out a happy sigh. One off my to-do list!
When I woke up from sleep, it was already evening in Paris. Having been a nightlife reporter for years, I had done my research before setting sail. Thanks to a friend who had spent years studying fashion in Paris, I had a list of nightclubs to visit.
Club Silencio, film director David Lynch's club on Rue Montmartre, and VIP Room in Rue de Rivoli were on my list on Night One. I had to browse through my luggage at least five times to choose the outfit of the night! Should I keep it classy... umm... a LBD? Or an off-shoulder number? Finally, I opted for a flirty cold-shoulder playsuit layered with a trench coat.
Tragedy struck when I stepped out of the car and realised I was too early for the party. Dayum! I decided to stick around and grab a drink at a pub. But the true blue Bong that I am, I found my teeth chattering, like in the cartoons, from the cold. The trench coat and stockings did nothing to save my legs. "SERIOUSLY?!" I muttered. This couldn't have been happening, after all I have come from Calcutta's Park Street to Paris to paaarrrtyyy. I headed back to my hotel room and stepped out... this time all covered up.
I headed straight to VIP Room— where people have a hard time getting entry. But it was smooth sailing for me, thanks to a smile! Unlike nightclubs back home, the passage leading to the club here is beautifully done. I was ushered to the coatroom where one can deposit jackets, pullovers or caps after paying Euro 5. VIP Room has two branches, one in Rue de Rivoli and the other in St Tropez called VIP Room (2) where the Cannes after-party takes place and is synonymous with the likes of Kendall Jenner, Hailey Baldwin and Karl Lagerfeld who has even called it "the best club in the world".
With a big central dance floor and a high-raised DJ console, the swanky nightclub was done with mirrored surfaces, classy black lacquer and lighting that would blow your mind! One could also get a '70s vibe, thanks to the disco balls.
This high-profile nightclub is packed with Parisians and jet-setters with an average age profile of 25-30. Music bordered around pop and dance with a bit of hip hop thrown in. And being in the city of love, expect to spot couples stealing a kiss or snogging behind pillars. And nobody bothered them.
The wow factor came when we spotted a few performers on the bar top, wearing high-waist leather-and-lace briefs and bralette while swaying to the beats. Some showed off some serious acrobatic skills, leaving me agape!
After a point, the electrifying atmosphere, the trippy music transported me to a state of ecstasy. Although I did miss dancing to Bolly songs on the bar top, like Kangana Ranaut in Queen, the experience of clubbing in Paris was so satisfying that I danced into the small hours.
— Pramita Ghosh