Netflix's The Crown: Life lessons Queen Elizabeth II learnt during her reign
The dramatised version of the British monarch's life, starring Claire Foy and Olivia Colman as the Queen, gives a glimpse of her regal personality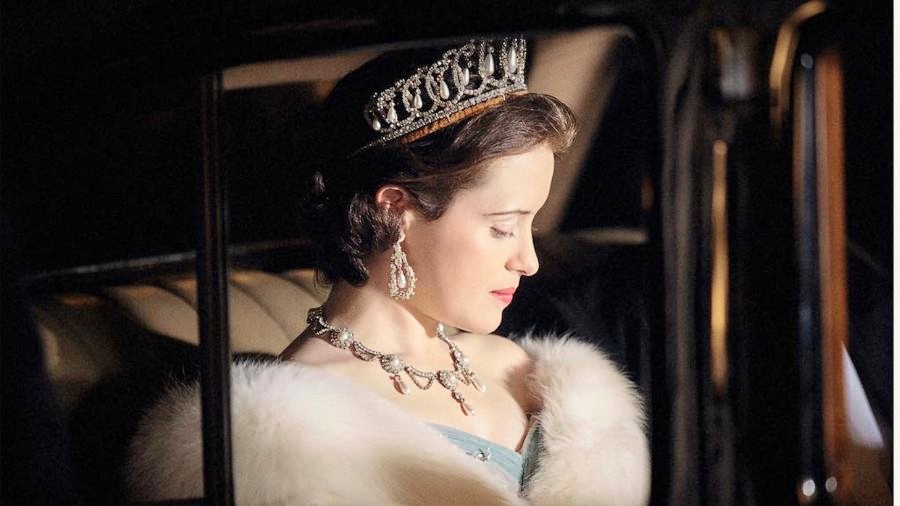 Claire Foy as a young Queen Elizabeth
The Crown
---
Calcutta
|
Published 12.09.22, 03:02 PM
|
---
"But, for better or worse, the crown has landed on my head. And I say we go."
Queen Elizabeth's words from Season 1 of The Crown, still streaming on Netflix, strikes a chord in the aftermath of her death in the year of her Platinum Jubilee. 
Season 1 of The Crown opens with the reminder that even princes might feel unwanted, and princesses are nervous on the day of their wedding. And most certainly, we don't always want to fall in line with the destinies charted out for us, even when it means wearing a crown, but can we rise to the occasion? 
The first two seasons of The Crown highlights the young queen's resilience, composure and dedication to the call of duty – traits which Elizabeth II will forever be remembered for. 
Season 1: Life is a Balance
One of the most memorable scenes in Season 1 of The Crown is the moment in which Elizabeth has both the wisdom and the grace to accept that her more worldly-wise husband, Prince Philip, might be right about having a smaller coronation ceremony and televising the event so that the people of England might be a part of it.
Although Elizabeth herself is a traditionalist, preferring to play it by the book and walk in her father's footsteps until she gets the hang of things, Philip's experience, with a monarchy out of favour with the public, comes to the aid of the British crown. And thus the course of events that might have been is altered.
But Elizabeth admirably stands her ground on the point of Philip kneeling to the queen, which he deems an act of subservience he is reluctant to carry out. In the end, however, he acquiesces. The first two seasons are testament to the skills of Claire Foy as Elizabeth II and Matt Smith as Phillip who communicated the nuances of their relationship as much via unspoken words as they did via dialogue. Foy went on to win an Emmy for her performance, while Smith was nominated in the Supporting Actor category.
Season 2: Ambition and Happiness
Season 2 of The Crown shows Elizabeth and Philip, now slightly older, but still balancing the twists and turns of public life against the upheavals of private life. Elizabeth, we find, also struggles with feelings of envy and rivalry. It's not always equanimity and moderation for the queen, although she is nearly always able to catch herself before things can get out of hand and, like a true leader, learn key lessons from an uncomfortable situation.
While this has been evident in the past with her volatile and vivacious younger sister, where Elizabeth is both exasperated as well as fearful of being outshone by Margaret's sparkle, she finds herself challenged once more by a more formidable personality in international diplomatic circles – Jackie Kennedy.
"Is it possible for you to be marginally less excited?" she asks caustically of Prince Philip before the Kennedys' arrival, to which he answers with his quintessential directness – "No". Faced with her star-struck household and nation, Elizabeth is ready to bristle at Jackie Kennedy charming the queen's husband at the queen's dining table.
But as Elizabeth finds out, they're two shy peas in a pod, rising to the occasion when they would like nothing better than to remain in the countryside with animals, basking in the quiet life. And like Elizabeth, Jackie too thinks her sister would have made the more natural "queen". Stung by Jackie's unkind descriptions of her later, Elizabeth is emboldened to make a bold move in Ghana, and is self-aware enough to admit later that she "felt utterly useless in comparison" to Mrs Kennedy.
Episode 8 remains a clever sketch illustrating the dynamics of women in power, the poise which lies in owning up to misdemeanours and the grace of being the bigger person. But most importantly, there's a lesson in happiness tucked away here, for in Elizabeth's words, "That's the thing about unhappiness. All it takes is something worse to come along and you realise it was actually happiness after all."
Season 3: Being Vulnerable
In the latter seasons of The Crown, the focus changes to the next generation of royals. Although Olivia Colman's cut-and-dry Elizabeth is a sharp contrast to Claire Foy's softer edges, by Season 3, it is clear that times are very different. Elizabeth acquiesces to the royal life being on video for the world to see. The boundaries between public and private are becoming blurred.
And as though this is not discomfiting enough, she insists that Philip's estranged mother, Princess Alice, be moved into Buckingham Palace from Athens, which is in the midst of a military coup. Philips is unwilling to do this because he wants to keep up appearances, especially for the camera. But Elizabeth sticks to her guns, which forces Philip to come around to accepting his mother. And in the end, it is her extraordinary history that brings the royals closer to the British public.
Season 4: Empathy and Presence of Mind
Of course Season 4 was much anticipated because it is here that Diana Spencer makes her first appearance. But one of the most riveting episodes here involves the infamous break-in by Michael Fagan who finds his way to the queen's bedroom much too easily. Elizabeth wakes up to find the intruder perched on the edge of her bed, which naturally comes as a shock to her.
She gains her composure when she sees that he's not violent and really only wants to talk to her. They have an almost-normal conversation about the state of the country and rising unemployment, where Fagan's plight strikes a chord with the queen. She manages to alert security in the middle of it anyway and when they burst in, finds it within her to shake the hand of this deeply disturbed man. There's true royalty for you.