Netflix's Lockwood & Co. gifts us a new trio of teen ghost hunters uniting to keep London safe
Based on Jonathan Stroud's books, the series created by Ant-Man writer Joe Cornish stars Tom Holland's younger brother Paddy Holland as Bobby Vernon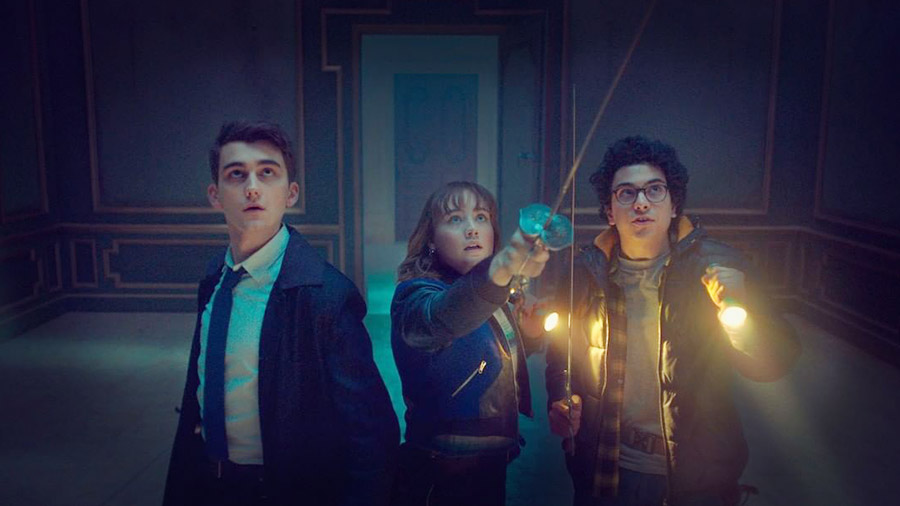 (L-R) Cameron Chapman, Ruby Stokes and Ali Hadji-Heshmati in Lockwood & Co.
Instagram
---
Calcutta
|
Published 28.01.23, 12:34 PM
|
---
Paranormal activities? Check. A trio of ghost hunters? Check. Deadly villains? Check, check and check. Fantasy horror series Lockwood & Co. started streaming on Netflix from January 27, two years after its announcement. The eight-episode series starring Bridgerton's Ruby Stokes, Cameron Chapman and Ali Hadji-Heshmati is filled with apparitions, spooky hauntings and corporate hush-ups, making it a delicious mystery. 
The teen trio of Anthony, Lucy and George
Based on Jonathan Stroud's Lockwood & Co. book series, the Netflix adaptation centres around three teen ghost hunters who are on a mission to keep London safe for its residents. Lucy Caryle (Ruby Stokes) is a talented teen with psychic abilities that help her connect with ghosts. After being forcibly admitted to an agency by her mother, Lucy winds up being the sole survivor in a botched-up ghost hunting job, with her supervisor putting the blame on her. Lucy runs away from home and ends up in London, leading her to meet Anthony Lockwood (Cameron Chapman) and George Karim (Ali Hadji-Heshmati). 
Anthony, an orphan who comes from a lot of money, has his own start-up agency with his dorky and genius friend George. While Anthony is a pro at hunting ghosts, George is good at digging up the history behind it. The teens soon become friends after Lucy is hired by them. Anthony, Lucy and George sure do remind us of Harry, Hermione and Ron from Harry Potter as they fight evil to keep everyone safe.
The Problem and what we know of ghosts
The trio are up against a frightening supernatural phenomenon called The Problem. It refers to the emergence of ghosts around England and their infestation is so deadly that major agencies have been formed to fight the situation. The agencies are policed by the DEPRAC or the Department of Psychic Research and Control.  
The problem with The Problem is that a mere touch of these ghosts can leave you dead. In Lockwood & Co., agencies have cropped up all around England to train young adults to fight the paranormal forces with iron and silver chains, silver nets, rapiers and other equipment. Teenagers who are attuned to their senses of sight, touch and listening are primarily picked as they have a better chance of detecting and defeating ghosts.
The agencies are supervised by adult ghost hunters past their prime who train young adults to fight type-one and type-two ghosts. Type-one ghosts are the typical low-risk ones, while type-two ghosts are scarier and have more power to cause death. While the Lockwood & Co. series mostly shows these two types, there are type-three ghosts, too, consisting of paranormal figures who refuse to go beyond the land of the living. 
Books vs Series
Season 1 of Lockwood & Co. is based on Jonathan Stroud's first two books in the Lockwood & Co. book series – The Screaming Staircase and The Whispering Skull. The first book and first three episodes show London under attack from ghosts as the Lockwood trio start with their first case of a screaming ghost lady out to avenge her murder. With the help of Lucy's psychic abilities, the trio are able to catch the murderer while investigating another haunting. Their investigations in England's most haunted house, Combe Carey Hall, lead them into mortal danger as well as danger from the ghosts of dead Satan-worshipping monks.    
The following five episodes, based on The Whispering Skull, put the trio in their deadliest investigation yet as they come across an ancient grave with a mirror that can trap souls. Lucy also starts discovering her abilities, while George fights an inner battle after having looked into the mirror. 
Adapted by Ant-Man writer Joe Cornish, the Netflix series has skipped a major piece in the book — a fight sequence between Anthony Lockwood and a rival agent, Kipps. Owing to budget constraints, Cornish reportedly decided to leave out this sequence. He made George mention it in passing in the beginning of the series. 
Lockwood & Co. makes for a fun binge watch, much like Wednesday and Shadow and Bone, with the added elements of horror and mystery. Ruby Stokes is in her element as Lucy, going from an amateur ghost hunter to an experienced psychic agent. Ali Hadji-Heshmati has the perfect mix of dorkiness and nerdiness required to play George Karim, whose last name was changed by Jonathan and Ali after the casting. Cameron Chapman is a dashing Anthony Lockwood and will remind you of a young David Tennant from the Doctor Who era. While a few of the later episodes do seem a bit stretched, the trio manage to shoulder the series with their charming chemistry.