Nawazuddin Siddiqui gets candid about No Land's Man
'I have made my today more important than my tomorrow'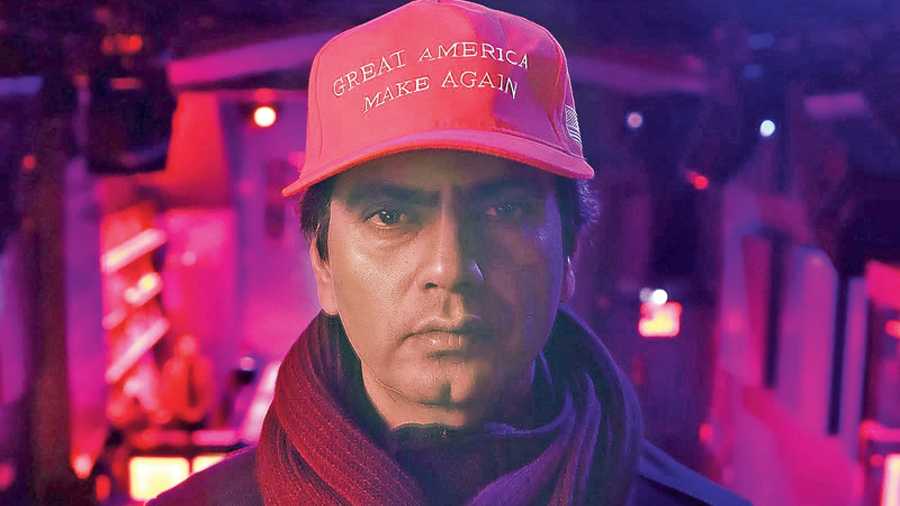 Nawazuddin Siddiqui as Naveen in No Land's Man
Sourced by the correspondent
---
Published 27.09.21, 01:32 AM
|
---
Come October and Nawazuddin Siddiqui's No Land's Man will premiere under the 'A Window on Asian Cinema' section at the 26th Busan International Film Festival. Directed by celebrated Bangladeshi film-maker Mostofa Sarwar Farooki, it focuses on fascism and identity crisis through the eyes of a south-Asian man, played by Nawaz. Nawaz co-produces the film, which also has music maestro A.R. Rahman on board as both producer and composer.
Nawaz, who is currently in London shooting Heropanti 2 along with Tiger Shroff and Tara Sutaria, chatted with The Telegraph over a video call about the film, why he detaches himself from his work and what drives him now. Since then, the actor has been nominated for an International Emmy for his award-worthy act in the Netflix film Serious Men.
Having a film premiere at a prestigious festival like Busan is special in itself. But does having an in-person festival after such a long time also indicate that the world is slowly limping back to normal?
That is definitely a relief. Everyone is making every kind of effort to go back to a normal life. Of course, in the meantime, some very strict Covid-19 rules and protocols have come up, which pose a lot of difficulties, especially while travelling (smiles). Like when we landed in London, we had to quarantine for six days and that was quite a hassle. But at least, I am happy that the world is trying to get back to normalcy.
For two years, I didn't have the chance to go to any film festival kyunki festival hi toh sab bandh pade huye thhey (smiles). Everything has become virtual. I really wanted to go to Cannes, but that didn't happen. I really want to go to Busan, let's hope I can take out some time and make it.
What is it about No Land's Man that made you want to be a part of it, both as producer and actor?
A few years ago, Mostofa and I were actually sitting in Calcutta and talking about one should make a film on the topic that No Land's Man talks about. We met again five-six months later aur tab tak woh idea ek script ki shakal le chuki thi. We read the script together and I found it very interesting and engaging. We decided that we will make this film, chahe kuch bhi ho jaaye. I came on board as a producer. Then (A.R.) Rahman saab also came in.
What gives me the most satisfaction is that something that we started as a seemingly small conversation has now become a film. I am very happy with how the film has turned out. Baaton ka silsila ek celluloid ki shakal le li... woh mere liye sabse zyada khushi ki baat hain.
I think Mostofa is a wonderful director, especially for an actor. He's very easygoing, and with No Land's Man he's managed to push in a message into a film which is entertaining. This is not an arthouse or slow-paced film. I didn't expect that Mostofa would be able to bring this magic to the film on the editing table.
Do you resonate with your character Naveen in any way?
It's said that every person has a thousand people within. Actors have that special ability to tap into most of them. Every person, when they watch the film, will feel that they have a Naveen in them. I also felt that. And because of that, frankly speaking, I didn't have to prepare a lot to play Naveen... I didn't have to work as hard as I have done on some of my other characters.
Naveen is me, and he is actually every common man. What happens to Naveen in No Land's Man is something that will resonate with every person, no matter what country or continent he belongs to. At some point in time, we all sit down and ask ourselves, 'Who am I? Where do I belong?' This film, through Naveen, answers those questions.
We all deal with questions of existentialism and identity. Are these questions that also plague you as an actor and as a person?
Yes, they definitely do, whether consciously or subconsciously. We actually have answers to all these questions within ourselves, we just have to dig deep enough.
This is your first English feature film. Did that experience feel any different?
Language doesn't really matter anymore. If you ask me to do a film in French or German now, I will do that too. The language of a film really doesn't affect actors. Every role, in the first few days and irrespective of the language the film is in, takes some preparation. I need a few days to decide the tone and sur of every character that I play. I need to figure out his inner world and sync it to my own. Even before this, I did (BBC series) McMafia in English and about 90 per cent of my film Roam Rome Mein (directed by actor Tannishtha Chatterjee) is in English.
Even the audience has gone past this barrier of language, given the accessibility of world cinema through the medium of streaming platforms. In the beginning, when I would watch English or European films, or for that matter even Bengali or Odia films, I never needed subtitles to understand what was going on on screen. In fact, I never read subtitles. I just pick the emotion and I understand every film that way. Emotions are the same everywhere, chahe woh Paris mein ho ya Panipat mein. I actually watched about 250 films in the first lockdown! (Laughs)
As an actor, do you  have a process and has that changed over the years?
Frankly, I don't have a set process. Every character organically speaks to me and tells me what kind of preparation I need to do for it. Har jagah toh main Stanislavski (method of acting) nahin daal sakta! (Laughs) Even for this character in No Land's Man, I played myself... I thought, 'Yeh Nawaz ki journey hain.'
How have you changed as an actor and as a person in the last two years?
The biggest thing that I have discovered is that there is a life beyond acting and beyond films (smiles). Hamari poori life hum sochte hain ki hamari career sabse important cheez hain. We keep saying, 'I am a passionate actor, main yeh chahta hoon, main woh chahta hoon....' But in the last two years, that idea underwent a 360-degree change for me (smiles). I have realised that I have to live in the moment first, all the big plans in life can come later.
All these years of planning a career mean nothing now. Now I realise that I was working for other people all along, not for myself. I have changed myself. I have made my today more important than my tomorrow. I want to enjoy what I have now, not just as an actor but also as a person.
Will that mean that you will work less now?
I have decided that I will not sign projects at a frenetic pace. In fact, I have realised that if I pace out my work, I will be able to do better work. Box office, the number of projects in a year, awards... they mean very little. There have been so many before me who have come and done great work and there will be many more after me who will do even better work. At the end of the day, you are known by the choices you have made. Aapne kitne hit ya flop diye hain usse kisi ko koi matlab nahin hain. Jab aap box office pe paise ginn rahein thhey, tab koi doosra banda kya choice kar raha tha woh important hain. People remember that.
Even during the pandemic pause, you kept the ball rolling with quite a few streaming releases, most of which did well. How encouraging was that for you in the days of gloom?
It was purely a coincidence that they all kind of released at almost the same time. Serious Men (for which Nawaz was nominated for an International Emmy last week) was a Netflix film and hence had to release on the platform. We wanted a theatrical release for Raat Akeli Hai but we had to release it on Netflix because of the pandemic. I don't have a lot of interest in either medium or platform. I am happy if people get to see my work. When my work ends on a film,
I say, 'Okay, thank you, bye-bye... ab aagey badho!' (Laughs)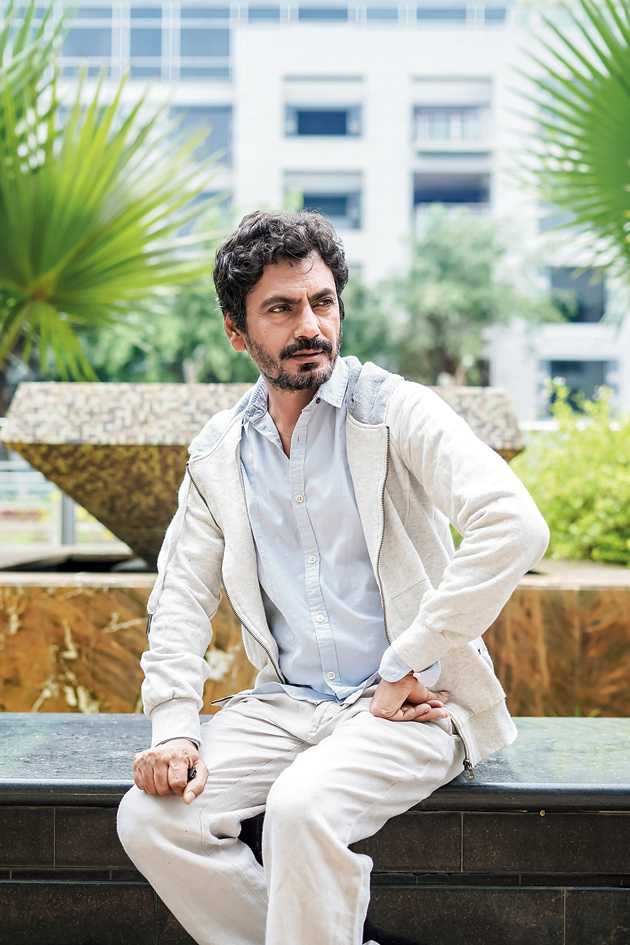 Are you as detached from every project?
I am very detached in everything. I am not a nostalgic man at all. I work with all my honesty and move on. Sometimes, I get exasperated when journalists keep asking me about my previous work, like Gangs of Wasseypur or Sacred Games. Mujhe bahut boring lagta hain woh! (Laughs) Arre bhai, woh ho chuka hain, doosri baatein karte hain.
So you are saying that you don't get nostalgic at all? You are a rare actor who has journeyed from uncredited roles to now having parts written exclusively for you....
That is a time that most actors face, a time when you aren't valued. Par woh kyun yaad rakhna hain? Honestly, I don't feel I did anything special in those bit parts that people should remember them, that I should remember them. Ek waqt tha jab main reject hote hi rehta tha, jab mujhe laatey maarte thhey. That's okay... I had nothing then. Now I get respect, I get good parts (smiles).
But your good work then is what translated into better parts later...
Honestly when I came in, I never wanted to become a big film actor. I was a theatre actor and I wanted to try out a different medium. Acting was and is important for me, it makes me happy... main agar train mein acting karta tab bhi khush hota, maidan par karta tab bhi khush hota.... I ran away from Delhi to Mumbai because I wasn't getting good money doing theatre there. In Mumbai, I worked in serials and did small parts in films. 'Mujhe ek din star bann ke dikhana hain'... woh mere dimaag mein kabhi nahin tha. Mujhe acting ka shauk hain, star bann ne ka nahin.
You said that box office doesn't drive you. Why do a film like Heropanti 2 then?
It just appealed to me. During my theatre days, we did every kind of work... whether it was Moliere, Shakespeare, Kalidas... all of them have different styles. Parsi theatre is larger-than-life, loud. On the other hand, Mohan Rakesh and Badal Sircar's plays are realistic. I even did Russian plays, which were naturalistic. We had different compartments in theatre, and I have the same for my films. Heropanti, for me, feels like the Parsi style of theatre... loud, over-the-top (laughs). Lehra lehra ke dialogue bolna, mujhe mazaa aata hain yeh sab karna.