Navya Naveli Nanda gets candid
'I want to use my privilege responsibly to empower more women and give them the opportunities that I have been lucky to have'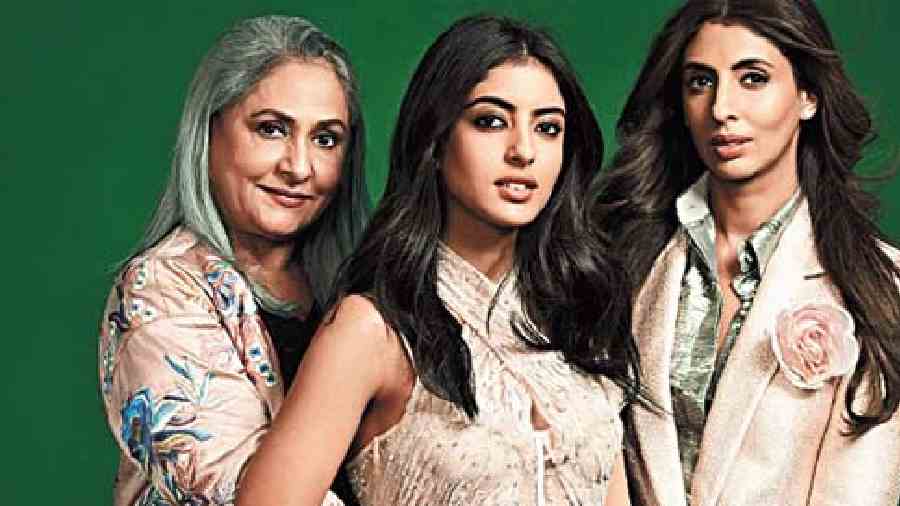 Navya Naveli Nanda with grandmother Jaya Bachchan (left) and mother Shweta Bachchan
Sourced by the correspondent
---
Published 26.07.22, 04:20 AM
|
---
She may have a huge Bollywood lineage — it doesn't get stronger than the Bachchans (she is Amitabh and Jaya Bachchan's granddaughter) on one side and the Kapoors (her father Nikhil Nanda's grandfather was Raj Kapoor) on the other — but Navya Naveli Nanda has, from the start, carved her own path. Just in her mid-20s, Navya works tirelessly for women empowerment, gender equality and social justice. She is the founder of Project Naveli that works towards building a gender equal world, and has co-founded Aara Health, India's first women's health and wellness platform.
Navya has now associated with L'Oreal Paris for the brand's 'I Know My Worth' campaign where she will be leading conversations on breaking stereotypes and empowering women. Over a video call, The Telegraph caught up with the confident and articulate Navya for a chat. In a generic as well as in a specific way, what does the line 'I Know My Worth' mean to you?
To me, it means that whoever I am and wherever I come from, I am adding some kind of value to the world. And that makes me worth it, it makes me deserving of a place at the table, in this society and also everywhere else, where I may have initially felt that I don't belong and that I do now.
You have actively advocated women's empowerment, gender equality and social justice for a more inclusive world. How far does the association with L'Oreal Paris for this specific campaign resonate with you?
L'Oreal Paris is not just a beauty brand. It's a brand that really focuses on empowering women and making them feel confident and beautiful. That's something that I have always stood for. So this has really been a natural fit, and an association that I am proud of. The values that I stand for and the values that the brand stands for are very aligned.
If you look at the videos that we have worked on, they were really clear about wanting to make all the women that they took on this campaign feel comfortable in their own space. I felt really comfortable because it was me in my natural habitat. That's what really resonated with me the most.
Self-confidence is an essential part of judging one's worth. You always come across as someone who is comfortable and confident. Have you always inherently been like this or has it been a natural progression?
I didn't know I come across as self-confident! (Laughs) When it comes to my work, I am a lot more confident because I know what to say and what to do. As a person, I am not always self-assured and confident. Everyone goes through moments of self-doubt in life and I have also had those moments, especially when I was a teenager. I really came into my own in my 20s, which is what you see now. But I am still quite a shy person and quite socially awkward. It takes me a little bit of time.
What do you do in moments of self-doubt?
I remind myself of why I am worth it and what I am here to do. There are a lot of women who don't have the opportunities that I do, and so if I am doubting myself, it's unfair because I am representing them.
What made you want to be a social entrepreneur?
When you look outside your immediate bubble and see the world, then every day one gets to see some kind of injustice towards women. It's not something that one needs to go too far to find. After college when I came back home, I realised there is so much that we can do and not enough is being done.
Every interaction that I have had or every situation that I have been in since coming back home has been an epiphany. Coming from a privileged background I have realised that we women — though we have so many opportunities and privileges — will always face some kind of injustice, be it in the workplace or sometimes even at home. I want to use my privilege responsibly to empower more women and give them the opportunities that I have been lucky to have.
Given the background that you come from, have you had to work doubly hard to make people in your area of work understand how serious you are about making a difference?
I am blessed to have to not work for a lot of things, even probably things that I don't deserve to have. That's only because of the family I come from. So I could never complain, I could never say that I have had to work more than other people. I know people who are doing 10 times more work than I do. My family has made a lot of impact with their work in various fields and I hope I can do the same.
What's the key to keeping yourself rooted and yet flying high?
For me, it's family. It's the values that they have brought me up with. It's also about what I come home to every day. The way my parents (Shweta Bachchan and Nikhil Nanda) have raised me have played a huge part.
Who is your biggest inspiration in your family?
My naani (Jaya Bachchan) definitely. She is someone I look up to, not only for work but even just how she is as a woman. I like how she conducts herself personally.
For many of this generation, social media has become a barometer for judging self worth. You predominantly use social media to highlight your entrepreneurial work. How much does social media impact your life and what's the key to using it judiciously?
From the start, as you said, I have used social media more to talk about my work and to highlight issues that are generally not talked about on a platform like Instagram. I felt it was very important for this wave of change to come into social media. We are very used to seeing pictures of peoples' personal lives, but rarely do we talk about women's health or domestic violence or sexual health.... So for me, social media is not something I use too much in a personal manner. There are so many people one can reach through social media and I feel that more than a selfie, if I can put out a piece of information that they may not have known, then I can add value.
Given the lineage that you come from, is there a plan to do something in the creative space at some point of time?
No, not at all! (Laughs) I have entertainers and actors in my family, but I think a lot of people forget that I also have a very strong lineage of entrepreneurship from my father's side. That's the lineage that I have decided to follow (smiles).
So 'never say never' or is your mind made up?
I am definitely saying 'never'! (Laughs)
Besides work, what are your other interests?
My work keeps me engaged 90 per cent of the time. Otherwise, I love reading... I am a big reader. I love non-fiction, books on international relations, books on politics, history....
What are you reading right now?
I am reading a book called The BBC (reaches out and holds up the book). It's a history of the broadcasting network BBC....
So you are more of a physical books reader?
Oh ya! I am not a Kindle/ iPad reader. I need to feel a book in my hands and I love the smell of the pages (smiles). It's one of my favourite smells.
Your style is very relatable. How would you describe it?
I am always running 10 minutes late for a meeting so I wear whatever I find in my closet! (Laughs) There is not really a lot of thought that goes into what I wear. I focus a lot on comfort because I have to be on ground for a lot of the work that I do. For me, confidence always comes from comfort. I try and keep it simple and my mom always tells me that less is more.
Also, make-up is not something I am very fond of. But I focus a lot on skincare and I believe that if you have good skin, you don't need to put on too much make-up.
You are more of a reader, but are you watching anything right now?
I am not a big streaming fan. I actually prefer watching shows on TV. My naani and I have an Indian Idol obsession and we watch it together. I was a big fan of the last season.