Nakuul's web page
Ishqbaaaz actor on playing the relatable guy in new romantic drama on digital platform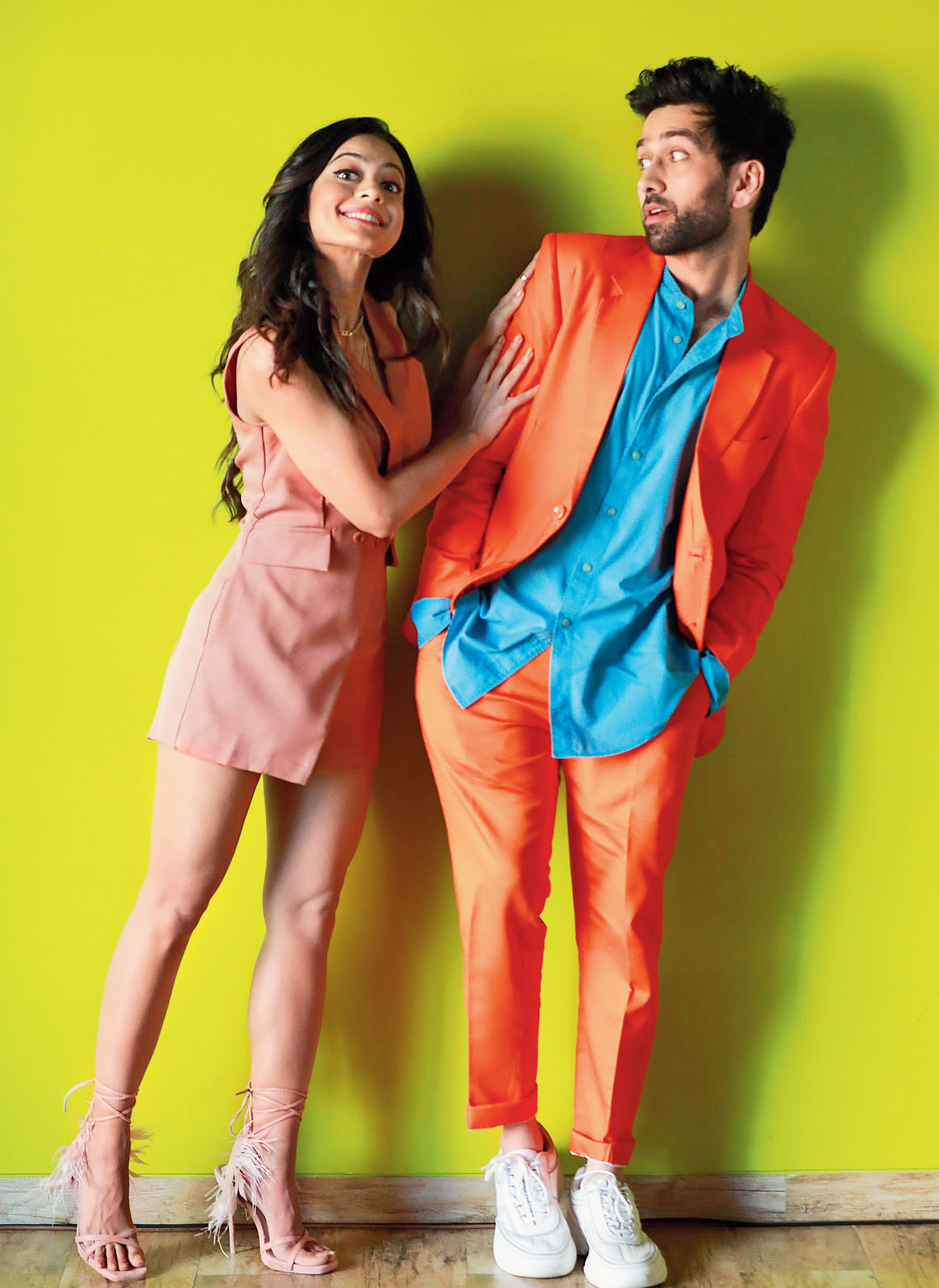 ---
---
Never Kiss Your Best Friend, ZEE5's latest series based on Sumrit Shahi's book, is a 10-episode romantic drama. Starring Nakuul Mehta and Anya Singh, the show follows the journey of friends Sumer and Tanie, who should not have kissed but, well, they do. The Woods caught up with Nakuul for a chat.
The Woods: Did you read the book to prepare for your character?
Nakuul: The series has been adapted from the book but it has taken its own life. I did not read it at first but on my flight to London, the book was lying with me and I was very tempted. I ended up reading the parts that I knew would be retained. The vibe was similar but this was more in a series format. Eventually I read the whole thing because of my curiosity.
How did you visualise Sumer's character while reading the script?
I was pretty kicked about playing the same guy across different timelines where through experiences, the person evolves and becomes a different person. Playing the present timeline was way easier as it was closer to me. But to play the younger guy, everything was in the eyes. When you're 20 years old, you're excited and enthusiastic and there's a life you want to explore... it's all in the eyes. The challenge was to get that right, the experience couldn't show, cynicism of the world couldn't show. That is the key for every character I play, to get the look in the eye correct. Once I got into his clothes - the anti-fit jeans and the loose sweatshirts - the body language automatically just fell in.
What was the biggest challenge you faced while playing a much younger 20-year-old character?
The biggest challenge was to not play young but be young and feel young because playing young can also go into a bit of a caricature sometimes.
Did you have any questions for director Arif Khan?
Yes, lots. I really wanted to tap into his mind and understand what world he was creating. Was it going to be real and relatable for me? That was the key. Luckily, all of us were on the same page.
What interested you about the story?
Having done a spate of romantic shows, I was looking to do something different. But when I read Never Kiss Your Best Friend, the show's vibe was very millennial, very relatable, very new. It wasn't something I had tried. I have played the romantic hero where I have got out of a chopper, romanced the heroine, killed 50 guys, fought them but have never been relatable (laughs). This show has given me a chance to do that. Sumer Singh Dhillon is that guy. It's also one web show that definitely stands out for the brilliant music it has, it has really caught on.
You co-wrote, produced and acted in a mini series in 2016 but this is your first in a full-fledged web series. How different is it working in this medium as opposed to TV?
n Yes, I was one of the pioneers to have started working in the digital medium when I co-wrote, produced and acted in I Don't Watch TV (on Arré). I have always thought that digital (medium) will blow up and it is here today. It is very different from television. Television has a mass reach, it is more community viewing which also means that your content is sometimes on steroids, it's high drama. It's like your big Bollywood films, whereas niche and indie films have a smaller audience. So does the web right now. It can be relatable, it can speak your language, it can be faulty, it can have rough edges. I'm someone who aesthetically enjoys that. I have had a great time working on web (shows). The opportunities I get on the web today are because of what television has done to my career, so I cannot take that way.
How was your equation working with Anya Singh?
Working with Anya has been very special. Through the course of the last few months, we have forged a strong friendship which rarely happens at work now. You just go and do your job and leave. But I thought she's an extremely sensitive, talented actor and a team player. I can safely say it's a friend I'll have for a long time.
How was it shooting in chilly London?
Gruelling yet beautiful! London is one of my most favourite cities in the world. In the first one week we were shooting in -1, -2°C with chilly winds. But I also feel that in November and December, during Christmas time, there's no other better place to shoot a romantic story in. The place automatically lends a lot of character to the series. The third most important character in the show is the city and if you watch it, you'll understand why I say that.
Suchitra Krishnamoorthi plays your mother in the series. How's she as a co-actor?
I had the great pleasure of working with Niki Aneja Walia and Suchitra Krishnamoorthi, both actors I've literally grown up watching and admiring. I've watched Niki in multiple shows and have always been a massive fan of her talent. She takes care of you like a mother, treats you like a friend - ideally should've been your girlfriend on the show but such is life (laughs). Suchitra played my mother and I've grown up watching Kabhi Haan Kabhi Naa and loved her in that. I'm just grateful that we have had a beautiful ensemble - Suchitra, Niki, Vivek Mushran and Rituraj Singh.
Any fun anecdotes from the shoot?
When you're shooting outdoors, you end up spending a lot of time with the people you shoot with. One night we wrapped up at 4am, we were shooting a very crucial scene of an exposé of Tanie's boyfriend and my girlfriend and both of us ending up being single. We came back dead tired to our hotel rooms and then all of us got together in my suite. We played indie-pop music and were up till 8am. That's the beauty of shooting outdoors with a youngish crew, you build bonds. We had some fun nights like those.
Your character Shivaay Singh Oberoi in Ishqbaaaz was immensely popular. Would fans see you come back to TV soon again?
n For sure. I take my badge of being a TV star with a lot of pride. It has given me access to a lot of opportunities and a lot of content which I can now dabble in - it's courtesy the audience I've built in TV. I'd love to continue to serve them. It's just that the long format right now I'm scared of. Both the shows I did had a phenomenal run, together I've done around 1400+ episodes on two shows which is a lot of TV (laughs). I'd love to try out shorter formats and I wish on Indian TV we could do shorter formats that'd be enjoyable. Then we can play different characters and not be stuck with the same character for multiple years. But I do look forward to TV soon, maybe host a show.
Have you kissed your best friend in real life?
Yes, I did and then I got married to her (wife Jankee Parekh)! It's a fun story.
Which shows are you currently binging on online?
Besides Never Kiss Your Best Friend which I've already watched one and a half times in the last three days, a show that I've really enjoyed in recent times is Fleabag. I took to it very late but I think it's phenomenal.