My politics, my work
Is there a new intolerance to another view being practised in the Hindi film industry, where assignments are sized up not by what's on offer but by who your colleagues vote for?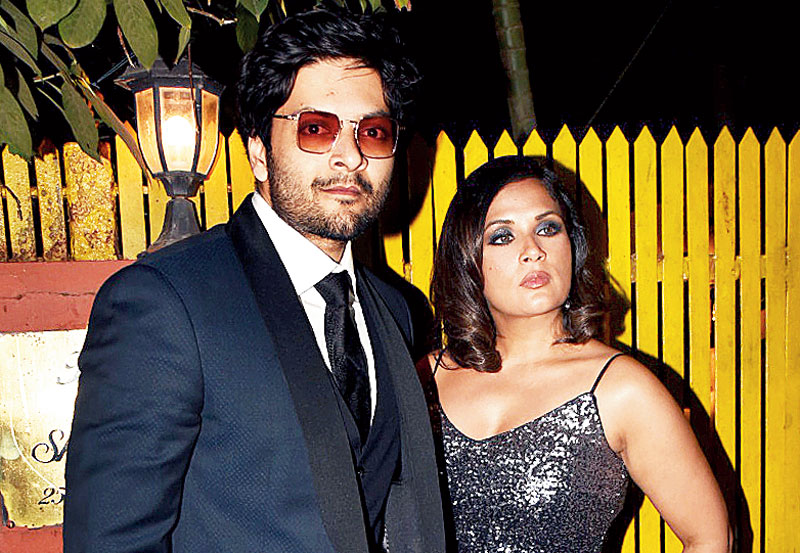 Richa Chadda and Ali Fazal
File Picture
---
Published 24.01.21, 12:54 AM
|
---
A cinematographer went to town early this month to say, enough is enough, someone has to take a stand, and he took it. He refused to join the team of a Kangana Ranaut-starrer.
Politics. Should it play such a huge part in creative choices?
A critic refusing to watch a film by Vivek Agnihotri. Taapsee Pannu refusing to act in The Tashkent Files. Arjun Mathur regretting his association with The Accidental Prime Minister, vowing not to repeat such an unhappy experience. Anupam Kher feeling isolated after making his leanings clear. Swara Bhasker telling me that her political utterances have put her career in jeopardy.
Is there a new intolerance to another view being practised in the Hindi film industry, where assignments are sized up not by what's on offer but by who your colleagues vote for?
The latest to do a political film is Richa Chadha, the actress who has strong ideological beliefs that she's unafraid to publicly express.
Madam Chief Minister is the first film with a backbone of politics that fell into her kitty. Did she agree to play the somewhat Mayawati-resembling-Dalit-leader because she agreed with its politics?
Swirling in short films shot during the lockdown (Unpaused and 55 km/sec), working in a Web series in the hills near Naintal, going through a mandatory Covid-19 test at Mumbai airport on landing, and threats from the Bhim Sena that put a price on her head and wanted her tongue severed, Richa retained her composure and replied without agitation, "It's the story of one woman from an oppressed community who is a librarian. Something happens which involves her in politics, she rises to the top and becomes the CM. So it's not really about politics, it's about this one lady."
Since you are a politically aware actress, would it matter in your choices?
"It does matter," she accepted. "We can't always be perfect in our choices but if the film was encouraging caste-based discrimination, I probably wouldn't have done it."
With bike-riding at night in rural UP and shooting with large crowds and mashaals, it was a physically challenging but an exhilarating experience.
What if a film came along where you didn't agree with its ideology?
"Not too many of this nature have come to me. But I would probably not do such a film because I don't want to be unhappy when I'm at work."
Swara said her politics has harmed her career.
"Somehow, my politics has not affected my career at all," Richa said emphatically. "Perhaps," she offered as an explanation, "Swara and I have different ways of expressing our beliefs."
Did she think the cinematographer was right in letting his politics decide his professional choices?
Richa would make a fine politician herself as she said like a diplomat, "It's entirely up to the individual. What if he was unhappy working with somebody he disagreed with? You and I may be tolerant and work with everyone but someone else may think differently. And doing a film is a long involvement."
Despite completely contrary ideologies, Richa worked with Kangana without fireworks in Panga. "But we definitely didn't discuss politics," she smartly pointed out. "We avoided awkward discussions. I have worked with several other people with whom I've been able to have these discussions. But I guess it depends on your equation with the other person." Clearly, it was not a buddies' equation between her and Ms Ranaut.
With that we moved to the Covid-driven delay in her wedding to actor Ali Fazal, and the probability of it turning into an issue when she does say "I do". "We had to delay it... We couldn't endanger so many people. We're keenly watching the vaccine trials, hopefully the wedding will happen soon."
Any apprehensions of it being labelled a love jihad? "I'm not apprehensive," she said firmly, "because it's a manufactured political debate. They just want to control women, control their choices. Some people are going around saying even the consent of the woman doesn't matter, the families have to agree." In her case, both his and her families said "qubool" a long time ago.
Bharathi S. Pradhan is a senior journalist and author