Ms Marvel Episode 2 hits the right buttons, musician Ritviz's song lends it an Indian touch
Songs by South Asian artists set the mood for a Bollywood-style teen rom-com, complete with a dance routine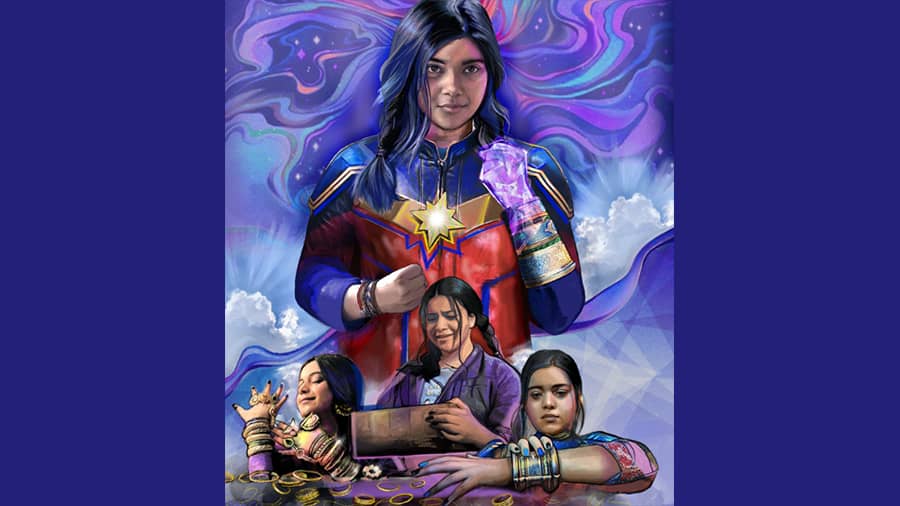 Kamala Khan played by Iman Vellani
@msmarvel/Twitter
---
Calcutta
|
Published 15.06.22, 05:41 PM
|
---
Episode 2 of Ms Marvel not only gave us engaging scenes but also came loaded with Bollywood call-backs and influence. Grim topics like the Partition of India and women's rights in South-Asia were balanced off with a peppy superhero-power discovery montage and budding teen romance. 
The Disney+ miniseries already has us hooked even though it tends to meander away from the Sana Amanat and Stephen Wacker-created comic book Ms Marvel. Kamala Khan, played by Iman Vellani, does not have the same origin story or the exact same powers as the comic book version. So, the show has something new even for those who have been following the Ms Marvel comic books. 
By the end of Episode 1, Kamala chooses to keep her bangle-gifted powers despite her mother Muneeba Khan, played by Zenobia Shroff, reminding her that family should be more important. 
With her newly found powers, Kamala seems to have turned a more confident leaf. She even corrects her teacher who had been calling her 'Camelia'. Instead of a makeover montage that most 90s and early 2000s teen rom-coms saw turn the nerdy protagonist into an object of adoration, Kamala's transformation is triggered by her powers. 
Episode 2 does not fail to deliver the superhero-power discovery montage much as we have seen in movies like Shazam. The montage gels perfectly with Goddess by Krewella, NERVO and Raja Kumari as the background track. 
Songs by artistes with South-Asian backgrounds are featured in this episode as well. When Kamala's new crush Kamran, played by Rish Shah, walks out of the pool, doing the typical teen-heartthrob entry, Tesher's Jalebi Baby plays in the background. When Kamala is about to go on the first driving lesson/date with Kamran, Ritviz's Sage plays in the background track. 
Just like in Bollywood movies, Ms Marvel makes use of songs to push the emotions of the moment. The episode even has Kamala perform a full-on dance number to Be My Baby by The Ronettes. Do we wish that she had instead danced her heart out to a song like Ho gaya hai tujhko from Dilwale Dulhania Le Jayenge? Yes! But Vellani's dance captured the moment of puppy love just as well. 
With Kamala and Kamaran bonding over their love for Shah Rukh Khan, and his movies Baazigar and Dilwale Dulhania Le Jayenge in particular, who knows we may eventually see a Bollywood track on the show soon. The episode also mentioned the fictional Bollywood hero Kingo, who was actually one of the Eternals seen in the MCU movie Eternals. 
Ms Marvel Episode 2 had all the teen rom-com tropes, including the jealous best friend in love with the girl. Bruno Carrelli, played by Matt Lintz, could be seen getting green in the gills of Kamran who not only called him Brian but also replaced Kamala's superhero training session with driving lessons. 
Kamala continued to be entranced by the older boy till the shocking end to the episode. In the comics, Kamala and Kamran have a complicated relationship. The episode is aptly titled Crushed as it explores the teenager's crush and her superhero adventure nearly gets crushed by the end of the episode by the Department of Damage Control.