Ms Marvel: 6 Indo-Pakistani songs that make the MCU show feel truly desi
Coke Studio hits to a rendition of A.R. Rahman's 'Tere Bina', the Disney+Hotstar series has something for every South Asian music lover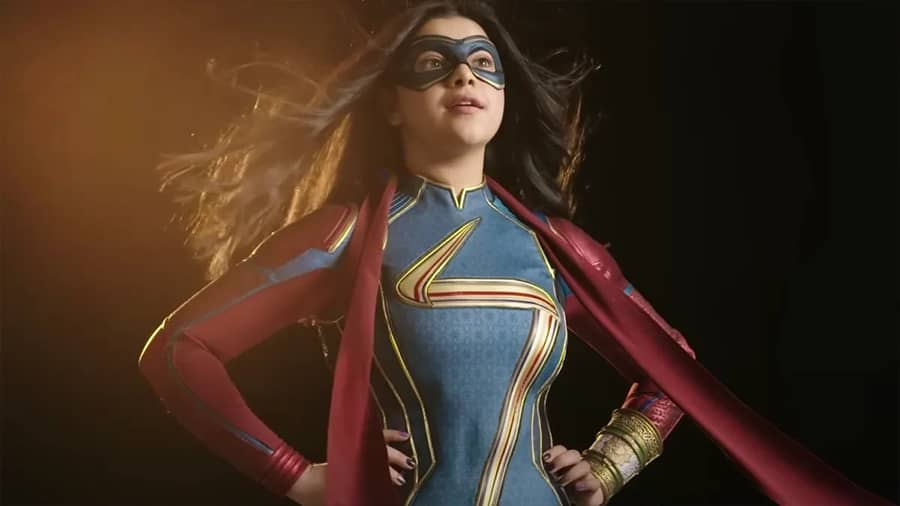 A still from 'Ms Marvel'.
Twitter
---
Calcutta
|
Published 21.07.22, 05:30 PM
|
---
Ms Marvel, the first ever MCU superhero series on a South Asian protagonist streaming on Disney+ Hotstar, focuses on the idea of inclusiveness not only in its casting but also in the music and background score. 
From Bollywood numbers playing at weddings to songs sung by Pakistani singers, this coming-of-age tale starring Imam Vellani as Kamala Khan ticks all the right boxes when it comes to portraying the essential role music plays in South Asian culture and movies.  
At the heart of Ms Marvel is a Pakistani-American teen, Kamala Khan, and the music adds a sense of familiarity to the Indian and Pakistani audience who have grown up watching Bollywood films. But it also delivers a few peppy fusion numbers that millennials from the Indian subcontinent would want to shake a leg to. 
Here's a look at some of the Indo-Pak tracks from the soundtrack of the six-episode Ms Marvel.
Rozi by Eva B. 
This hip-hop track, sung by Pakistani female rapper Eva. B, is used during the end credits of the first episode, Generating Why. The dynamic lyrics and energy of this number made it an excellent choice to close the episode where Kamala first discovers her powers at AvengerCon.
Written in Balochi and Urdu, Rozi underlines the themes of feminism and women empowerment. Peechay Hutt by Hassan Raheem feat. Justin Bibis & Talal Qureshi 
Featured in the end credits of the second episode, Crushed, this Pakistani EDM song is produced by Talal Qureshi and Xulfi with vocals by Hassan Raheem and Justin Bibis. It comes after Kamala is introduced to the two antagonists, DODC and Clandestines. 
Peechay Hutt premiered in Season 14 of Coke Studio Pakistan and became an instant hit. Hassan Raheem also wrote the lyrics, which are about embracing the new. The EDM track greatly complements the energetic and youthful vibe of the show. Tere Bina Khanvict Remix by A.R. Rahman feat. Khanvict
This EDM remix of A.R. Rahman's evergreen love song from Mani Ratnam's Guru is used in the third episode, Destined. Played during Kamala's brother Aamir's wedding, the song adds a desi flavour to MCU. 
This version of Tere Bina combines the slow, romantic vibe of the classic with elements of contemporary music, while retaining the essence of the original song. With a perfect combination of South Asian and Western elements, Khanvict's masterful mixing takes it to another level. Doobne De (Reprise) by Hassan and Roshaan 
Used in the fourth episode, Seeing Red, this reprised version of the classic pop number by two independent Pakistani artistes, Hassan and Roshaan, coincides with Kamala learning that the Clandestines are attempting to pierce the Veil of Noor, which separates the Noor dimension from the physical world.
Doobne De (Reprise) contains themes related to Sufism, with subcontinental instruments reimagined with a contemporary sound. The track is from Hassan and Roshaan's debut studio album, Chaar Dinon Ka Khwaab. Tu Jhoom by Naseebo Lal and Abida Parveen
This soulful Sufi song features two of Pakistan's legendary singers, Abida Parveen and Naseebo Laal. It is used in the fifth episode, Time and Again, and is played against the backdrop of the India-Pakistan partition. 
Tu Jhoom featured in Season 14 of Coke Studio Pakistan. This beautiful song with thought-provoking lyrics and inspiring vocals captures the true devotion of Sufi music and acts like a balm on the horrors of partition. Ko Ko Koreena by Ahmed Rushdi 
The finale episode, No Normal, features this golden-era Pakistani song which is often considered to be among the oldest pop songs of the subcontinent. Used when Kamala and her friends are fighting the DODC agents inside their school building, the track provides a touch of humour to a rather tense sequence. 
Originally sung by Ahmed Rushdi and pictured on Waheed Murad for the movie Armaan (1966), composed by Sohail Rana and written by Masroor, Ko Ko Koreena is one of the gems of Pakistani popular music.