Durgamati is a train wreck
The film is more (unintentionally) ha-ha than horror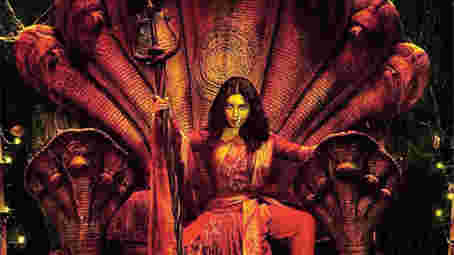 Durgamati.
Sourced by The Telegraph
---
Published 13.12.20, 08:55 PM
|
---
I have been combating a bad bout of spondylitis over the last few weeks. Durgamati has just made it worse. Not because I stayed up late into the night watching this latest Amazon Prime Video release (well, that too), but because I haven't seen anyone twist and contort their neck in ways this unimaginable, that is ever since Linda Blair in The Exorcist and Jim Carrey in The Mask. The former is a seminal horror film, the latter one of the most rib-tickling comedies of all time. Durgamati, billed as 'horror thriller', is no spine-chiller, but it definitely is unintentionally hilarious. It also borders on the unwatchable, more often than not.
A scene-by-scene remake of the Telugu-Tamil hit Bhaagamathie, Durgamati (that was titled 'Durgavati' till a few weeks ago) rests on a premise so flimsy that it makes Akshay Kumar's Laxmii tolerable, and that's saying a lot. For the record, Kumar is one of the producers on this film.
Unfolding in small-town India, Durgamati opens with IAS officer Chanchal Chauhan (Bhumi Pednekar), now doing time in prison for murdering her fiance Shakti (Karan Kapadia, only famous for clicking a selfie with Christopher Nolan, courtesy his aunt Dimple Kapadia). Chanchal worked for the local minister Ishwar Prasad (Arshad Warsi), a politician with a squeaky-clean image, that the corrupt in the business are determined to get out of the way. Chanchal, on the pretext of being questioned about her former boss's underhanded dealings, is whisked off by the CBI, represented by Mahie Gill's Shatakshi Ganguly, local cop Abhay Singh (Jisshu Sengupta) in tow, to a dilapidated mansion which has the reputation of being haunted by a queen called Durgamati. Before long, we find Chanchal walking the stairs of the mansion at night, candle in hand, and then ultimately being possessed by the spirit of Durgamati. The rest of the film —- and it's an agonising 155 minutes long — is a blur.
Director Ashok, who also helmed the original, uses the standard tropes — screeching music, billowing curtains, rain and thunder, doors suddenly slamming shut, creaky floorboards, cobwebby furniture — but there's nothing in Durgamati that will prompt you to watch the film between the gaps of your fingers. In fact, some of the horror is actually ha-ha, which was clearly not what the makers were intending.
With most of the 'scary' scenes getting repetitive — Bhumi, otherwise a competent actor, is completely out of depth here, bellowing in ways that grate on one's nerves, rolling her eyes and brandishing a trishul, all of which will bring on the guffaws after a while — Durgamati attempts to throw in one lame twist after another, some of which have potential, but none of which work.
Arshad Warsi has too little to play with, Mahie Gill's distorted Bangla is insufferable, while Jisshu, once again after Sadak 2, tries his best to rescue a terrible film. The jokes — this is the kind of film that relies on a comedy side track, though the whole film is a howler — are asinine. My 'favourite' scene is one that involves a tantrik placing what looks like a sugar cube on his tongue and setting it on fire to ward off a ghost. The only line in Durgamati that made my ears perk up was, "Politics mein kamal nahin keechad khilte hain." Well, that was brave.
At one point, a psychiatrist uses the word Kakorrhaphiophobia, when just saying 'fear of failure' would have been so much easier. What I felt during the whole of Durgamati? Thaasophobia... the fear of being bored. That was pure horror. Even if the film wasn't.