Mon Mane Na turns 12
We zoom in on some memorable moments from the Dev-Koel-starrer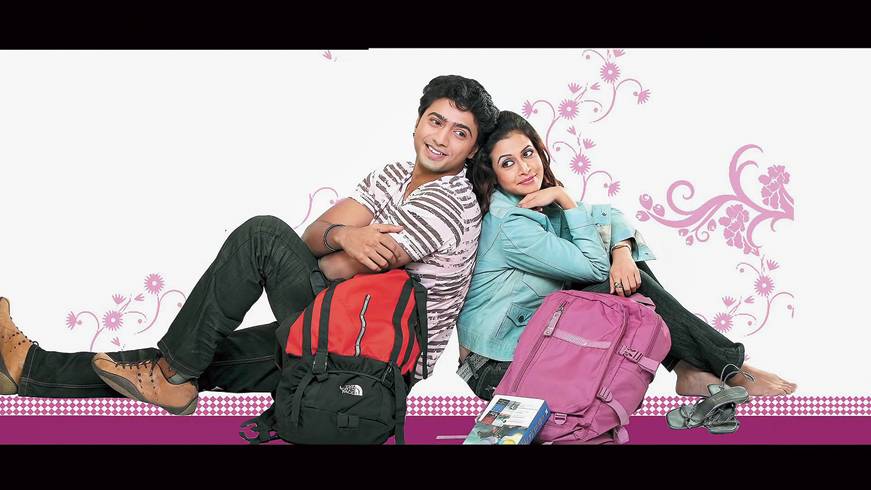 ---
---
Mon Mane Na, starring Dev and Koel Mallick, hit all the right notes when it released in the December of 2008. Directed by Sujit Guha, the superhit film tells the love story of Rahul and Ria as they journey from Calcutta to Darjeeling with dreams in their eyes, romance in their thoughts and the police on their trail. The Telegraph snapshots the high points as the film completes 12 years…
⦿ The film starts off on a strong note with the wedding announcement of Ria (Koel), who is an industrialist's daughter. Much to her dismay, it is her father making the announcement. This leads to a series of arguments between Ria and her father. Dad wants her to get married to someone from the US or Europe but Ria wants to tie the knot with Bonny, a software engineer in Darjeeling, who unbeknownst to Ria, is cheating on her. Ria runs away from home and gets on a bus to Siliguri. She has to reach Darjeeling.
⦿ Ria and Rahul (Dev) meet on a bus for the first time and sparks fly. Rahul spends a lot of time arguing with the conductor to get a window seat for himself at the front, only to see that the seat he was fighting for has been occupied by Ria who has just got on the bus.
⦿ Once they are seated, and the bus rolls on towards Siliguri, fun moments roll out one after the other — Rahul starts reading Ria's magazine; he quietly takes off an earpiece from Ria, who is lost in her world, and starts listening to her music! As dusk falls, Rahul starts to doze off, putting his head on Ria's shoulder. "Can't you sit properly," she complains. "If you have a problem, get a taxi," he replies! Hours later, Ria wakes up to find that she had slept through the night with her head resting on Rahul's shoulder!
⦿ Meanwhile, we get to know that Rahul is on the run from the law, having taken off with a precious diamond necklace. Ria doesn't know this. And Rahul finds out the real identity of Ria, who has been reported missing. He reads in a newspaper that there is a reward of Rs 10 lakh for anyone who manages to give information about her.
⦿ We realise that Ria and Rahul are in it for the long haul when Ria's bag gets stolen and Rahul has to find it since he had kept the necklace in the bag. Amidst all of this their bus speeds away without them.
⦿ The LOL sequence in the cab on the way to Siliguri! Seeing the cabbie going at a snail's pace ("Is it a car or a bullock cart? Are all the wheels moving?!" asks Ria), Rahul gets into the driver's seat and hits the accelerator of the ambassador leading to anguished protestations from the alarmed cabbie who says that his wife will thrash him if she gets to know that they are speeding! Rahul's driving skills are powered by words of encouragement and cheers from Ria.
⦿ When Ria reaches Siliguri she is immensely happy. She doesn't care about her bag any more and looks forward to meeting Bonny. But Rahul is hell-bent on finding her bag! Ria suddenly spots the thief, they get hold of the bag but Rahul can't find his necklace that he had secretly placed inside a doll. "Where is the doll?" Rahul roars. "I have thrown it outside, I am not interested in playing with dolls," replies the thief feebly. To his relief Rahul finds the doll outside, picks it up, starts caressing it and thanking his stars, which leads to another fun scene where the incredulous Ria raises her eyes seeing all this! But to Rahul's dismay the necklace is not in the doll and the hunt goes on.
⦿ Soon Rahul loses his wallet and they realise that they have run out of money. So now the only option left is to walk to Darjeeling. After fighting off goons on the road, they take shelter in a run-down deserted place where a haystack works as a makeshift bed. It is late at night, they are hungry and there is no one to look after them. For the first time they realise they care for each other.
⦿ Rahul and Ria end up in Rahul's brother's home, and that leads to some heartwarming family moments including a sequence revolving around a cricket match that the family members are playing for one-and-a-half years! Ria learns that Rahul comes here from Calcutta sporadically and then goes away for a few months. Ria also learns that Rahul is trying to collect money for his nephew's operation.
⦿ The aww moment when Rahul asks Ria to close her eyes and imagine the man of her dreams — the man she loves — waiting for her in a well-decorated, beautiful house. In the imaginary world, the man turns around and Ria sees that it is Rahul! Ria opens her eyes with a start!
⦿ Staying true to the essence of a larger-than-life film, the climax is heart-rending and thrilling at the same time. In the end the necklace is returned, and a beaten-up, emotional Rahul lands up at Ria's place in Calcutta just as she is about to get married to someone else. He starts off by saying that his grandfather wants Ria back on his cricket team, and finally expresses his feelings for her and manages to say the three magic words to her — that he loves her — to which Ria (in bridal wear) says, "And you took such a long time to say this!" "What can I do? I am one-of-a kind," smiles Rahul through his tears.
⦿ Powered by Koel and Dev's moving performances, Mon Mane Na is a film that celebrates the power of love, encourages one to dream big and instills the importance of family values and responsibilities.