Mimi Chakraborty opens up to us
'I have never celebrated my success. I try to forget what I have achieved. That way, every time you are starting from scratch'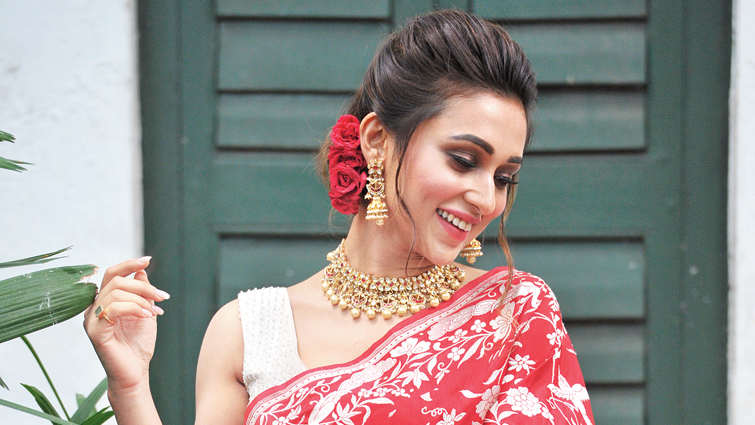 Mimi Chakraborty.
Pabitra Das
---
Published 04.11.20, 01:17 AM
|
---
She has directors like Sanjay Leela Bhansali and Anurag Kashyap on her wish list and the longing to do films like those of Ayushmann Khurrana's. More than anything else, however, Mimi Chakraborty just wants to keep working. Conquering one milestone after another. The actress-MP opened up to us in a recent chat.

Do you take time to open up?
Basically, if I don't click with a person, I will never open up. If I click with someone, I will probably speak my heart out. It's the equation that matters. I am neither an introvert nor an extrovert. I am somewhere in the middle. I have met so many people in my life that I actually get the vibe that sharing is good with this person and whom I will give bad times. The betrayals have taught me a lesson.  
It is difficult to give you a bad time though…
Very difficult!
Were you more trusting of people in the past?
I am still trusting of people but now I know whom to trust. Before I used to trust everybody. Trust is very important. You have to be careful in our industry especially and also when you are 24 hours under the scanner.  
Do you think we are missing out on togetherness?
I think it's become more WhatsApp kind of togetherness. We are part of a WhatsApp group, so we are together. Probably, we haven't met for a year. Or, sending you a bouquet of flowers on your birthday… remembering your birthday is being together.
Who or what makes you feel secure?
My bank balance. I might sound very selfish but when you are single and you have to feed so many mouths and you have so many responsibilities, that's what you would like to secure first. Don't be swayed by emotions.

Even that has been a lesson learnt?  
I am still very emotional but my emotions don't hurt my work any more or my bank balance. I believe in working with full honesty. There are days when I am critical of myself. Apart from being disciplined and working on myself or for the people, I have nothing much else to do in life. I don't party or drink or have a social life….
That is by choice…
By choice or rather I don't enjoy it. I know my core people will be beside me but I am a homebody, especially with my kids (pet dogs Max and Chikoo). They bring me home. I wasn't like this. I used to eat Chicken Bharta and Roomali Roti at Jai Hind at midnight or lassi at Balwant's. Discipline took away a lot from me but the things that were taken away were not good for me. It gave me so much more that I prefer being disciplined. There is no insecurity.

Are you then in the happiest phase of your life right now?
I try to be happy. It is a conscious effort. Everyone has their highs and lows. People know that I have a history or depression and that may come back and hit you anytime. You won't even know.
Happiness for me is work. Shooting back to back takes a toll on my mind and body, but it gives me so much happiness that when I finally hit my bed, I am satisfied. Even if I have had to listen to 50 complaints in my office, I feel worthy. I really enjoy.
I have two-three friends, not many. There are the same number of people on my favourite list.
Has it shrunk over the years?
It was never that big but it has got filtered over the years and these people are here to stay.
How do you handle your triggers?  
I was telling Nusrat (Jahan) the other day that at least she has someone at home to take her to the hospital, but even if I collapse, it's me who has to call the doctor. I cannot do anything about it, but at the same time, I have to deal with it. So, I just don't think about it.
When I came to Calcutta, I didn't know anybody. No one knew me. If I could achieve this, nothing else is impossible. I do yoga but I cannot meditate.
What anchors you?    
I am happy when I am working. Even if I am cleaning my chandelier I am happy. I also derive positivity from my pets. You have to be your best anchor. You should know what makes you happy.
What kind of conversations do you have with Chikoo and Max?
I ask them: 'Eto nongra holi keno?' or 'Nokh gulo katte hobe' or let me clean your ears. Just like a Bangali ma. I often run with a scissor behind them to cut their hair. Max (a husky) came into my life much later… he'll be turning four. I am immensely connected to both, but Chikoo is like a vein in my heart. He was with me when I left home. He was an abandoned puppy and now he is the most handsome Labrador I have ever seen.
What else is a source of happiness for you?
Food… more than food, it's sweets. From rum ball to strawberry truffle to Swiss rolls, milkcake, rosogolla….
You have completed a decade in the industry…  
It's my 11th year. Oh my God, I am 11 years older right now! (Laughs) I have never celebrated my success. Let's get to the next one. I try to forget what I have achieved. That way, every time you are starting from scratch.
This is a very sports analogy. Do you have a sports icon?
I never got the chance to watch too much TV in school but Jyotirmoyee Sikdar (Asian Games gold medallist) had come to inaugurate our sports complex. I had exams and my mom didn't allow me. I was very upset. People used to complain to my mother that 'Mimi eto chhoto pant pore keno khele', and I would tell her, look at them.
And, like every mom, doesn't she want you to get married?
That only happened after Nusrat got married. 'Oh o toh heroine and MP. Problem ta kothai?' What does marriage have to add to my life? I don't plan on marriage.
So, you are not looking at a committed relationship?
I don't have space for that drama in my life any more.
What are you looking at in an ideal relationship right now?
Ke jaane! Bola mushkil. At one point, I wanted to marry Hrithik Roshan! I want a person to treat me beyond my image.

Are the interested candidates scared of you?
Eta aamake shobai bole, but I won't bite them. They have to come and tell me that they like me. I cannot hear or see anyone!
So, the effort has to show!
'Effort' is the word! My effort got me here… so…
What will give you happiness in the next decade?
I want a sea-facing house in LA. That's my dream.