Milap Zaveri on Marjaavaan
What makes him an 'angry' filmmaker and why he isn't interested in pleasing critics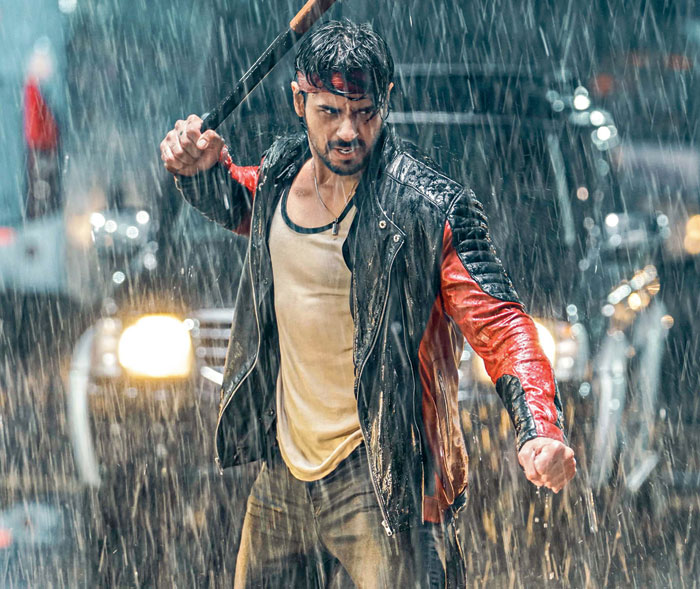 MASALA MAGIC: Sidharth Malhotra as Raghu in Marjaavaan, releasing on November 15
The Telegraph
---
Published 04.11.19, 01:56 PM
|
---
Touchwood, the buzz is strong… the songs have worked, big time, which is always good for a love story. Tum hi aana has been at the top of the music charts for three weeks now," is what Milap Zaveri told The Telegraph when we dialled him a few days ago. The young director, who delivered a surprise blockbuster with his 2018 film Satyameva Jayate, is now pushing up the masala madness ante with Marjaavaan. The November 15 release stars Sidharth Malhotra, Tara Sutaria and Rakul Preet Singh, with Riteish Deshmukh as its antagonist. The Telegraph chatted with Milap on what makes him an 'angry' filmmaker, why he isn't interested in pleasing critics and whether Marjaavaan will appeal to a larger audience…
Are you promoting Marjaavaan as a love story or an action film? The trailer shows a lot of violence…
It's a love story with a lot of action. Tezaab, that released in the late '80s, was described as 'a violent love story'. I think that's the best way to describe Marjaavaan. There's a lot of action but also romance. It's in the same zone as Ek Villain and Ghajini.
It seems to be an 'angry' film and so was your last film Satyameva Jayate. Where does so much anger come from?
(Laughs) I am a pretty jovial guy in life. But yes, there was a lot of anger in me after the release of Mastizaade (starring Sunny Leone, Vir Das and Tusshar Kapoor). It wasn't for anyone else, it was directed at myself because I felt I had not lived up to what I thought I was capable of. I allowed myself to be slotted in the sex comedy genre and the industry had practically written me off. I felt I had to change my genre and so I made a short film called Raakh, starring Richa Chadha, Vir Das and Shaad Randhawa. When that got some amount of appreciation, I think people realised that I was capable of doing things other than comedy or adult comedy. From there, I took a completely different turn in my career with Satyameva Jayate. Yes, Satyameva… was a very angry film. That anger has continued in Marjaavaan and I don't think I should ever lose that anger. I think it's better to show anger on screen than take it out in life (laughs). I channelise my anger into my cinema.
Honestly, I have grown up watching that kind of cinema… Amitji's (Amitabh Bachchan) films… the kind of films that Manmohan Desai, Prakash Mehra and Ramesh Sippy made and then later Sanjay Gupta, who made films like Kaante and Aatish and who I have worked with a lot as a writer. These are the filmmakers who made these massy, angry, heroic films. I love that genre and I feel lucky that it clicked for me with Satyameva Jayate. And now with Marjaavaan and then Satyameva Jayate 2, I hope I continue making films that are powerful and passionate and have a lot of aggression in them.
Satyameva Jayate was a Rs 100-crore-plus hit, but was also criticised for the extreme violence it portrayed. Marjaavaan, too, looks like a film from the '80s. Are you wary whether it will find takers beyond the single-screen audience?
Yes, Marjaavaan harks back to the massy potboilers of the '80s and '90s and that was intentionally done because I feel that the mass audience in India is humongous. Eighty per cent of the business that Satyameva Jayate did came from single screens. That translated to huge footfalls because the ticket rates were lesser than what it was at the multiplexes and more people watched the film multiple times to make it reach those high numbers. We filmmakers mostly make the mistake of ignoring the masses and when we do cater to them, it more often than not results in box-office success, be it a Baaghi 2, Dabangg, Simmba or War.
Some of the most highly watched films in India are the dubbed versions of south Indian films. And what are those films? They make these action-oriented, hero-centric films which make Rs 100-crore in just one state, and also find huge takers when they are dubbed. Saaho, despite all the negativity and criticism, did about Rs 140-crore in its Hindi version, which is extraordinary. For Marjaavaan, it was important for me to go completely on the front foot with my massy attitude and approach. Sidharth's (Malhotra) last four-five films haven't worked, but his last two successful films — Ek Villain and Brothers — were both mass films. So whenever he has done this genre, he's succeeded. For some reason, he deviated from it and started doing rom com and multiplex-friendly films. The audiences didn't like those films. My point to him was that if he wanted to turn things around, he would have to go all out unabashedly with this genre. This is a genre you really can't do half-heartedly. You can't really get into it thinking you have to please everyone, whether it's critics or upscale city audiences… no, I have to please the common man. That is the man on the street who has always loved this kind of cinema, from Sholay to War.
Did Sidharth surprise you on set, considering we haven't really seen him in a role like this before where he really puts himself out there?
I must give him credit for completely trusting me and surrendering to my vision. At times, it was tough for him because he's quite a city boy, though he's grown up on a staple diet of Amitabh Bachchan films. But he had never attempted such a mass film before. Whenever we meet, we just have to look at each other and we go, 'Mass, mass, mass, mass, mass!' (Laughs) We knew what we were making. Every day on set, we would have this inside joke that we needed to have at least one scene where the critics would slit their wrists! (Laughs) I created that atmosphere on set and he totally surrendered to it and also came up with suggestions. He actually became Raghu.
Honestly, Sid is the quintessential Hindi film hero… he is good-looking, tall, well built, he has a baritone…. He looks like a hero from every angle. There is a sequence in the film where he was required to punch a helmet and crack it. He was hesitant and asked me, 'But how can I do that?!' I just told him, 'Because Sid you are a hero!' (Laughs) And that convinced him.
Riteish Deshmukh plays the antagonist, who despite being vertically challenged, comes off as larger-than-life. Since you've worked with Riteish before, was it relatively easier getting him on board for this part?
Riteish is one of my closest friends… he was my first hero (in Jaane Kahan Se Aayi Hai, 2010) and I was the one who recommended to Mohit Suri that he should cast Riteish as the villain in Ek Villain. That's because no one would believe that the nicest person in the film industry could be cast as a serial killer! (Laughs)
When we wrote Marjaavan, Riteish's name was the first name we thought of for Vishnu's character. Vishnu has a very devious sense of humour… usmein teen foot ka kameenapan aur chhay foot ki akad hai. Years back, someone had told me that Subhash Ghai Sir had planned a film called 'Deva' with Amitji where the villain was Lilliput Sir. That film got shelved, but that piece of trivia always stayed with me. Also, look at Peter Dinklage in Game of Thrones or Samuel L. Jackson in Unbreakable… what excited me was having a villain who may not be physically very strong, but mentally, he's stronger than even the hero. I chose Riteish because of the streak of humour the character has, and at the same time, I knew he could pull off the wickedness. I also knew that I had to approach him for something that was one-up on Ek Villain, otherwise he wouldn't want to play a villain again. Thankfully, he loved it from the get-go and signed on. He was my first and last choice.
Haven't you ever felt the need for validation from critics? I know for a fact that you are very sporting about criticism and take it on the chin…
I always say that the Holy Grail for every filmmaker is praise from both critics and audiences. Who wouldn't want everyone to love their work? But I have no issues when critics don't like my work. It's their job and their point of view, they don't have a personal enmity towards me. I feel that every critic is also guided by his own target audience. If a critic who caters to the urban movie-going audience suddenly starts praising one of my masala films, then he will lose his fanbase! (Laughs) There are a few critics who have praised my work in private, but have given bad reviews. Honestly, if you give me an option of whether I want five-star reviews and nobody in the theatre or a houseful theatre and zero-star reviews, then I will take a houseful theatre any day.
Are you open to experimenting with other genres?
I am having a blast doing this genre, you know. I am like a kid in a candy store right now. Hum and Agneepath are two of my favourite films and Nikkhil Advani (producer-director) often jokes saying, "What would you have done if Agneepath hadn't been made? You would have never been able to make a film!' (Laughs) Every reference for me is Agneepath or Ghatak or Hum. The advantage of this genre is that it allows one to do everything — romance, action, thrill, comedy, drama… it's a masala movie thali! (Laughs)
Which is your favourite Bolly masala film? Tell t2@abp.in