Michael B. Jordan on the fight in him from Black Panther to Creed II
'I thought once I got enough money to buy a house and a car that I would be happy. But why am I so hungry?' — Michael B. Jordan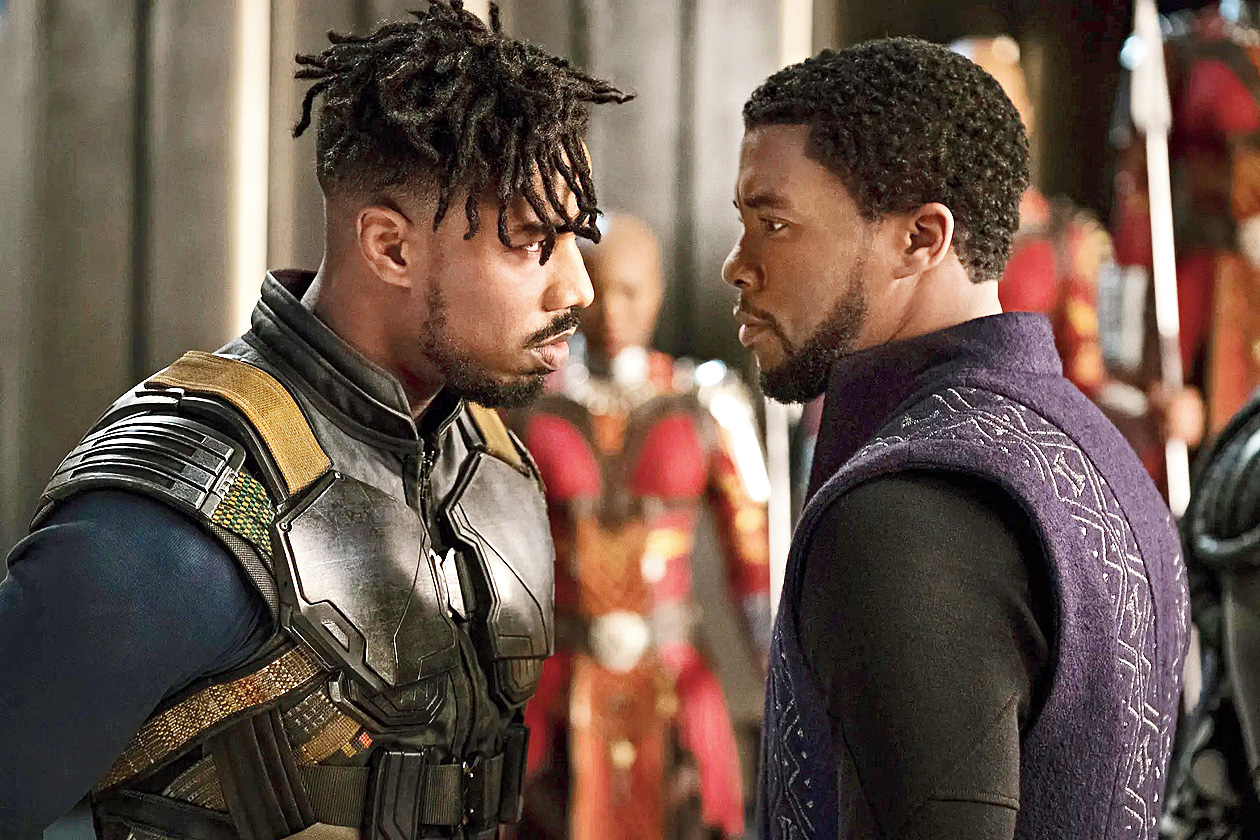 Michael B. Jordan (left) as Erik Killmonger faces off with T'Challa, or Black Panther, played by Chadwick Boseman
A still from Black Panther
---
Published 22.11.18, 03:14 PM
|
---
The woman with the braids thought she was being slick, but all the way across the restaurant at the Beverly Hilton, Michael B. Jordan had her clocked. "There's this Spidey sense I have now," Jordan said, wiggling a few fingers near his temple. Jordan, who has portrayed two Marvel superheroes onscreen, was referring to a third: Spider-Man, whose instinct for nearby danger is illustrated by squiggly lines emerging from his head.
For Jordan, that sixth sense is activated whenever a fan is secretly trying to take his picture. Though the woman appeared to be focused on her friends, she was holding her iPhone at the sort of angle that the 31-year-old Jordan has come to recognise as a camera trained on him, not them.
"I've just got to get comfortable with that being my life now," Jordan said, his lips curling into a half-smile. "After you do a Marvel film, things change."
Few actors would know that better than him. Jordan played Marvel's Human Torch in 2015's Fantastic Four reboot, which raised his profile but didn't quite work as a movie, and he was the comic-book foe Erik Killmonger in this year's Black Panther, which worked so spectacularly that Jordan has now become one of the most famous young men in Hollywood. Still, don't mistake his success for contentment. "I'm starting to learn as time goes on and I get the things I've worked so hard for, there's always going to be, 'What's the next thing?'" he said.
Handsome and confident, Jordan has been touted as the next Will Smith or Leonardo DiCaprio, a homegrown star with worldwide ambitions. He is so affably all-American that he topped a rumoured studio shortlist to play Superman, but is still possessed of enough sex appeal and swag that Nicki Minaj used her recent People's Choice acceptance speech to send a lascivious come-on in his direction.
Next up for Jordan is the boxing drama Creed II, a sequel to his 2015 hit. Though the franchise continues Sylvester Stallone's Rocky movies, this new iteration fits Jordan like a boxing glove: As Adonis Creed, the ambitious athlete stepping out of his late father's long shadow, Jordan toggles between muscular bravado and a wounded, boyish vulnerability that is startling.
Creed II was rushed into production this year, in the months after Black Panther became a billon-dollar phenomenon, and though it was filmed in Philadelphia like the first Creed, the difference in how the city reacted to Jordan was palpable. "He had jumped to being a superstar, a megastar," said Steven Caple Jr., who directed the sequel. "When we would go out, you could see that he was still getting used to the attention."
The same is true for Adonis, who begins Creed II with nearly everything he aspired to in the first film — a surrogate father (Stallone), a loving partner (Tessa Thompson) and the title that had initially eluded him. Wherever Adonis goes, he is greeted as a hometown hero, yet he is restless and surprisingly unhappy. Told that he is boxing's new champion, Jordan's wounded warrior snaps, "Then why don't I feel like it?"
It's a surprising, subversive turn for the character. "I related to that feeling as an actor: I thought once I got enough money to buy a house and a car that I would be happy," Jordan said. "But why do I still feel unsatisfied? Why am I so hungry?"
As Caple observed, "Mike's at the top of his game right now, but he's always searching for more."
I come from North New Jersey, where nothing's promised
When Michael B. Jordan first moved to Los Angeles, he was a teenage actor with a promising resume and no control over his destiny. Though Jordan was coming off a heartbreaking turn on The Wire and a stint on the soap All My Children, where he took over a role originated by his eventual Black Panther co-star Chadwick Boseman, every major agency passed on representing him. "I was so young back then, of course I was going to take it personally," Jordan said.
Progress was steady but hampered by Hollywood's limited imagination when it comes to black actors. Jordan found work in television on Friday Night Lights and in a handful of movies, but leading-man parts eluded him for the longest time. "I watched him in supporting roles in Chronicle and Red Tails, and it was like, 'Yo, that dude is a movie star'," the director Ryan Coogler said. "It felt like those movies should be about him."
With Coogler, who picked Jordan to star in his 2013 debut Fruitvale Station and also directed him in the first Creed and Black Panther, a creative partnership was forged that fast-tracked both men's careers. Over the three films, Jordan came into his own as a heartthrob who clicks with both sexes: In the first Creed, when Jordan's boxer tenderly helped Thompson do her hair, women swooned and men took notes.
If Hollywood was slow to recognise Jordan's leading-man appeal, he and Coogler built something together that was irrefutable. Now, finally, Jordan has the capital to do what he wants: He just finished shooting the fact-based drama Just Mercy, a star turn supported by the Oscar winners Brie Larson and Jamie Foxx, and hopes to soon mount a remake of The Thomas Crown Affair, another potential franchise that can take advantage of his talents for action and romance. But there is still a nagging sense that all this success could go away.
"I come from North New Jersey, where nothing's promised," Jordan said. The representatives who now labour on his behalf work at one of the agencies that once passed on him, a fact that makes Jordan chuckle.
Now, Jordan wants to control all the elements of his life and career that used to be out of his grasp. "I'm constantly building the foundation so the machine can run itself," he said. His penchant for control extends to hiring a videographer to document his life, a power move reserved for top-tier stars like Beyonce who seek to shape their own narrative. "This is a time I'm not going to be able to get back," he said. "You need to have tunnel vision in order to stay locked on, so it'd be cool 10 or 20 years from now to look back and have pieces of these moments when I can really appreciate it. This is my story, you know?"
Is there anything he's not in control of now? "Press," Jordan laughed. And there is another significant career benchmark he has yet to attain, his first Oscar nomination. Black Panther, poised to be a formidable awards contender this year, may change that.
I wanted to own the set
No superhero film has been nominated for best picture before, but Black Panther will prove hard for the Academy to ignore. Black Panther was a sensation with critics and quickly became one of the highest-grossing movies of all time. With its potent genre mythmaking, it felt like Star Wars for a new generation, but though Jordan played the foe, he had more in common with the roguish Han Solo than with Darth Vader: Killmonger is dangerous, sexy and far more exciting than the virtuous protagonist.
"Killmonger is a beast of a character, through and through," Jordan said. "He speaks for oppressed people all over the world." Raised fatherless and impoverished in the United States, Killmonger learns that he has a claim to the throne of Wakanda, a hidden African paradise run by the noble T'Challa (Boseman). Killmonger's fury is so righteous that even though he'll slay anyone who gets in his way, many audience members still couldn't help but take his side. It's a testament, too, to Jordan's ferocious performance, which may land him an Oscar nomination for best supporting actor. "We wanted to make it really tough on people," Jordan said, "even if they were rooting for the hero."
Jordan's stint on Black Panther began with a bang: The first scene he shot was the critical moment when Killmonger barges into the Wakanda throne room and challenges T'Challa. "I looked at it like I was going over to my rich cousin's house, and I was the cousin from the hood," Jordan said. "I finally got invited to Thanksgiving? O.K. And this is how y'all livin'?"
It's not an action scene — Killmonger has his hands cuffed throughout, and is able to raise nothing but his voice — yet it feels like one. He taunts Boseman into submission, dispatches Angela Bassett's Queen Ramonda with a droll "Hey Auntie," and growls with such cocky authority that Wakanda already seems to be his.
"I wanted to own the set that day," Jordan said. And how did he feel once the scene was finished? "Like I took it," he said, jutting his jaw like Killmonger and bursting into laughter.
Jordan and Coogler had crafted an enemy so compelling that after Black Panther was released, the hashtag #KillmongerWasRight began to trend on Twitter, which delighted Jordan to no end. Even today, the debate continues. "There's some guys who are like, 'Team Killmonger, man!'" he said. "And a lot of women are like, 'Boy, you made me mad! Every time I thought I was on your side, you'd do something crazy and I had to start cursing you out.'"
Jordan doesn't mind the fan feedback, though. He even had sympathy for the woman with the braids who was still trying to take his photograph from across the restaurant. "I don't feel like it's just, 'You're famous, let me get a picture,'" Jordan said. "I feel like they really connect with what I'm doing, and they've been a part of things I've done in the past. It's not just because I'm hot right now."
Eventually, he beckoned the woman and her group over. They were delighted to be summoned by a superstar, and when he offered to take selfies, they collapsed into each other with wheezy, is-this-really-happening laughter. Jordan stretched out one long arm, wielding the iPhone himself, then shook his head. "I promise this is going to be good," he told the women, angling them toward better lighting. "But that means you've gotta delete the other ones you took of me in the back, is that cool?"
Perhaps that was the attitude that let him have some control over a level of fame that everyone wants in on. Michael B. Jordan doesn't mind posing for your picture, as long as he's the one who gets to take it.