Memories & the man
Mayurakshi proves one can create cinematic brilliance without special effects, writes Suman Ghosh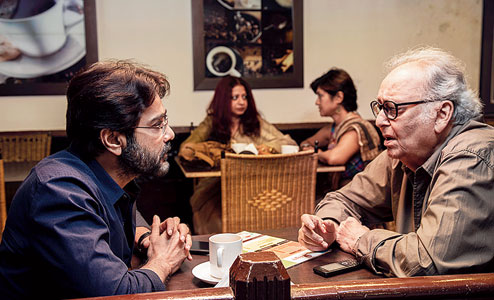 ---
Published 04.01.18, 12:00 AM
|
---
It was sometime last July when I visited the sets of Mayurakshi. I was chatting with Bumbada (Prosenjit) in his make-up van. Someone came and informed him that Soumitrakaku (Chatterjee) was done for the day and was leaving. I remember Soumitrakaku was very sick that day. Bumbada rushed out with me from his van and lovingly saw Soumitrakaku to the car. There was not an iota of stardom about him… what I saw was an obedient and caring son. On numerous other occasions, I have observed this between the two. The reason I mention this is because this chemistry comes out so brilliantly in Atanu Ghosh's new film Mayurakshi, which hinges precisely on this relationship.
A SCENE TO REMEMBER
Let me start this piece with a description of a scene from the film. Aryanil (Prosenjit) and his father Sushovan (Soumitra) are chatting in a cafe. There is a shot of a teenage couple having a conversation outside the cafe. His father says that there are certain moments in life when one needs background music. Sushovan starts enacting the strokes of a violin accompanied by a scintillating music track. After Sushovan stops his 'performance', he stoops down and keeps something on the floor which befuddles Aryanil since there is no object in his hand. Reacting to Aryanil's curious expression, his father says, "Violin ta namiye rakhlam".
The scene ends with a shot of a brilliant expression of Aryanil, which has so many emotions captured in one. This scene will be remembered for years as one of the best cinematic moments one has seen. It proves that one can create such cinematic brilliance without special effects, graphics, or breathtaking shot-taking. One needs just acute cinema aesthetics.
SUBTLE GESTURES
The acting department is simply outstanding here. The father-son bonding is rather uniquely portrayed with not even a single melodramatic scene. Nonetheless through subtle gestures and actions so many emotions coalesce in the relationship between Aryanil and his father.
How he picks up the glasses from his sleeping father's hands, how he dabs powder on his father's body, how he reacts to his father's sudden outbursts — these are all portrayed with so much sensitivity that it is much more than a few dramatic scenes could have done. Bumbada doesn't overdo anything. This type of controlled acting is very difficult and needs loads of confidence and experience. The character graph is so well etched out that when Aryanil breaks into tears in the airport, one can feel the pain almost viscerally.
The character played by Sudipta Chakraborty is rather unique in Bengali cinema. She is a caregiver from the centre, not an ayah neither a daughter. And how well she uses her gestures, diction and gait, the manner in which she wears her sari bring out that intermediate zone.
That restrained connect with Aryanil's father is superb. To me one of the best performances in Bengali films last year was her portrayal of a Gujarati housewife in Dhananjoy by Arindam Sil. Adding to her repertoire, her role in Mayurakshi showcases what a powerhouse of talent she is.
But I would blame Atanuda for not having adequate complexity in her role. There is no character graph as such. I felt her character could have been explored a lot more in the writing, and the dynamics of her with Aryanil and his father remained half-baked as a result.
I also thought that the track with Aryanil and Indrani Halder was a bit superfluous. The writing and the rendition in those scenes could have been deeper. It almost seemed that those scenes were sort of a breather in the film… but why this lack of confidence from an otherwise gutsy film? As a result, it takes away from the intensity of the film.
Gargee Roychowdhury was marvellous in just one scene where she was in the film. Her grace, her poise, her presence was indeed phenomenal. In particular, observe her position of her legs in the wheelchair. The sincerity and research for just one scene is commendable.
THE LEGEND
Finally, let me come to the main man in this film — the legendary Soumitra Chatterjee. At 83, he gives one of his best performances of his career. His performance reminded me of Julianne Moore's portrayal of an early onset of Alzheimer's in the film Still Alice. One could feel the helplessness of the character as if one was experiencing it.
In Mayurakshi, Soumitrakaku's acting gave that same feeling. How he goes into varied emotions in one single scene — through the use of body language, his eyes, variations of his dialogue delivery — is to be seen to be believed. To convey the emotions, which such a patient of dementia experiences where he delves into his past and then immediately comes back to the present, is extremely challenging. His portrayal makes the audience empathise with the character which is indeed the crux of the film.
This man has represented Indian cinema in Cannes, Berlin, Venice, is a Dadasaheb Phalke award winner, is an icon of Bengali culture, but his single-minded focus on his craft even at this age is almost god-like. We need this man for several more years in our cinema.
SENSE OF AN ENDING
I know a lot of discussion will be around the ending of the film. But the incompleteness and the open-endedness is the forte of the film. The audience who are used to closed narratives will indeed find the ending a bit jarring but I would urge one to engage with such an unusual and smart treatment which is a rarity in Bengali films.
To give due credit to Atanuda, he has combined all elements of filmmaking and wound everything in a wire where camera, sound, music and acting are all infused in the same note. Soumik Haldar (DoP) is hugely responsible for the subtle mood of the film. Shot mainly indoors, one can see how his framing and lighting in each individual frame was done with so much care.
Similarly, Sujay Datta Ray's editing is a masterclass in controlled storytelling. The particular notes Debojyoti Mishra uses for the background score and where and how the music comes in the film is so innovative.
This is not your run-of-the-mill film. It does not have a well-defined plot, it does not have action, it does not have melodrama, the ending is not well-defined in a conventional sense but what it has is a pure cinematic experience. Many of the standard fare that is churned out in Bengali films these days aims towards the lowest common denominator. As a result the audience is losing the patience and ability to explore new modes of experiencing cinema. It is a vicious cycle which if continued unabated does not augur well for Bengali culture in general.
I have heard from Soumitrakaku that Satyajit Ray used to say that filmmakers should take one step forward and the audience also should take one step forward. That is how our cinematic culture will be enriched. Atanu Ghosh has taken a big step towards that. Now it is your turn to respond.