Meet miss lovely
Read more below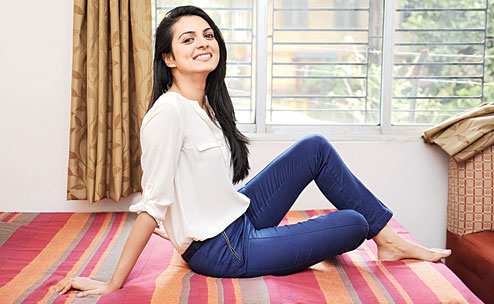 ---
Published 05.04.13, 12:00 AM
|
---
Niharika Singh, at The Guest House on Purna Das Road on Wednesday. Picture: Rashbehari Das
I am a nomad, a vagabond! I want to have different experiences. There are a lot of things that city life takes away from you," said Niharika Singh, back from a four-day shoot in Shimultala for Buddhadeb Dasgupta's Hindi-Bengali film Anwar Ka Ajeeb Kissa opposite Nawazuddin Siddiqui.
After ordering a hearty lunch at Wise Owl (Purna Das Road), Niharika of Miss Lovely fame (competed in the Un Certain Regard section at Cannes 2012) settled down for a chat with t2.
So, how do you live the nomad's life?
Well, I lived in Bombay for nine years but not anymore. There's so much of loneliness in city life. Everybody is so aspirational. I need a break from all of that. Right now I am a nomad. I moved all my stuff to my father's house in Dehradun and I keep travelling. I'm in Calcutta now, I will go to Bombay next and go somewhere else later. I am going through a transitional phase in my life. I have done my bit of moving to the city, trying to build a career, looking after my younger sister, marrying her off. Thankfully my work doesn't require me to be in one place. Like for Buddhada's film I went to Shimultala, in the rural parts of Bihar. I could be in any part of the world and get cast.
I have never understood why actors just go to Bombay, live there and look for work. The city just limits you. It's so important to travel, meet different people, only then can you translate that experience on camera. I can't imagine any artiste growing following that process. Decentralisation of talent is so necessary. People just come to one city and fill up the space. They are so stuck in the rat race. It's terrible. I go for treks up north. I go hiking, mountaineering, sit by the river...
Let's talk films now. How did Anwar Ka Ajeeb Kissa happen?
Well, I have worked with Nawaz in Miss Lovely. Buddhada was looking for a female lead opposite Nawaz. Because we've already done Miss Lovely together, he might have thought we can be cast together again. Buddhada asked Nawaz about my performance in Miss Lovely. I guess Nawaz might have had something nice to say. (Laughs)
So Nawaz referred you?
I think so because he was the first person to call me. He told me 'I am doing this film. Would you be interested'? Well, who wouldn't be interested to work with Buddhada? Even if it's a 30-second part, I would have said yes!
Niharika in Miss Lovely
And your role is a lot more than 30 seconds...
Yes. I play Ayesha. She's Anwar's (Nawaz) love interest. Anwar and Ayesha were in love but she gets married off to somebody else and she keeps coming back in the film almost like a dream. I mean, you can't really say if she's for real or if it's a dream. It's an interesting character because there's so much of love between them but they still can't be together. We have very different dynamics compared to Miss Lovely, so it was very interesting.... Ayesha is a teacher. The character required a different personality. There's always a lot of sadness in her eyes. That was really exciting.
You seem to make unusual choices, first Miss Lovely and now Anwar Ka Ajeeb Kissa...
You mean good cinema? People who don't (do meaningful films) are probably not aware of what good cinema is. If given a choice between doing good films and just making loads of money, I will choose the former. I don't need money because I am a girl of simple interests. I'm interested in becoming a good actor and that's why I am in this profession. I was a model earlier, I have been a Miss India (Miss India Earth in 2005). If I just wanted to be a glamorous, pin-up girl all my life then I would have made different choices. But after a point it gets really boring to just put on layers of make-up and wear fancy outfits and get photographed. Doing that year after year one gets very lonely.
So, mainstream films don't interest you?
Well, ask Buddhada or Ashim (Ahluwalia, director, Miss Lovely) to make a commercial film, then I would love to (act). I want to work with intelligent people so that I can grow as an actress. I don't want to do random work for 20 years and then decide to do something meaningful. I want meaning now. Why should I want it at 50? I am greedy for substance in the characters I play.
What would you do if Karan Johar offered you a role today?
I don't think Karan Johar would ever be interested in casting an actor like me! Maybe we can just have an interesting chat or a debate…. (Pause) But then he has also made a film like My Name is Khan.
When will Miss Lovely release?
Well, the censors have passed the film without any cuts. I am really looking forward to the release. Internationally it got a lot of acclaim but I want to know how people in the country react because it's got a very different genre. People are either going to be shell-shocked or they are going to totally love it.
You feel there's going to be extreme reactions?
Miss Lovely has a beautiful script, shot beautifully. Ashim is one of the most brilliant directors this country will ever see. I play Pinky, an aspiring actress. She is dark, interesting and a strange character. There's a lot of innocence and mystique. There's just a lot to Pinky. There are layers to the character. It's so difficult to really understand who she is and what she really wants. The film is from Sonu's (Nawaz) point of view. He falls in love with Pinky. Things then take a crazy turn. Usually in Hindi films you have such Plain Jane characters. Either you are the good girl or you are the vamp! And every heroine has this good girl trait, she is almost like a reincarnate of Sita. You have to be pure and a virgin! Filmmakers impose a lot of morality when it comes to women. The so-called mainstream heroine can't really be flawed. Even if she is, by the end she has to emerge as the perfect woman. Miss Lovely is so different from the unrealistic Bollywood films that make me cringe. I have worked in a couple of them actually. Thankfully they never got released. I hope they don't because that's not where my headspace is now. Maybe that's what I wanted when I was younger.
How old are you?
Oh, am I supposed to reveal that!? Well I am going to be different and tell you my real age! I am 30.
Kushali Nag
What is your message for Niharika after reading this? Tell t2@abp.in