Boxing guru and lifestyle expert Darrell Foster — the man who has trained several world champions over decades and also worked on many a seminal Hollywood boxing film — has trained Farhan Akhtar extensively for Toofaan. Now playing on Amazon Prime Video, the Rakeysh Omprakash Mehra film has Farhan's streetfighter Ajju Bhai metamorphosing into boxing champ Aziz Ali, even as he charts an emotional journey of resilience and redemption.
Over a late-evening cross-continental Zoom call, t2 chatted with Foster — who has worked with actor Will Smith in over half a dozen films — on training Farhan in Toofaan, the characteristics of a dedicated sportsperson and why he likes working with Will Smith.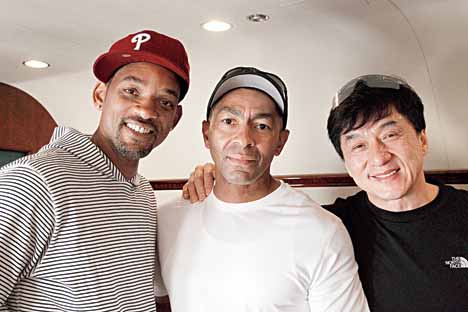 Darrell Foster (centre) with Will Smith and Jackie Chan
Having worked on the films you have done and the huge names that you have trained, what is it about Toofaan that got you interested?
It was the script. I am in that position in my life now where I can pick and choose my films. I went to Mumbai and had my initial consultation with Rakeysh and Farhan, Ritesh (Sidhwani, producer) and Jay (Oza, cinematographer)… you know, a large part of the film team. When we got to the storyline, I realised that it wasn't just a fight film... it was going to be a film about all of us, about ordinary people being able to do extraordinary things.
The journey of the character (Aziz Ali, played by Farhan), the love story involved, the humanity... it's really a difficult dance to do. To have such violence in the form of the boxing bouts going on — which is what I have done my whole life — but to temper it with human emotions was a tightrope I had to walk. Most fighters fight some demons or some situations in their lives... they are fighting towards some other goal. Where Farhan's character comes from and where he goes... that story is really powerful. I said, 'Absolutely, I am on board!'
You've said in an earlier interview that when you started with Farhan, you had to train him like a five-year-old. That intrigues me because Farhan is one of the fittest actors we have and though I understand that boxing is a totally different sport, he's played a sportsman on screen before in Bhaag Milkha Bhaag for which he totally transformed his body. Did you really have to get down to the basics with him?
I started from scratch with him! (Laughs) He had done a bit of boxing before, and that always presents a problem for me because I have to de-train people from what they think is boxing (smiles). An empty slate is the easiest canvas to work on. Every boxer has a different style, every boxer has certain idiosyncrasies. Muhammad Ali was very different from Joe Frazier or George Foreman. So, if one starts his boxing training based on George Foreman or Joe Frazier, then we are in trouble. But a blank slate, in the case of an actor, helps me to train him according to the character he's playing. So yes, for Farhan, back to the drawing board we went.
The best thing is that Farhan came in with an open mind, blank hands.... Sometimes, he would inadvertently fall back into some style he had picked up, and then I would interject. While the shoot was on, I would travel between India and the US, and I would tell Farhan and the rest of the team, 'Don't do any boxing while I am away. Don't do anything that we have to undo.' Farhan got it. Aziz Ali has a journey and there's a certain progression that comes with that. He did an excellent job.
Were there any moments when he surprised you?
Overall, he impressed me with his physicality. He's a good athlete and that is always helpful. Sometimes it can be problematic when, as an athlete or sportsperson, you are used to shifting your weight in a particular way.... Boxing calls for different situations in which you need to adjust your body accordingly, engage your hips or engage your lower body.... He's open to being told how to do things and he did well.
In terms of action, what does Toofaan have that the audiences here haven't seen in other Indian boxing films?
I taught Farhan how professionals fight. I wanted him to have the ability to turn it up or down. Some of the fight scenes in the film are quite sophisticated, really world-class stuff. That's my background... to prepare world champions to fight and win world titles. It's really hard for me to try and teach you how to not be a good fighter (laughs).
But I am a firm believer in the fact that the action must serve the story. So it's not just action for the sake of action. If you see two people fight in the boxing ring in a film in which I am involved, I want you to know that there is something else also going on than just the fighting... there have to be emotions, there has to be some emotional baggage. When that happens, then the audience becomes part of the journey. Boxing is also about facial expressions, the way you move, there's a rhythm, life and soul to it rather than getting in and throwing punches.
You have trained quite a few world champions, and that includes working with "Sugar" Ray Leonard for 18 years. You recently Instagrammed a lovely picture with Muhammad Ali. According to you, what are the qualities that are common to and often define the most dedicated and successful sportspersons?
I think it's their work ethic, humility and the understanding and ability to take the emphasis off self. To understand that your life is not just your own. To accept that you have a responsibility to make this a better place than when you got here. I think Farhan had a great deal of humility and also concern for everybody else on set. He had a sense of responsibility and the ability to understand that even though he had a rough training day yesterday, he just can't call in sick because there are so many other people involved in a film. So even if it's an actor we are talking about here, as a sportsperson, he learnt to take the emphasis off self. All great sportspersons have to make sacrifices and lead by example. That's a common denominator.
A lot of your work in Hollywood has been with Will Smith. What defines the personal and professional equation that the two of you share?
We have some common ethics, in terms of how we conduct ourselves. Our value systems and how we treat others is similar. After Ali (2001, in which Will Smith played Muhammad Ali), Will approached me and said, 'I like your philosophy, and I would love you to impart your philosophy to everyone who works in my office and everybody that's on my set.' I have worked on many films with him after that, as well as on Matrix with his wife (Jada Pinkett Smith).
I have worked with at least five-six Oscar nominees. I am a 'do as I do' coach, not a 'do as I say' coach. I won't say, 'Give me three miles' and stand with a kitbag in the corner. I will start doing the running myself. When you say, 'I'll do it with you, follow me' versus 'Do this, do that', then you lead by example.
Which film have you enjoyed working on the most?
I think Toofaan is the one I really enjoyed working on. It really taught me the value of humanity. I was 10,000 miles away from home, working with some of the nicest guys around. I have worked on some Hollywood films where things have been rough... you know what I mean? (Smiles) No compassion for each other, dog-eat-dog world, it's all about money.... This film was different. Everybody was just down-to-earth. We would disagree and have heated arguments, but those were all passionate conversations about the story, about our mission with the film and what we wanted people to take away from the film.
Will we see you working more in Bollywood?
Definitely! Definitely! Farhan's Excel Films already has a story in mind and I will be more than happy to work with him again.