Masterclass with Andie Macdowell
'I don't want to be number 1. I'm happy to be number 4 or 5, as long as I am interesting'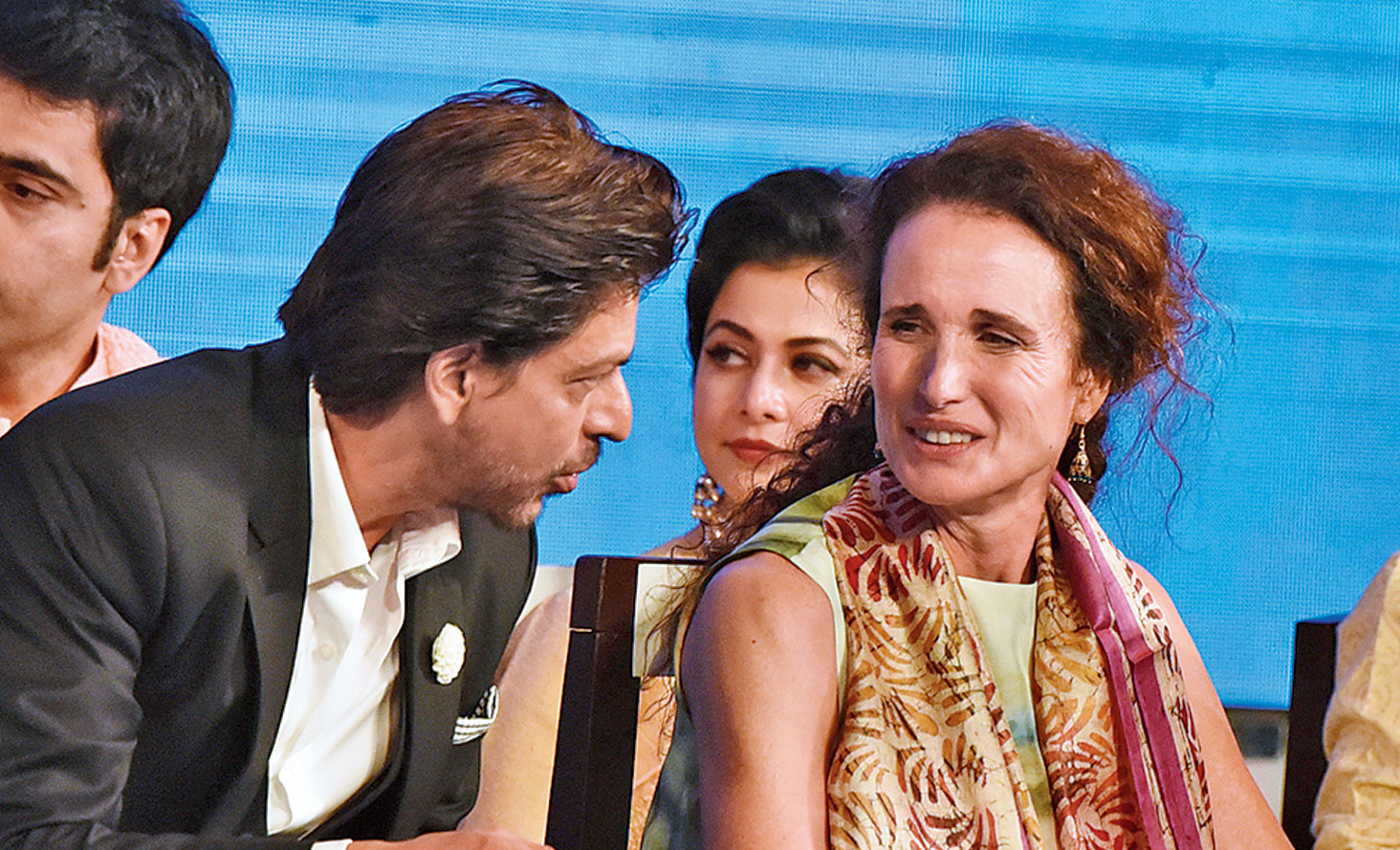 ---
|
Calcutta
|
Published 26.11.19, 09:36 PM
---
The darling of '90s Hollywood romcoms like Four Weddings and A Funeral, The Object of Beauty and Green Card, Andie MacDowell was in town recently for the 2019 Kolkata International Film festival. t2 attended a masterclass by the affable Andie — who has just attained senior citizenship status — at the Calcutta Information Centre. Extracts...
On her first India visit…
I was out in the streets this morning. People were so open and welcoming. ("She went for a walk in the rain in the Dalhousie area and had tea in a clay cup," added Shivendra Singh Dungarpur, founder-director of Film Heritage Foundation, who coordinated her visit.) I have dreamed of coming to India for such a long time and I'm sad that it has taken me so long to get here. I have seen a lot of documentaries and photographs of your country and your festivals and I wanted to experience it. It has been a beautiful experience for the past two weeks. I've been to your homes, eaten your food, which is the best I've ever had. Before coming here, I spent some time with friends who have introduced me to Satyajit Ray — the Apu Trilogy, the Music Room (Jalsaghar)… I am learning about these prestigious films that have been restored by my friends at the Film Heritage Foundation here. Each image in the Apu Trilogy is something I'd like to hang on my wall, it's such a beautiful piece of art. What a catastrophe it would have been if they were lost. I'm sure all great directors have watched Ray films and learned from them. A friend of mine who works with Criterion, which is based out of America but works to preserve movies all over the world, helped connect me with Film Heritage Foundation here.
On being a strong supporter of film preservation and restoration...
Movies are modern interpretations of art and humanity. It's important for us to recognise the need to preserve films. We preserve great art in museums. Film also deserves that kind of attention.
Even though I am an actress, I recognise the power that movies have. For instance, when I watched Ray's films, I learned about what it was like to be a woman in India and what it was to be in a family, what relationships were like in the past. And when you watch Bollywood movies you understand the present times in India. These messages are important for us to understand each other and make a connection.
Films are a relatively new form. And its original form is celluloid. And now we are doing something that's kind of fake — this digital stuff. I think we need to take a pause and recognise that perhaps we are not doing it justice by using this modern technology, that we need to protect the original art form. It is interesting that this dialogue is happening here.
I was lucky that I worked in a film two years ago which was shot on 16mm. It's so much richer. A friend was saying that digital films are flat, you don't get the same kind of shadows, the textures of your skin don't look the same… I am impressed that your film festival has a section showing films on celluloid and you are bringing up the subject more than any other film festival I have been to in the world.
On being at the Kolkata International Film Festival...
I have been going to the Cannes Film Festival for many, many years. One thing I recognised early on there is how people from so many countries connect with each other and get along and we promote our art together. Politics may shift and change and we may feel powerless as to what's happening around us, but artistes can continue to stay connected and have dialogue. There lies the importance of making films and having festivals.
What did Shah Rukh Khan say to you at the inauguration?
He offered me candy! He was super sweet and laid back. It was interesting to watch how he connected to the audience. And he was conscious of the love that he receives.
On why she decided to become an actress...
I am from a small town of 5,000 people in the south of America. Where I grew up there was nothing much to do so. There were not many toys and not much money. So we used our imagination and played games of make-believe. Once my mother took me to a theatre where I saw adults play the same game of make-believe on stage. Later I saw it on TV too. It dawned on me that I could do this when I grew up. So I told my dad that's what I wanted to do.
On her struggle in Hollywood…
I didn't make it until I was 30, which is very unusual. There's pressure on young people that if they haven't succeeded by 25, there's something wrong. But I am a testament that it need not be that way. I did these photographs with Albert Watson, an amazing photographer, shot in Africa. They were noticed and at 23, I ended up auditioning for the role of Jane Porter (in Greystoke: The Legend of Tarzan). I worked really hard after that. At 25, I did St Elmo's Fire. Then I did an Italian miniseries called The Secret of the Sahara at 28. That's not a lot of work but a lot of auditioning. I was about to quit. I was 29 and I was trying to think of other things to do with my life. Then I got Sex, Lies, and Videotape.
On the turning point of her acting career…
A lot of the agents didn't want their clients to do it (Sex, Lies, and Videotape). It wasn't an X-rated film but in 1989, the title was risque. Compared to modern day films, it was sweet! I went and did my audition with the director (Steven Soderbergh), (there was) no casting director. The girl was from the south where I grew up and I felt I understood her mentally. We stayed very humbly, in a small hotel. Steven was 27, I was 30. So I wasn't intimidated. I worked with him again. Now he is a big success. I am scared of him now (laughs).
I remember when Steven called from the Hampton Film Festival, I asked: "Does this mean the movie will have a distributor?" (Laughs) It went on to be a huge success that none of us expected. It went to Sundance and won (Audience Award). And made a lot of money. Then it went to Cannes and won there too (Best Film and Best Actor).
Up till then, it was hard getting an audition. I was nobody. But if you are in a movie that is critically acclaimed and makes money, you are bankable in Hollywood. One day, I was in my kitchen holding my baby and a call came from Robert Altman: "Would you like to be in my movie?" That moment I knew my world had shifted. After that, work came, and fantastic work!
On having Harvey Weinstein as producer of Sex, Lies, and Videotapes…
When we made the film, Harvey was not attached. He bought it later. So I did not know Harvey during the making of the movie at all. The only time I ever saw him would be at the Oscars or some big party. He is a big man with a lot of power and I'd typically make a joke and say to him: 'Hey Harvey, remember me? We made that little movie together!' That is the only relationship I have with Harvey. I was completely unaware of anything that was going on. I just moved to Hollywood six years ago. Before that I lived in North Carolina. I made that choice to raise my kids, super focus on them. My life revolved around my children. They were barely aware of what I did. Yeah…barely! So I am not the person to talk about him (Weinstein) individually. As far as the situation we are finding ourselves in — did you see the movie Bombshell (on several women at a news network who set out to expose the CEO for sexual harassment)?
Ever since this (#MeToo) movement, employees are talking to their staff in every business, not just Hollywood, on what's appropriate. They are very cautious now. That's good. When I stay in hotels in Europe, before coming in they knock and ask. Earlier, they never did!
On co-actors she respects the most…
I studied method acting but my greatest teachers have been my co-actors. Because I did a lot of romantic comedies, there were a lot of men. If you work with John Malkovich (her love interest in The Object of Beauty), you learn a lot. Or with Gerard (Depardieu, her co-star in Green Card). I also worked with incredible and powerful female directors like Diane Keaton (Unstrung Heroes), Susanna Styron (Shadrach) — she teaches at NYU.
On her long career as a supermodel…
I started really young as a model. I have worked for L'Oreal for 34 years, which is unheard of. I have the longest contract, much more than any other model. I started when I was 27. I am 61 now. I am indebted to them. When I started the contract, I was pregnant. I told them that, thinking they'd drop me but they didn't. Then I had three children and raised them while working with them. One of the nice things about the company is they use a lot of mature women. When I started it was just me and another person. Then they started using women from around the world. There's Aishwarya (Rai Bachchan) who is sweet and beautiful. When we get together, we meet women from all over the world.
On Marvel's superhero films being a threat to the rest of Hollywood…
The younger generation likes the fantastic approach to movies much more than the quiet or gentle stories that were popular in my heyday in the '90s. What was popular then were independent movies. My husband and I would go and check in the theatres what new independent movie was showing. People enjoyed being film savvy. That is not so any more. Movies are suffering a bit also because television has become so much better. Everyone talks about TV now. Films have lost that power. To me it's sad. There's nothing like going to the cinema and seeing a movie on the big screen and sharing that experience with people.
On a role from her fantasy…
I'd love to play a matriarch in a TV show — a dynamic mother, someone who is good and bad, a mixture of qualities — with a great younger cast. It is hard to hold people's interest without younger people on the show. I don't want to be number 1. I'm happy to be number 4 or 5, as long as I am interesting.