'Masala' with a message
Flashback Friday: It's an MD film, so there's plenty of action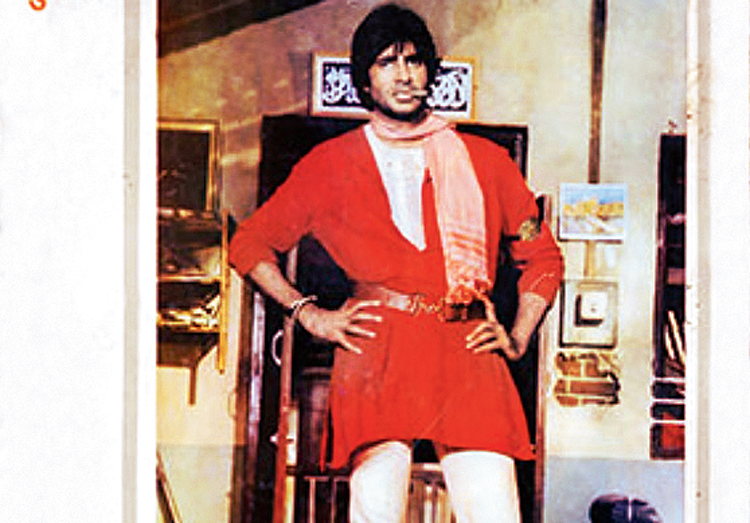 Amitabh Bachchan in the movie
Source: 'Coolie'
---
Published 19.12.19, 06:22 PM
|
---
Bachpan se hai sar pe Allah ka haath aur Allah Rakha hai apne saath… Long before Sooraj Barjatya gave us Tuffy the match-making dog in Hum Aapke Hain Koun..! and Handsome the postman pigeon in Maine Pyaar Kiya, there was Manmohan Desai. And in Coolie, a film that released 36 years ago in December, Desai gave us Allah Rakha, the wonder falcon who was an underdog's best friend.
This railway porter, Iqbal Khan, sings Sari duniya ka bojh ham uthate hai… (Coolie ain't one of Laxmikant-Pyarelal's best work), fights evil capitalists, organises labour unions, romances a pretty girl from another community, misses his long-lost mother, unearths a housing scam and dreams about an egalitarian world.
In 1983, Iqbal was superstar Amitabh Bachchan. In 2019, he may well be an urban Naxal. Coolie, a massy, lowbrow film from the MD stable, full of crazy capers and amazing coincidences, was dubbed as one of those Eighties brainless blockbusters, more famous for actor Puneet Issar's mistimed blow that nearly killed Bachchan and sent the nation into a frenzy of prayer. Today, it seems evolved.
Iqbal is loved by everyone and looked up to as a natural leader. He befriends a drunk and idealistic reporter, Sunny, who's adopted as a child by the evil rich guy Zafar Khan. (To rewind: Zafar (Kader Khan), obsessed with Iqbal's mom Salma, played by Waheeda Rehman, had breached a dam to flood her village and separate her from husband and son, that's how epic a villain he is.)
Iqbal falls for Julie D'Costa (pretty Rati Agnihotri), Sunny romances Deepa Iyengar (Shoma Anand, more famous for the Nineties telly laugh-riot Hum Paanch). The girls are arm candy, and MD does not utilise Rati's acting chops despite her stellar act in the 1981 superhit Ek Duuje Ke Liye. But MD handles the inter-community affairs with breezy charm and no one screams love jihad.
It's an MD film, so plenty of action happens, mostly jaw-dropping, and Iqbal in the thick of it. In the middle of the Bachchan-Issar fight scene, there's a freeze-frame moment where the film breaks the fourth wall and displays on screen in Urdu, Hindi and English that this was the ill-fated punch. Finally, there's a moment of reckoning, Zafar has to destroy Iqbal. The last chase-and-fight scene is more myth than real, but you're rooting for Iqbal without thinking, 'oh, a minority-appeasement movie'. That, perhaps, is MD's enduring legacy. Universal appeal isn't mindless, after all.`