Marvel Studios has taken the right step by diversifying the creative team of MCU
Post-Black Panther, diversity in the Marvel films has moved beyond tokenism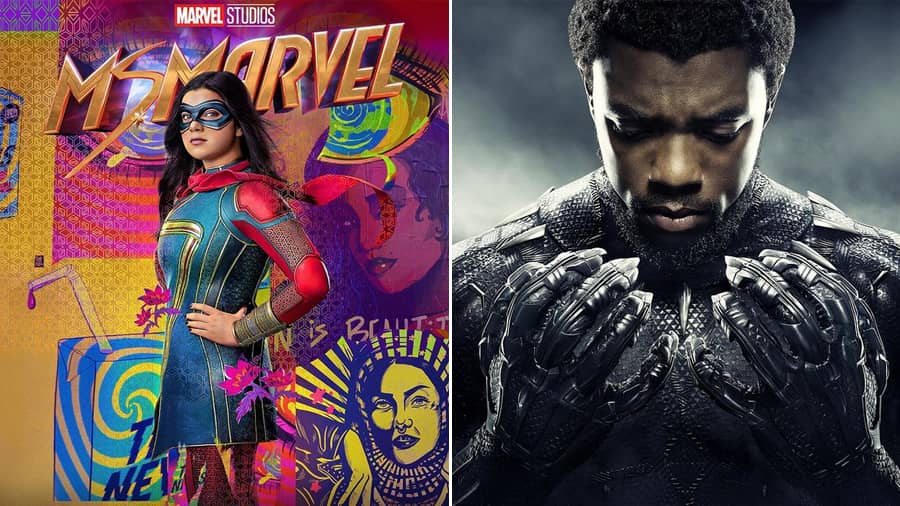 From Black Panther to Ms. Marvel, the MCU has come a long way.
@marvel/Instagram
---
Calcutta
|
Published 01.08.22, 06:39 PM
|
---
2008 was the year of The Dark Knight. The film defined the superhero storytelling and has remained one of the most critically acclaimed superhero films made till date. Batman is a fan favourite and he alone with little to no help from his other Justice League members was responsible for putting DC Comics-inspired films next to serious thought-provoking cinema.
2008 was also the year when a relatively less popular superhero, from Marvel Comics, made his first live action big screen appearance. Iron Man released to much critical acclaim. The film grabbed eyeballs for both the charismatic Robert Downey Jr., and the strong storytelling at its core. Tonally, very different from The Dark Knight, the Downey Jr.-starrer successfully established its unique identity and branding. 
The success of Iron Man marked the beginning of a series of films that eventually started being referred to as the Marvel Cinematic Universe -- a shared universe of films with characters owned and created by Marvel Comics. A shared universe in cinematic history wasn't unheard of before that. But Marvel's ambitions were bigger than what anybody could have anticipated.
Marvel Studios churned out film after film, featuring the many superheroes. All successful. Despite each film having its unique tonality, the treatment of the films remained largely similar. A couple more of such films later, the treatment started to feel unoriginal and lazy. People have had enough of Marvel movies even though they didn't seem to get enough of its characters.
Criticism started coming in from all ends. Filmmaking greats such as Martin Scorsese and Francis Ford Coppola are just two of the many filmmakers that have criticised Marvel for its unoriginality. And the criticism was largely justified. The movies had become a tool to introduce characters for their related merchandising. The 'superhero fatigue' was getting to even the most loyal of its fans. With one or more Marvel movies coming out every year, an over-exposure to the characters killed the curiosity. Every Marvel movie started to feel like a slightly different version of the same film.  
Black Panther: First film to truly break away from the whiteness of MCU
Things needed to change significantly. The MCU needed heroes that didn't just operate out of the east coast of the United States (there are too many in New York City itself!). Marvel had the newer, interesting characters to mix it up. It needed to diversify. It just hadn't done it yet. To really do justice to the diversity, however, and make sure they aren't tokenistic, they needed to extend the diversity beyond the screen, across spectrums.
The first film to truly break away from the whiteness of the MCU was 2018's epic Black Panther, the story of the part-time superhero and full-time king of Wakanda, T'Challa. Black Panther was directed by Ryan Coogler, who up until that point had only two feature films under his belt. His debut, the indie based on 22-year-old African-American Oscar Grant's death, titled Fruitvale Station, has won the Grand Jury Prize at the 2013 Sundance Film Festival. His next, which reunited him with Michael B. Jordan, Creed, a spin-off of the iconic Rocky, marked his transition into the studio filmmaking setup.
While Coogler's previous filmography may seem irrelevant to the story, it actually isn't. This marked a shift in directorial hires by Marvel Studios. Until 2018, MCU directors were largely white men with big-budget studio filmmaking background, except Taika Waititi who was also new to the MCU with his Thor: Ragnarok releasing just four months before. Waititi and Coogler's career paths were similar in a way that they had both directed low-to-mid-budget films up until that point and had very distinct artistic voices that made their films stand out. Their unique perspectives blended with the focused large-scale ambition of Marvel Studios and gave us what would become two of the most-loved Marvel films till date.
Four years later, Marvel Studios started taking risks with their hires and in most cases, it has paid off. Let's talk film directors first.
WandaVision to Ms. Marvel: Diversifying the behind-the-scenes team
In a post-Black Panther MCU, Marvel Studios hired its first female director Anna Boden, who co-directed Captain Marvel with her partner Ryan Fleck; film festival favourite Australian filmmaker, Cate Shortland, best known for Berlin Syndrome, who directed Black Widow; Destin Daniel Cretton, the American filmmaker of Japanese descent, best known for his Brie Larson-starring indie Short Term 12, who directed Shang Chi and the Legends of the Ten Rings; and finally Chloe Zhao, the Venice Film Festival-winning filmmaker of Nomadland who directed Eternals.
The Marvel series has undoubtedly done better when it comes to diversity in both ethnicity and style. Of course, one cannot deny that they are heavily influenced and dependent on each other.
WandaVision had Jac Schaeffer, best known for her debut, the Tribeca-premiering science fiction romantic comedy TiMER, as its head writer. Jac's distinctive storytelling style that blended science fiction with romance in TiMER also played a major thematic and stylistic tool in WandaVision. Kari Skogland, the Canadian filmmaker known for directing episodes of political dramas such as Tyrant, House of Cards and The Handmaid's Tale, was the sole director of the entire Falcon and the Winter Soldier which drew parallels with real-life socio-political events in the country.
Perhaps the most daring choice with directors came with Mohammad Diab. An Egyptian filmmaker known for his art-house-leaning film festival favourite Cairo 678 and the Venice-premiering Amira, Diab was chosen to direct Moon Knight, a superhero blessed by the Egyptian moon-god Khonshu. Moon Knight also introduced the cinematic universe to its first Egyptian superhero, Layla El-Faouly, played by Egyptian-Palestenian May Calamawy. On casting the superhero, Diab told The Hollywood Reporter, "My daughter, when she was five, wanted to straighten her curly hair because she never felt like she saw herself in any of the Disney movies and cartoons. So to see this woman — who looks like an everyday Egyptian, with beautiful curly hair — become a superhero is something huge. [Egyptian] people treat Moon Knight as if it's our Black Panther. You don't know how big it is."
Diab spoke out against the stereotypical portrayal of Egyptian people and the culture as something exotic. He wanted to humanise the people and the location of Egypt itself, which was predominantly portrayed with images of the three pyramids in the middle of the desert despite the pyramids being located in a bustling modern city of Giza of almost 20 million people. With Diab in the team, Marvel essentially helped break a lot of stereotypes propagated by the American media.
With Ms. Marvel, MCU expanded its South Asian representation. Previously, the South Asian representation in Marvel was restricted to a wedding scene in Spider-Man: Homecoming before getting an upgrade in Eternals, where Pakistani-American actor Kumail Nanjiani played Kingo, the part-time superhero and full-time Bollywood superstar. Kingo's diversity was surface-level where his ethnicity didn't add anything to the story. Apart from, well, of course, Karun Patel, played by the brilliant Harish Patel, the actor best known for Gunda and Mr. India.
Ms. Marvel's representation doesn't end with Farhaan Akhtar and Fawad Khan being on screen. The show was conceptualised and created by British-Pakistani stand-up comedian Bisha K. Ali, who had previously also contributed to Loki. The directing team of Ms. Marvel included the Belgian filmmaking duo of Moroccan descent, Adil & Bilal; Indian-American filmmaker Meera Menon; and the Oscar-winning Pakistani-Canadian documentary filmmaker and journalist Sharmeen Obaid-Chinoy. The overwhelming South Asian creatives behind the show helped it feel authentic in its cultural representations.
From its story to the music choices to even the decision to base the story around the partition of India, Ms. Marvel is a truly South Asian story for the world. It helped introduce the world to the catastrophic mass migration during the partition and shared cultural traumas that people still carry with them today, even when they are living thousands of miles away in the States.
Much like Moon Knight, Ms Marvel uses music to contextualise its characters. These are modern 21st century characters, and the music by contemporary Egyptian and South Asian artistes respectively, help in bringing the characters as close to reality as possible. Kamala Khan dancing to Dil Bole Hadippa, attending parties with Pasoori playing in the background to the closing credits songs by Eva B and Hasan Raheem, the choices are made by creatives who understand the spirit of South Asia today. These choices would have been difficult to make had the same been made by a majorly-white team that has only been exposed to the culture through films, books or second-hand experiences.
Of course, representations alone don't make a film or series good. Representation alone cannot make 'superhero fatigue' disappear in thin air either. Marvel's Phase 4 is still missing the flawless storytelling that can help the franchise evolve from where Endgame left off. However, it goes without saying that representations are an important part of films, especially in a world that is heavily divided and polarised.
If films, and one of the world's biggest franchises, can help us, even for a few hours in a dark hall, erase these divides and unite as all, it's worth acknowledging it. And kudos to Marvel Studios for not just leaving representation and diversity on a surface level but also diversifying the behind-the-scenes team in charge of a lot of these stories being told today.
With Nigerian-American indie filmmaker Julius Onah now hired to direct the next Captain America movie, it's exciting to see where Marvel goes from here.