'Mardaani 2' duo on their shero story
The movie sees Rani Mukerji returning to walk and talk her tough cop act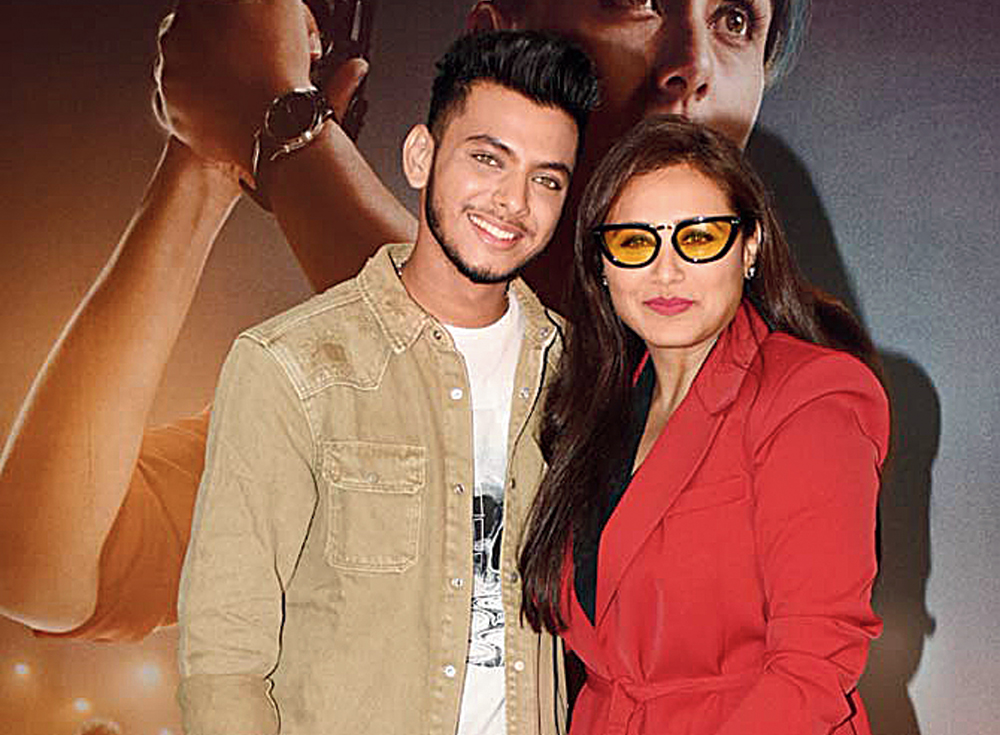 ---
---
Gopi Puthran
Mardaani 2 — with Rani Mukerji returning to walk and talk her tough cop act — has not only garnered praise, but also become a hit. Post release, The Telegraph chatted with first-time director Gopi Puthran who has written the film as well as its prequel Mardaani.
Congratulations on the success of Mardaani 2! It's retained the spirit of the first film, but has taken quite a few leaps forward in terms of substance and storytelling…
It feels gratifying to hear things like this. I think the way the film has hit the right nerve has been very uplifting. The reactions from women, of course, have been the strongest. I had thought I may end up alienating the men but somehow it's managed to penetrate that barrier. Men have been sending me messages saying, 'You have shared insights about women that we probably never even thought of'. That's been a big win for the film… that it's managed to cut across.
What's that one idea that propelled you to write the film?
What intrigued me the most was uncovering how the mind of a serial sexual offender works. I met senior IPS officers, read case files and news articles. I read papers based on sexual assault victims and how it affected their psyche. Sitting in police stations gave me the chance to observe how cops carry out their jobs, which helped me write Shivani's character (Shivani Shivaji Roy, played by Rani Mukerji) in a better way.
I think, in whatever little way, I have been able to create an insight into how the minds of these offenders work. While you have someone like Sunny (newcomer Vishal Jethwa) who is beyond any kind of reform, you also have Brij (a cop, played by Sumit Nijhawan) who discriminates on a daily basis… you can't put him in jail because of that but you can't ignore him either. I wanted to capture both in the same realm and also show how people like Brij are compelled to reflect on their actions and words and recognise the harm they may be doing. I hope this resonates and compels people to have a discussion around it.
Was it always the idea to make Mardaani 2 more gritty and darker than the first film?
The intention was to be as honest as possible to the subject and not make it hard-hitting for the sake of it. We didn't want to sensationalise and it became important to draw the line somewhere. I didn't want to depict violence in a way that puts off the audience, but also not to sugar coat and pretend that nothing was wrong. It was important to be authentic and honest but also understand that at the end of the day, we were making a film to engage and entertain the audience. Striking that balance was very important.
What I was very clear about was that the film, not even in the remotest way, should depict anything that may be considered cheap or titillating or demean women. We chose to show the darkness of it, the horror of it, so that people are aware of what dangers plague women in society.
How challenging was it to direct this as your debut film?
I had a film on debut that had action, emotion, drama of all sorts… it was quite a challenge. Since I had written it, there was the comfort that I knew these characters and this world inside out. With Rani on board as partner, I was always relaxed that if I went wrong in any way or needed any help, I could go up to her and ask her.
Actors constantly talk about how playing dark characters affects their psyche. Does it also hold true for a director, especially with a film as dark as this?
I was extremely tense while shooting some of the violent scenes involving sexual assault. While writing those scenes, I shared them with all the women in the team, including my wife, so that I didn't inadvertently get into sticky territory. I made sure that the actors were comfortable and even during the edit stage, I shared the scenes with the team members. This was done to ensure that what I am putting out into the world is sensible and sensitive.
In Mardaani, Shivani Shivaji Roy was cushioned by constant support from her family. We see that missing in Mardaani 2. Was that by design?
A bit. This film takes place in a relatively short span as compared to Mardaani… the first half is 15 days and the second half is just two days. I wanted to show the life of a person who is working in an alien city away from her family. Here is a cop who is stationed in another city (Kota) without her family and she manages to maintain her sanity and work around her lows. There is a scene where she's transferred and she tries to call her husband (played by Jisshu Sengupta), but he's busy. If she was in the same city, she would have probably gone to him. But she has to deal with this pressure on her own. It was important for me to convey that… men and women who work away from family and how they deal with their ups and downs alone.
Safe to say this is on its way to becoming a franchise?
I like to use the word 'universe' (laughs). I think we have a lovely Mardaani universe that's resonated with the audience. In the '70s, we had (Amitabh) Bachchan saab speaking about the angst of the angry young men of that time. I think it's finally time for the angry young woman to convey the angst of the women of our times as effectively as possible.

Vishal Jethwa
Television actor Vishal Jethwa makes the big leap to Bollywood with the role of Shivani Shivaji Roy's nemesis Sunny, a serial rapist and murderer with no redeeming qualities. A chat with the 25-year-old who is winning accolades for his chilling portrayal.
'Emotional as well as empowering'
People have become emotional about the ending (in which a bunch of women get together and lynch his character Sunny). The film has empowered many. My friends and family are overwhelmed by the kind of positive reviews I have got. I am being compared to a lot of veteran actors, which is flattering as well as stressful at the same time (laughs).
To get a debut like this is a dream come true, and that, too, with a co-star like Rani ma'am. Despite the fact that this is an out-and-out negative character, it gave me the scope to portray diverse shades. People just use the word 'dark' to describe such characters and ignore the variations they could possibly have. I was motivated more by the message that the film puts across, rather than the nitty-gritty of my character. My biggest reward has been people saying, 'We hated Sunny, but we loved Vishal Jethwa'.
'My performance was completely original'
It was very tough to make the journey into the darkness that Sunny embodies. I had no reference from my own life — thankfully! — to play this guy. How many of us have ever met or seen a serial rapist and murderer? I not only had to understand how the character behaves but also accept it till such time I was playing him... and that was the biggest challenge. I didn't want to base him on any other performance because then I would unconsciously end up copying it. I can safely say that my performance in Mardaani 2 was completely original.
Honestly, I didn't want to switch off from being Sunny even when I was not playing him because it was tough to jump in and out of his skin all the time. I had to remain in that zone till the time dubbing and patchwork shoot was done. It was incredibly difficult. It took me a lot of time to get out of Sunny.
'The fight scenes were the most challenging'
The final fight sequence with Rani ma'am was very difficult. I was very careful that I shouldn't get so carried away that I ended up hurting her physically. I practised a lot for that scene. Also, Sunny is left-handed while I am right-handed and that posed a lot of problems. In real life, during that time, I had to do everything left-handed. The underwater fight in the film — that involved Sunny and Shivani Shivaji Roy facing off for the first time — was also very challenging. We went into the water at about 7pm in the evening and came out at 7am the next morning!
'Rani ma'am would call me beta'
Rani ma'am really helped me a lot. In the beginning, I was scared that she would get angry if I made a mistake on set. In one fight scene I was so nervous that I ended up hurting her, but even then unhonein 'beta beta' karke mujhse baat ki aur pyaar se sambhala. There are many action sequences which involved me falling on rough roads. Ma'am spoke to the art department and got a special road made for me so that I wouldn't get hurt even when I fell.
'I am fine with getting typecast'
I know getting typecast is a reality, but I am not too worried about that since I can't control it. If I do get typecast, I will work within the limits of that and try and come up with memorable performances like I did with Sunny. Some legendary actors in Bollywood have played negative characters their whole lives and not only are they considered great actors, but also command a lot of respect. Kaam kaam hota hai, art art hota hai.