Man, he won me for life: Ranveer Singh
Ranveer Singh with his 'hero' in Koffee with Karan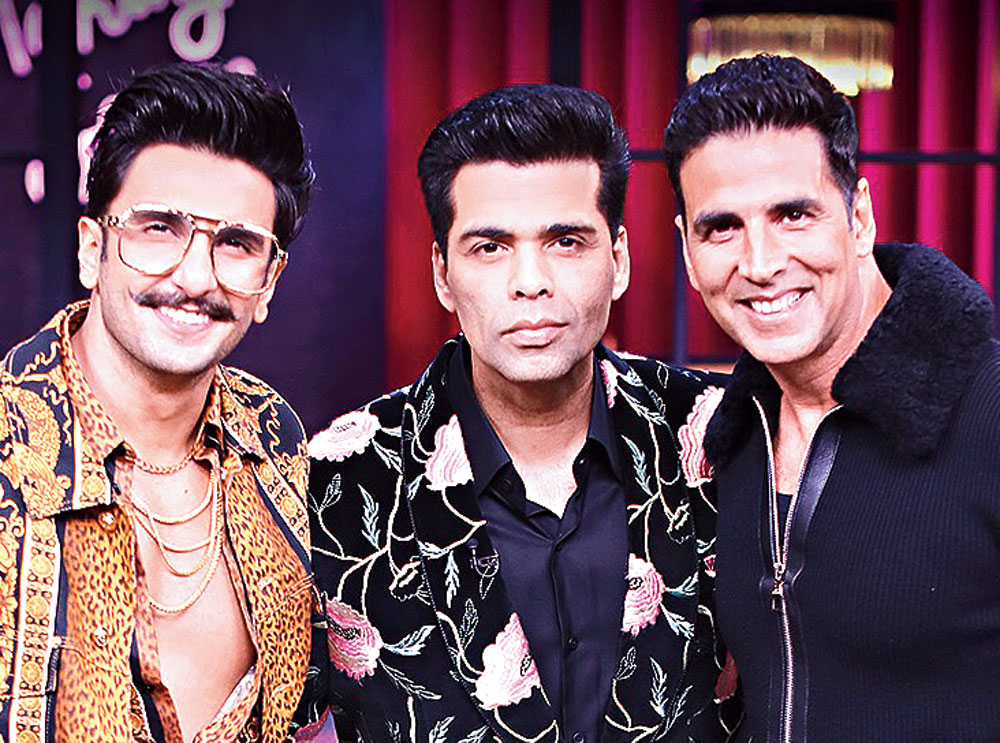 Karan Johar with Ranveer Singh and Akshay Kumar on Koffee with Karan
Sourced by the Telegraph
---
Published 26.10.18, 06:17 PM
|
---
After Deepika Padukone and Alia Bhatt kicked off Season 6, Akshay Kumar and Ranveer Singh are on the Koffee with Karan couch this Sunday (9pm on STAR World and STAR World HD). Before you tune in to the episode, we bring you a sneak peek of the rip-roaring episode hosted by Karan Johar.
Karan Johar: So explain this scenario, what happened?
Ranveer Singh: Okay, so my cousins, three of them, very excitable young ladies from Canada had come down to Mumbai for a family holiday. They didn't want to do anything. They wanted one thing and one thing only — 'WE WANT TO MEET AKSHAY KUMAR!'
Karan: Just Kumar....
Ranveer: So they didn't want anything. They were begging and pleading with my father: 'Do anything, we just wanna meet him once!' Okay, so my dad, I don't know what he did. He made some calls and he found out that Akshay Kumar is shooting in SNDT College, Juhu. All of us were very excited. My mum, my sisters, we trooped and went to SNDT college and I entered... this space is magical. They are shooting a song, okay. Akki is looking like a total stud, as you can see, and he is giving his Akki macho vibe and he's shooting with Raveena Tandon. She is dressed in this sexy white thing and she is under a waterfall, okay. She's like drenched and it's a very difficult to shoot for her. And I had not seen anything so gorgeous. You know like, in person I had never seen anything so gorgeous, so I kept on staring.
Karan: At Raveena Tandon?
Ranveer: Yeah, at Raveena Tandon. I was just gawking and she was already irritated, drenched, shooting; Akshay is dry and she's fully wet. She says: 'Who's this irritating kid, get him outta here!'
So some security guy came and he started: 'Chalo beta, chalo,' and he started taking me out of the set and here I was thinking, I was so excited to be here — all these stars... can't believe my eyes, Akshay Kumar and Raveena Tandon and all this is happening and now I am getting kicked out! I was like shattered, heartbroken and I was just about to step out of the space. I remember this so vividly, okay… there was a hand on my shoulder and I turned around and looked up and it was AKKIIIII!
And he was like: 'I like your haircut!' (Imitating Akshay's voice and style of talking)
Man, he won me for life. Since then I am just in love with him, I wanna be like him and that day you know, I'll never forget how warm, courteous and patient he was with all of us. He took pictures with all of us and he was just the most amazing guy, you know. And I just kept staring at him till the end of the shoot, till he finished his work and I remember him leaving — he got into his car and he zoomed off and this whole plume of dust behind and I was like: 'Heeeeerrroooooo.'
Akshay Kumar: You know, yeh bada hokar director banega!