Ekannoborti celebrates the value of family
Mainak Bhaumik's new film stresses on familial bond, tradition and spirit of positivity through a reunion during Durga Puja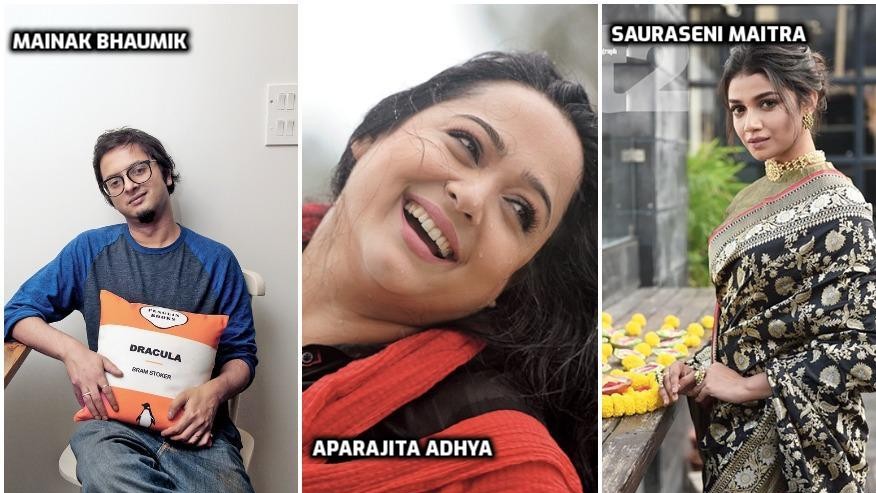 Sourced by the correspondent
---
Published 22.06.21, 12:05 AM
|
---
Mainak Bhaumik's last feature film Cheeni had focused on the ever-changing dynamics between a mother (Aparajita Adhya) and her daughter (Madhumita Sarcar). The bittersweet moments between the mother and daughter in the film came in for a lot of praise and the film completed a run of 100 days in theatres during the pandemic.
Now, Mainak is all set to start the shoot of his new film Ekannoborti, from July.
A family drama written and directed by Mainak, Ekannoborti stars Aparajita Adhya, Sauraseni Maitra, Alokananda Roy, Ananya Sen among others.
Built on the idea of portraying familial bonds in a light-hearted context, the film "tells the story of a family which used to function as one at some point of time but got disintegrated into isolated units over the course of time". During the household Durga Puja of the Banerjee family, the members get together after a long time. As the Puja festivities continue, the once empty and silent Banerjee home comes alive and gets filled with festive chaos.
"Ekannoborti is a film that celebrates the joint family at a time when people are scattered all over the place, and is centred around the barir puja, which is slowly becoming extinct. It's a happy, funny, sad, sweet drama that hopes to remind us Bengalis of our true family spirit of positivity during such depressing times. A quick reminder that Puja is all about the family," says Mainak.
What is the genesis of the film? "Over the last couple of years our barir puja had become quite dead with the passing away of many of my uncles and aunts and since then to revisit the bari r puja was only an option I had left through fiction. Also it was Utsab that was one of the prime motivators in me wanting to make Bengali films, so my need to do a family reunion Puja film was definitely on the cards and more so in these tough times where people are alone, losing family... it was important to rejoice the value of the family and tradition," says Mainak.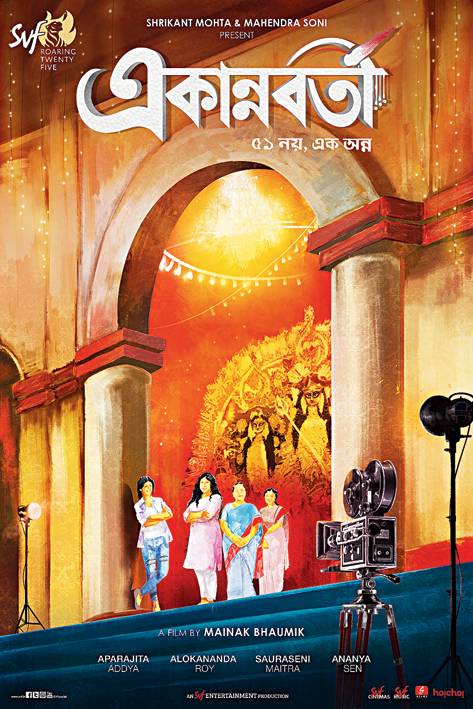 The new film also sees Aparajita Adhya and Sauraseni coming together in a Mainak film after his Generation Ami. "Generation Ami memories were the fondest memories I have of shooting a film in a long long time. A bunch of brilliant kids and actors who bonded like a family and even though Sauraseni and Apadi played aunt and niece, they immediately bonded like family very early on, so I always thought I should use this some day," says Mainak.
Positive about the new film, co-founder and director of SVF, Mahendra Soni said: "When it comes to Mainak Bhaumik's films, the audience always expects the best and so do we. We proudly announce this film to be one of the very special upcoming productions of SVF. The film will revive the old charm of joint families and enthusiasm around the 'bonedi bari Durga Puja' celebration."
The success of Cheeni was of course another indication that a Bengali mainstream film should try to be rooted now. "I think the 100th day of Cheeni and its success is another reminder to me that it's very important for a Bengali film to be primarily and essentially grounded in Bengali culture and its people. I can only imagine that the reason people liked the movie is because I stuck to a basic principle, which is that I must make a movie that people, including me, can relate to. I guess the ability to relate and identify oneself with, along with a lot of positivity, brings so much happiness to people. A lot of credit I must give to Madhumita, Apadi, Saurav (Das) and Pinkydi (Banerjee) who brought out and gave flesh and blood to my two-dimensional script pages," says Mainak.