Madhumita Sarcar on learning life lessons
'It is important to move ahead in life with a sense of balance'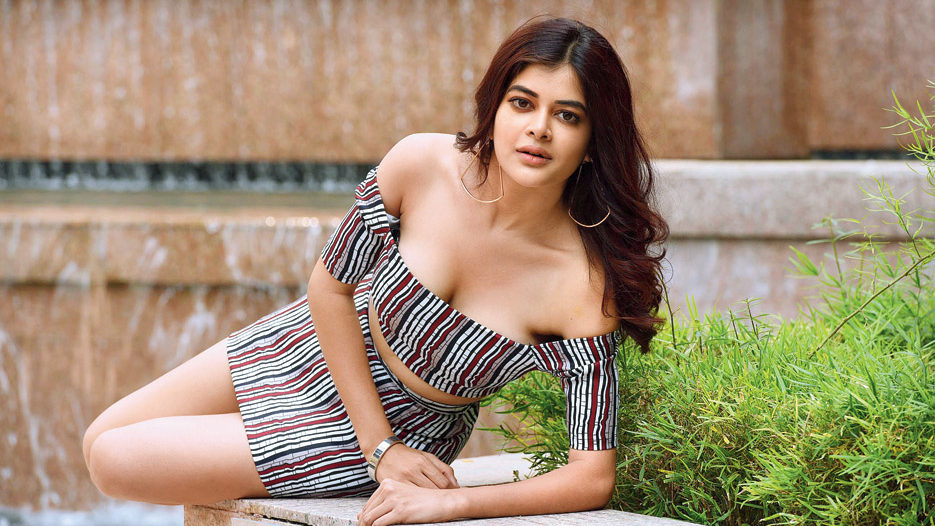 Madhumita Sarcar
Rashbehari Das
---
Published 22.12.20, 08:51 PM
|
---
When it comes to her career, Madhumita Sarcar believes in waiting it out for the right script and concept. A darling of the television world, Madhumita moved to films to explore uncharted territories and do something different. "People already have a lot of expectations, those who have seen me on television. I think that image is stuck in their minds and they love me like that. But I didn't want to carry that image in films. I started reading a lot of books and attending workshops and watching a lot of films," she had told us earlier.
Madhumita finally debuted in films and earned a lot of praise for her act in her first film Love Aaj Kal Porshu, which had released on Valentine's Day. And now, Madhumita's second big-screen release Cheeni, directed by Mainak Bhaumik, is all set to release on December 24. We chat with Madhumita, who plays a rebellious daughter in Cheeni...
What does 'Cheeni' mean to you?
Cheeni is me. Every little aspect of my real self was present in the character, so Cheeni is completely me. If I, as Madhumita, would have been in those situations that Cheeni had to go through, I would react similarly. When Mainakda narrated the script to me I loved the concept of the mother-daughter relationship. The aspects that he is covering haven't been widely covered so far. The thought process towards the whole character was very different.
Tell us about your character?
Cheeni is a very liberal person. She believes in freedom and thinks that she is a very mature woman. She had a disturbed childhood, so her entire perspective towards life is different. She is fickle-minded, and not at all calm!
Could you identify with Cheeni at any point?
When I was doing the scenes with Aparajitadi, at many places I felt that I was talking to my mother. The chemistry I share with my mother is quite similar. I could relate to the relationship aspects the character goes through in the film and I think most girls can relate to it because this is how we grew up. Do you have a rebel story of your own?
When I was in Class VIII or IX and was getting a few offers for modelling, my mother was my only support. No one from my family belongs to this profession. My father and family started appreciating it much later. But there were times when my mother would get into arguments with others and I would always tell my mother to not fight for me. Supporting me was fine but I didn't want her to fight for me. So, at that time I was quite a rebel going against my family members as I knew that I was not doing anything wrong.
You sport a tattoo on your leg...
It reads, 'and the chaos within me found balance'. It is a line very close to me because I had a lot of chaos in my life and I had given up on a lot of things in my life, which I am trying to regain now. Little things that I am getting back to and life is slowly finding a sense of balance too. It is important to move ahead in life with a sense of balance, so this tattoo is to keep reminding me that balance is the most important word.
What did the year 2020 make you realise about yourself?
Patience is the most important thing in life. Even if you have nothing, it is important to have patience. And patience teaches us everything else in life. That is the most important thing I learnt while staying at home. Ultimately everything will be okay.
How was it like shooting during the pandemic?
There was a slight anxiety of course. Every unit member had to go through thorough checking every day. It seemed like there was a sanitiser shop on the set! But after getting ready and with the make-up done, all those thoughts did not prevail in the mind any longer.
Did you pick up any hobbies during the lockdown?
I got back to playing badminton that I used to play during childhood.
When and where did you travel last?
To North Sikkim in November. From Bagdogra, I went straight to North Sikkim. I was at a place where there was probably one homestay in the entire place... I loved going around with the local people there. I felt like doing a shoot of my own, so I shot a few portions of that. It was a very nice experience.
What are your memorable moments from the Cheeni shoot?
Every day was very memorable. There was a scene with Apadi where I started crying on set. As a mother she was telling me a lot of things while playing that scene... the dialogues were such... and that made me emotional. I had met Apadi a lot of times before but never had the chance to work with her. She is a very strong actress, so first of all it was a great pleasure to work with her. I could learn a lot. She is not someone who is just concerned about her role. She would tell me at times how to go about it if anything was not appearing nice after a scene. She is very caring. We were just like mother and daughter. Receiving such love and lessons from her meant a lot to me. I am lucky that I could do this character with her.
How was it working with Mainak?
Mainakda is very chilled out. He would tell me to perform the way I felt Cheeni would do in a given situation. He gave me that liberty. Many a time we would think along similar lines. That really helped a lot. It is a lot of fun working with him.
Did you get to catch up on web shows recently?
I watched a lot — a series called Target and then The Queen's Gambit. I watched many shows on Hoichoi. Also, watched Mirzapur, and Love Aaj Kal Porshu a bit!

Photo shoot location: Novotel Kolkata Hotel & Residences