Luke Evans on being in the midst of action in Echo 3
'We moved a lot during the whole season and we experienced the culture, the music, the people, the country... and I embrace all of that', says the actor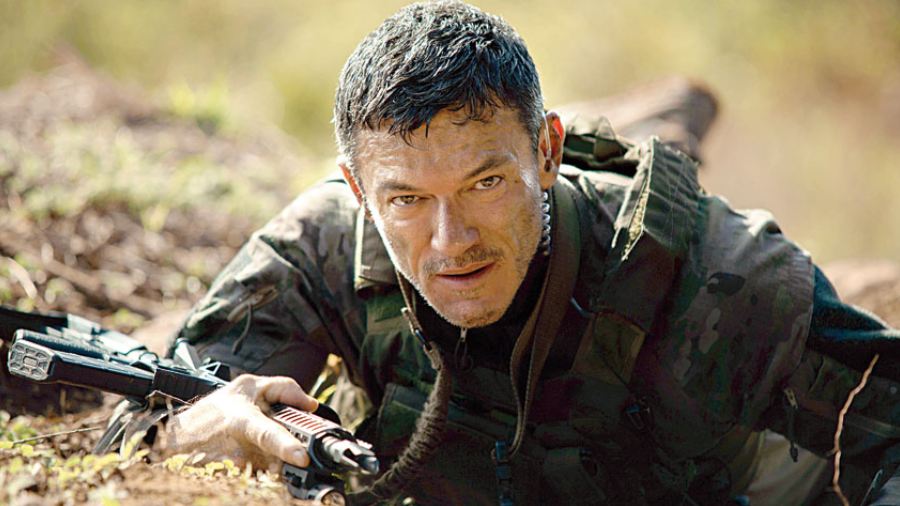 Luke Evans in Echo 3, premiering November 23 on Apple TV+.
Picture: Apple
---
Published 21.11.22, 12:48 AM
|
---
The real hero of The Hurt Locker was the script by Mark Boal. The thriller about a bomb squad in the Iraq War was followed by a SEAL team operation that killed Osama bin Laden, captured brilliantly in Zero Dark Thirty. Boal pushed himself further by writing about a deadly police assault on Black civilians during the Detroit race riots of 1967 (for the 2017 film Detroit). Boal's latest is a 10-episode series called Echo 3, which premiers on Apple TV+.
The hero of the November 23 release is the plot as much as a stellar cast involving Luke Evans, Michiel Huisman and Jessica Ann Collins. For Boal, it's a step into unknown territory as he is the series' creator and showrunner, besides being the director of the first three episodes.
In Echo 3, an American woman (Amber Chesborough is played by Jessica Ann Collins) is kidnapped from the remote jungles of the Colombia-Venezuela border where she is on a scientific mission. Coming to her rescue are two army men — her husband Prince (played by Michiel Huisman) and her brother Bambi (played by Luke Evans). Thrown into the plot are complicated cartel politics and, of course, love and familial loyalty.
Luke Evans, who has been winning accolades for taking on a variety of film roles (Fast & Furious 6, The Hobbit and Dracula Untold, to name a few) as well as being popular on stage, is at the heart of the new thriller. Besides, he is also in the news for his new album — A Song for You on which the 43-year-old has two brilliant collaborations with Nicole Kidman (on the song Say Something) and Charlotte Church (on the song Come What May). He also delivers versions of timeless hits like My Way, Bridge Over Troubled Water, Over The Rainbow and Everybody Hurts.
We connected with Evans over an audio call and he was at his candid best about Echo 3.
You have worked in a number of action films. Where does this Apple TV+ series fit in?
The joy of doing 10 one-hour episodes means you spend a long time in that character's skin and head. That's actually a joy; as an actor I really enjoyed that very much. And also, the script that Mark Boal has written is multi-layered when it comes to the characters; I got to really dig deep and enjoyed the process of discovering Bambi and finding new things about him as the episodes challenged me to push the character. I enjoyed the challenge of working on this show… basically we shot five two-hour movies to make this show. Echo 3 has been shot extensively across Colombia and other locations and each place has its set of challenges. What was the biggest of them?
Keeping energy levels up when one has to travel that much is a challenge. We worked long hours and we were moving from an altitude of 10,000 feet above sea level down to the jungle, to the ocean… the heat, the humidity, working in very difficult environments, terrible downpours of monsoon-like rain, snow… it put us through a lot of very interesting and challenging situations. But every location presented a new challenge. And we rose to the challenge every time; we wanted to use authentic Colombian culture as backdrop and this incredible country and its people give us the field and scope.
What do you want viewers to take away from watching a thriller? What do you want us to see beyond all the action?
This movie and I call it that because it has the feel of a movie and doesn't feel like a series at all; it feels like one long, sweeping experience. It's a long journey of a group of people. It is essentially about human relationships. What is one willing to do to save another person; what they discover and how they process it are important aspects. The revelations they stumble upon about themselves, about one another is what the show is about. There are no heroes in the story. The story is about survival and the struggle.
Most of your career has been spent on stage and on film sets. What's the biggest thrill you get while making a TV series, which, like you said, feels like a film?
This job took me to a country that I didn't know. When you do something for months, which is a long time, you live a different life and settle down in a different situation. We moved a lot during the whole season and we experienced the culture, the music, the people, the country… and I embrace all of that. I find my job as an actor to be very rewarding. I'm traveling and that too with a job; I try to embrace everything from each country, each location, learn things about new people and take with me a lot of great memories, which is what I did in Colombia.
Having an incredible screenwriter like Mark Boal….
I've always been a fan of Mark Boal. I love what he has written and what he has created. I also knew that this genre, this world of geopolitics and military background… he's the man to have and he's best at creating these situations. Mark can easily delve into this kind of a world. Having Mark is like having the perfect ingredient to create a world of geopolitics. He has been very collaborative. Though the script was ready but we always adapted to what was going on. So we were constantly carving out the journey of these characters as we went through each episode, which I found very refreshing. It wasn't exactly the same as it was in the beginning.
You are also a musician and music is an important aspect of Echo 3. What do you think of the soundtrack?
This TV show has great music and, at times, it comes through as strikingly unusual, and really forces the audience to look at visuals in a different way, which I think is very interesting. It's not predictable in any sense of the word and I'm very interested to see how people react to it because it's interesting to get a soundtrack which is completely unpredictable, which is what I love about the show.