'I'm learning and enjoying films' — Anirban Bhattacharya
Tollywood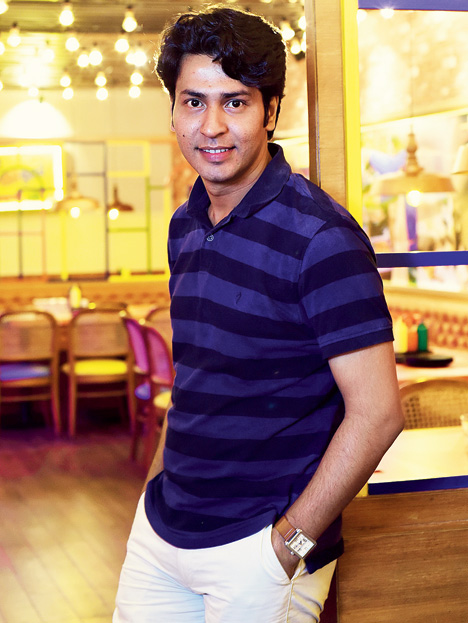 ---
---
Actor Anirban Bhattacharya doesn't believe in the conventional. He likes to flow against the tide. In this digital age, Anirban stays away from all social media platforms. He lives for today and is happy juggling his many film commitments. His kitty is full with exciting films by directors like Srijit Mukherji and Aparna Sen. t2 caught up with the intense actor for a bare-it-all chat at Spicery in Acropolis mall...
How active are you on social media?
I'm not on any social media! If I make a Twitter or Instagram account, it'll take up a lot of time to maintain that. I'll have to post something and reply to comments. I'm not criticising people who do that — maybe they've time and they can manage it. I cannot. All my time goes in managing whatever little work I have and then lazing thereafter. I have no time for social media.
But social media is a good medium for fans to connect to their favourite stars…
I've never been there, so I don't feel anything is lacking.
In the last two to three years, you've had a purple patch with films like Eagoler Chokh and Uma and awards. What has changed the most?
I used to be regular in plays before, all year round. I miss that but I'm enjoying working in films. If I want, I can manage to work in two or three plays between films in a year. But I cannot multitask. I'm learning and enjoying films so I'm trying to give my singular focus to it, so that my film acting gets better. I don't come from an acting school. I've learnt acting in plays the same way.
Which medium do you enjoy working in the most — theatre or films?
As an actor, it's definitely theatre. But it's the acting in films that'll always remain preserved. As far as the form and the process of enjoyment is concerned, theatre is still the one for me.
Tell us about your role in the Puja release Ek Je Chhilo Raja.
After Uma, this is my second film with Srijitda. I play Satya Banerjee, who's the brother-in-law of Raja Mahendra Kumar Chowdhury and the brother of Chandrabati Devi. After the wedding, when Chandrabati comes to Bikrampur, her brother comes with her and stays back. He becomes a friend of the Raja. After many years, a person comes back and claims that he's the Raja, when everyone had thought he's dead. The characters go through a 35-to-40-year journey.
What was the best part of playing this character?
The silence and the music of the character. Music works as a motivation for me. If I can identify the music, it helps me in exploring my expression, lines and characteristics of the character. There's a hidden music in Satya Banerjee's character. The silence of the character amazed me. I used to go to the shoot with that preparation in mind.
Did Jisshu Sengupta and you help each other with lines?
More than helping each other, it was about Jisshuda's presence! He's not just a senior actor but a wonderful human being. His presence used to refresh me — it was just like waking up in the morning and washing your face with water! I love Jisshuda and respect him a lot. It was a physically laborious role, that too during winter. Not many actors get such a role and Jisshuda gave his everything. It was a big inspiration.
Apart from Uma and Ek Je Chhilo Raja, you're also in Srijit's Shah Jahan Regency. How is it working with Srijit?
In my first movie with him, he offered me the role of a 50-plus man! Even in Ek Je Chhilo Raja, my character travels from 22 to 62 years. I play three completely different kind of roles in these three movies. All the roles offered by him are challenging. As a character, the potential of my role in Ek Je Chhilo Raja is more than Uma.
Who do you play in Shah Jahan Regency?
In reference to the 1968 film Chowringhee, I play Biswajit's role and my name is Arnab. The script has been adapted from the novel Chowringhee by Sankar. The names have changed.
You also played Byomkesh Bakshi in the web series Byomkesh on Hoichoi. What are the challenges you faced in order to stand out?
I forgot about the other Byomkesh films. I wasn't conscious about how people would compare me with the other actors who played Byomkesh. I wanted to play Byomkesh with abandon by keeping in mind the novels that I've read. I had read them as a child and read them again before acting in it. Byomkesh is the only character so far where I've put a lot of my own characteristics — like my wit, my arrogance, my bodmaishi. I usually don't use them in my other characters.
What does fame mean to you?
People clicking selfies with you, a car… fame is materialistic.
Have you made any big buys after your success in the last three years?
I had to do innumerable film promotions and give so many interviews for that (laughs). I bought a small apartment in Garia.
How do you view competition in the industry?
I used to lose in all the races in school. I'm very bad at competition. I've never got a rank in any of the competitions in school. I'm an insecure soul. I'm slow and I go with my own pace. Jara parey tara parey, but I can't compete.
What about your neighbours or old friends from your hometown Midnapore? Do they look at you in a different way now?
I was born and brought up in Midnapore. They are happy for me. They look at me from a distance and they feel good for me. I'm the para'r chhele who they are proud of. I come from a middle-class family and my family is happy to see what I do.
Nothing has changed?
That is my soil. I love it.
You're also playing a pivotal part in Aparna Sen's next, E Juger Ghare Baire...
Aparna Sen's Arshinagar was a big break for me even though I played a supporting character. This time, I play one of the major roles. I play Nikhilesh and the role is very tough. I have certain limitations and my main worry right now is how I'll overcome those. I'm rehearsing almost every day with Rinadi and Sohag Sen. This role is not easy to play.
Where do you see yourself in the next three years?
Acting in plays has stopped completely. I want to do a little more theatre along with films. I want to work in good web shows apart from Byomkesh. I have no regrets. I've got plenty of good roles in the last three years.
Picture: Arnab Mondal