Loved Fatto Bi aka Begum? Hear it from 88-year-old Farrukh Jafar who plays the firecracker in Gulabo Sitabo
'She was fearless in front of the camera and that's what we wanted' says director Shoojit Sircar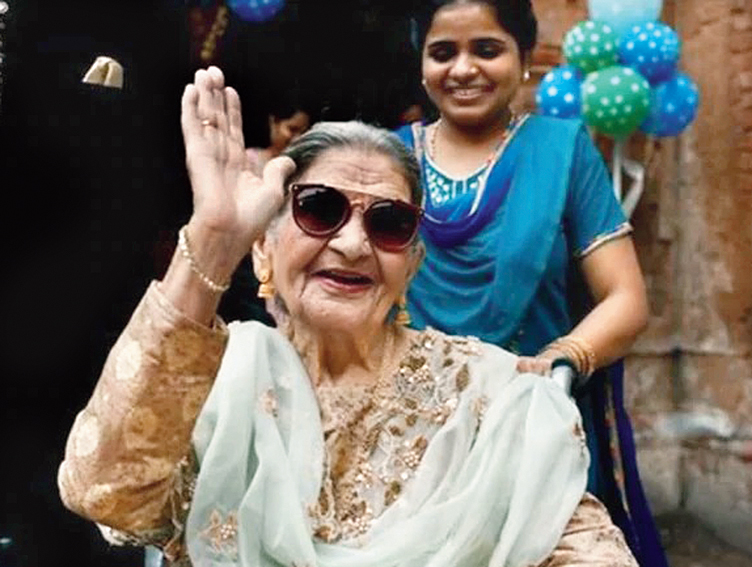 Scene stealer: Farrukh Jafar as Begum in Gulabo Sitabo, now streaming on Amazon Prime Video
Sourced by the Telegraph
---
Published 19.06.20, 08:44 PM
|
---
Gulabo Sitabo may be frontlined by Amitabh Bachchan and Ayushmann Khurrana but the near-unanimous verdict is that it's the film's women who are its real rock stars. Leading the pack of fiery and feisty women (among them being Guddo, played by Shrishti Srivastava and Fauzia, played by Poornima Sharma) is Fatto Bi aka Begum, the 95-year-old owner of Fatima Mahal, who plays Mirza's (Amitabh Bachchan) wife and is 17 years senior to him.
Her zingy, straight-faced one-liners (from nonchalantly asking Mirza, 'Agar aapke saath hamara nikaah hua tha toh hum bhaagey kiske saath thhe?' to telling him, 'Jaaiye, aap marr jaaiye') and the twist she pulls off in the end have made viewers cheer for Begum and chuckle with her.
Begum is played by 88-year-old Farrukh Jafar, a resident of Lucknow (in which the Shoojit Sircar-directed satire is set in and shot) who has previously acted in films like Peepli Live, Photograph, Swades and Secret Superstar, and who made her debut as Rekha's mother in the iconic 1981 film Umrao Jaan.
She may have been in the business for close to 40 years — with a gap of a few decades in between — but it's Gulabo Sitabo that has made Farrukh Jafar a popular face. "Sabko picture achchi lag rahi hain, aur main bhi," said a frail Jafar when we dialled her at her Lucknow residence recently, her happiness shining through even her tired voice. "Sab ne bola ki Amitabh Bachchan ko maine (meaning her character Begum) maat de di!" she laughed. Jafar is elated that she got to act opposite Bachchan in the film, her favourite actor, "Dilip Kumar ke baad", she states firmly. She counts Silsila and Kabhi Kabhie as her favourite Bachchan films. So did she get to spend time with Bachchan in between shots? "Main toh baatein karna chahti thi, lekin woh shot deke bhaag jaate thhe!" shoots Jafar.
Begum has quite a few scene-stealing moments, but it's the end where she truly shines. Did she have as much fun doing that bit as we had watching it? "Yes, that was the most fun," she says. Did she love that part the most when Mirza and Baankey (played by Ayushmann) are left staring while she motors out of the gates of Fatima Mahal? "Nahin, nahin… saalgirah pe cake kaatne mein bahut mazaa aaya," she says with childlike glee. She reiterated that her biggest reason to do the film was that she got the chance to work with Amitabh Bachchan. She also has a word of praise for Shoojit. "Achha aadmi hain," she says.
Jafar may have sprung into the limelight on the back of this film, now streaming on Amazon Prime Video, but she has a host of achievements to her credit. In her youth, she was the first female presenter on Vividh Bharati Lucknow and joined AIR Urdu in Delhi after that. She broke the glass ceiling in the '80s ("Even the men in my family wouldn't watch films. But my in-laws were very supportive about my decision to act, even though my parents weren't," she says) when director Muzaffar Ali spotted her doing some spot-on mimickry at a get-together and signed her on for Umrao Jaan. That film was a "wonderful experience" she says, but she stopped acting for a few years in between and then resumed her career about a decade ago. So will we see her on screen more? "Bilkul! Corona ke liye ab ghar pe baithi hoon lekin jaldi set pe jaana chahti hoon," signed off the spirited Jafar.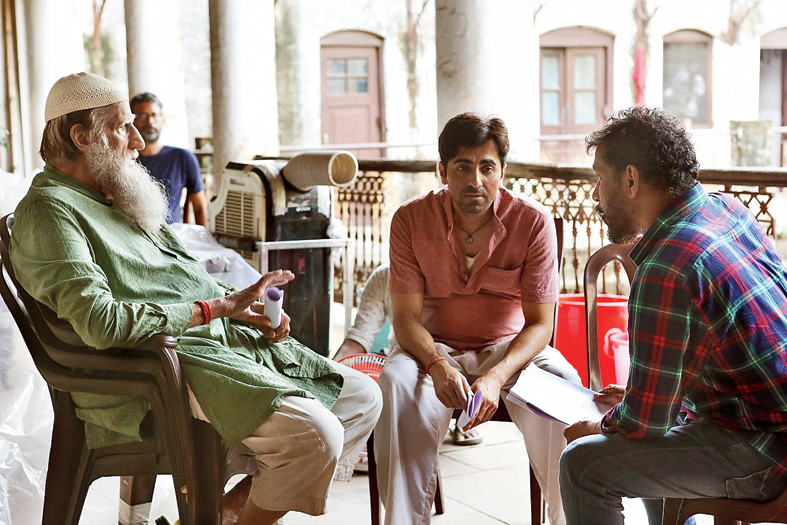 'She was fearless in front of the camera and that's what we wanted for Fatto Bi' — Gulabo Sitabo director Shoojit Sircar
What went into casting Farrukh Jafar as Begum?
It's difficult to find actors of that age. If Zohra Sehgal was alive, she would have been the obvious choice. We wanted someone who was around 90… who looked 94-95. Khujte khujte khujte khujte, Ronnie (Lahiri, the film's producer), who had seen her in a film, asked me to watch it. I immediately found out that she lives in Lucknow and I was like, 'Ore baba! Eta toh destiny'. I didn't waste a minute, I immediately took a flight to Lucknow. I met her and asked her, 'Apni daraate parben? Acting korte parben?' I gave her a couple of lines to speak and I kept asking her if she could say them. Her daughter took me to the other room and said, 'Don't keep asking her if she can do it. Shob korte raaji, shob korte parbe!' She's actually Fatto Bi in the true sense. She's ready to do anything, ready to go anywhere! (Laughs) I asked her, 'Aap kar lengi na?' Her reply was, 'Humse mat poochho, Amitabh Bachchan se poochho woh kar lenge ki nahin!' (Laughs)
Mojar manush… amaar shaathe khub jomey giyechhilo. Aami toh haath dhore dhore performance korai, so she left it all on me. Her only condition was that I should make her work all the time… she told me she would get bored if she was made to sit around. So every morning, she would do her make-up, then we would put her on a wheelchair and take her upstairs. She would be there the whole day… okhanei khawa-dawa korten aar okhanei scene kore choley jeten. She would keep telling me to call her more to the sets and make her do her scenes quickly… she didn't like sitting at home.
Did she surprise you in any scene?
So many instances. Especially that scene where she tells Mirza (Amitabh Bachchan), 'Aap jaaiye, marr jaaiye'. We were standing behind the camera and laughing away. In real life, she's forgetful and Begum is also like that to some extent. She used that in her performance. She was fearless in front of the camera and that's what we wanted for Fatto Bi.
I was apprehensive when she was cast, honestly, given her age. We exercised the ultimate caution. We always had a doctor on set. We bundled her dates in a way that we could capture all her important scenes in one go. But she was always fine… she was enthu, akdom ready to jump and come back to set. She would keep complaining, 'Aapne itne din mujhe ghar pe bithaa ke kyun rakha? Mujhe laga aap bhool jayenge mujhe!'
Considering she's based out of Lucknow, did you seek any inputs from her while shooting?
Yes, a lot. She brought in the local flavour and tonality in her language. That was an added advantage for me. She improvised some lines herself. Even the part where she had the ink stains on her fingers, she did it herself… when she holds up her hands and smiles that wicked smile at Mirza and he semi-collapses.
The film's met with great response. I know you were quite nervous before release…
I was. Ei TikTok-er jogotey, you never know what the response to a film like Gulabo Sitabo will be like. This film requires space and time. I am happy most people appreciated the pace and understood the nuances. The pace was already set in October (Shoojit's 2018 film). Every film has its own time and destiny. When I watched Pather Panchali for the first time, I fell asleep. It was only when I grew up, that I appreciated it on a rewatch. And today, it's a Bible for me.
Actually, many people expected this to be a 'Piku 2' or a 'Vicky Donor 2'. People should understand that aamaro toh boyesh hochche, I am also maturing with my films (laughs).
Were there any nuances that you didn't expect the audience to pick up but they did?
I was so apprehensive about the end. I remember I had told you that before release, off the record. But thankfully, it's the end that's been most loved. Oi je Begum chithi diye beriye jaaye and the tragedy that unfolds after that… it could have gone either way in the minds of the audience, but I am very happy that people enjoyed the end so much.