A weekly film regular misses the magic of the movies
For most of us, going to the movies is a memory marker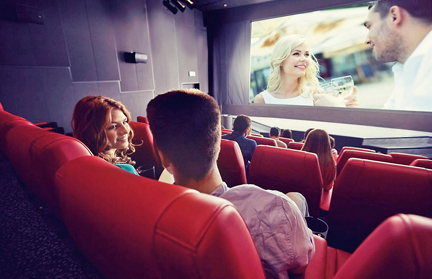 ---
---
Last week, as I watched the trailer of Extraction, a dirt-streaken but dishy Chris Hemsworth going into every scene all guns blazing, I said to myself: 'This needs to be watched on the big screen'. But I quickly, and very despairingly, realised something: there is no big screen. At least for now.
Granted that Extraction was always meant for a release on Netflix and that's where it will drop on April 24, but for me, the ideal movie experience can only be summed up in one simple word: big.
The Covid-19 pandemic has shut most movie theatres across the world (countries like Fiji and New Zealand have already declared they won't open theatres before June) and brought film shoots globally to a standstill. The release status of ready films are now in limbo and one really doesn't know when one will get to watch a film on the big screen again. For movie buffs, it may well be the end of an era. Or the beginning of a new normal.
Getting romantic about the movie-watching experience may seem insensitive and misplaced at a time when millions are dying and the future for everyone, cutting across demographic and psychographic, is fraught with uncertainty. But not having to watch a film on a Friday, almost always at 9am or sometimes earlier, is a new normal — along with a host of new normals — that I am slowly having to adjust to.
Watching a story unfold on screen and dissecting it over a 1,000 words thereafter in a review Friday after Friday is one of the joys that my job gives me. Even if it's a bad film (and more often than not, it is a bad film). But that doesn't take away from the rush of the whole experience... buying a ticket, walking into a dark audi, sitting through numerous ads (a part that, of course, none of us like) and then watching the first reels of an oven-fresh film play out.
The whole experience of watching a film — in a dark theatre as you munch on your popcorn and down some cola — cannot be substituted, no matter how big a screen at home you plug your firestick into. With the technology we have now — and one that has kept us entertained and engaged during this lockdown — a mind-boggling menu of movies can be accessed with a quick smartphone touch, but the joy of watching a film is perhaps well and truly felt when it's enjoyed in the format it's made for.
For most of us, going to the movies is a memory marker — that first date, that movie outing with friends right after the last paper of a board exam, that bonding with the family over a film followed by dinner.... There are some experiences that don't have a proxy. Going to the movies is one of them.
And what a spring-summer at the movies it was slated to be. If Bollywood had everything on the menu, from daredevil cops (Sooryavanshi) to daredevilry in cricket ('83), then Hollywood had lined up back-to-back female superhero outings, with Marvel (Black Widow) and DC (Wonder Woman 1984) fighting it out. There was also the 25th Bond film looking to release in April, but it quickly figured that this was 'no time' to hit theatres.
Even when we go back to some semblance of normalcy, there is no guarantee if and when movie watching will be on the list of many. First, there is the question of priorities in the face of economics and then the obvious health concern: how safe will it be to walk into a movie hall and breathe the same air and share elbow space with an audi-full of strangers in a post-pandemic world where social distancing has crept into everyone's vocabulary? A prominent chain of multiplexes, which also has a presence in Calcutta, has already announced plans of implementing 'social distancing' by selling only a minimum number of seats per show till people 'start feeling comfortable again'. But what's a movie experience without holding hands for a couple or digging into a shared tub of popcorn with friends? But this is a new normal we all have to probably adjust to.
For now, like everyone else, I am scrolling through the different streaming platforms for my daily movie fix. But I can't wait to go back to the movies. So much so that I even miss Akshay Kumar's gummy smile as he berates Nandu for buying a smoke instead of investing in a pack of ("ispe likhi hui hai zindagi") sanitary napkins. I even miss the almost inedible vegetable momos that have (grudgingly) become a staple of my Friday film interval diet. And — I never thought I would say this — I miss listening to the Lyra leggings jingle. Movies, come back soon!