Lisey's Story: Stephen King fans will enjoy its screen adaptation
Director Pablo Larrain brings alive the heart of the novel in the miniseries, complete with all the allusion-dripping menace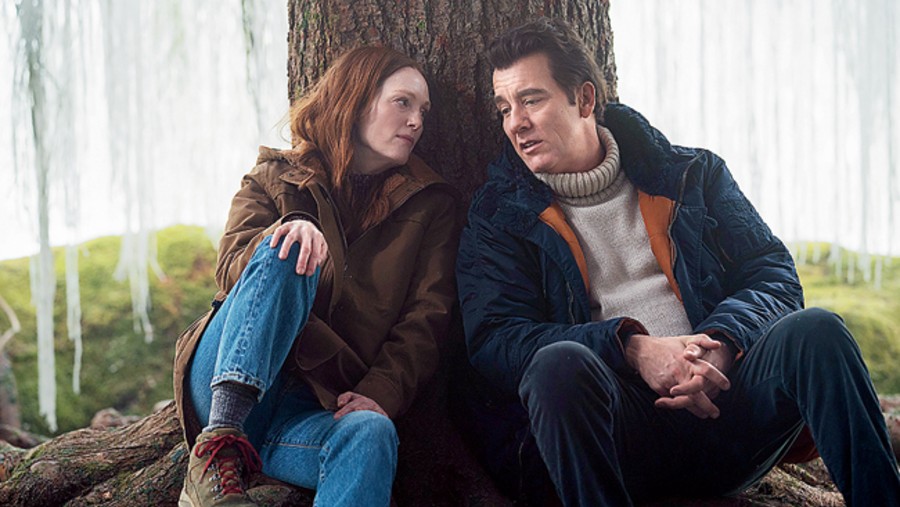 ---
---
The swimming pool. There is a person in the pool. The person in the pool may get sucked in and spat out. The necessity of going into the pool cannot be ignored. And the image of Julianne Moore's Lisey Landon floating pumps viewers up with morbid fear. In Stephen King's world nothing appears to be a stretch of the imagination, a world where creatures move like a herbarium of dried plants.
King's Lisey's Story is not the easiest of novels to come alive on screen, and that too in the form of a miniseries but Apple TV+ has gone ahead with it, delivering the plight of the widow of prize-winning author Scott Landon (played by Clive Owen). She is up against a publisher (Ron Cephas Jones as professor Roger Dashmiel) trying to wrestle out of her an unpublished manuscript, a "hired" stalker who knows the world of Landon inside out, and a mentally fragile sister, who was close to Scott and Scott's monsters. And a "blood bool" is coming, coming to get all of them. A bool can be a game as well as a punishment.
The story ripples with (unnecessary) indirect references to John Lennon's last moments as well as the world's perception of his wife Yoko Ono. A man — more like a "fan" — shoots Landon while Lisey's stalker calls the widow "Yoko", who doesn't deserve to keep her husband's unpublished works from the world.
But director Pablo Larrain brings alive the heart of King's novel in the miniseries, complete with all the allusion-dripping menace. In the background, haunting Lisey are the good times she had shared with Scott and the moment when she wrangled out of him his nightmarish childhood of being forced to see his father cut himself up, and his brother (and best friend) Paul being subjected to torture. "Paul is dead," Scott declares at one point, as if the Beatles theory is still alive.
The narrative should be familiar enough among King's fans, always sparking an uneasy feeling. The writer's vivid imagination is seen in full flow as King has adapted it himself. A crow gets microwaved by the stalker, a barn gets lit, Lisey's sister Amanda (Joan Allen), who's slipping into catatonia, becomes a connecting thread for Scott and Lisey… the details are all there. And perhaps that's where the series holds back success from coming in heaps. It's like the 500-odd-page novel being turned into a series, chapter by chapter. All the memories, all the repression, all the psychic musings, everything is retained, which become speed breakers now and then. Consider a Thomas Hardy novel finding a new life as a screenplay that's written by Hardy himself. Not all details that make a book standout can make a TV show enjoy a similar perception.
Yet, there is so much to like about the relationship shared by Lisey and Scott. Their stew of dialogues, music that's anything but boring and a rush of details in the form of constant flashbacks keep viewers moving from one episode to another. If you take away the blood bool and Amanda's overworked imagination, there is a love story at play. King and love story? It's like making the Alps come alive with the sound of creatures that lurk in darkest of corners. Yet, the moments shared by the husband and wife endure.
However you look at Lisey's Story, it's unclear where reality gives way to imagination — introspection, moving relationships and finding a way towards happiness are accompanied by hallucinatory moments, alternative realities and supernatural forces.
The book came at a time when King's life had gone through some years of turbulence — a terrible road accident in 1999 and then a month of hospitalisation for pneumonia in 2003. The language is different and the engine of the book is not about horsepower… there's sentimentality.
Unless you are watching the episodes in quick succession, the usual tension of a Stephen King novel will be in a retreat. This is not Pet Sematary or The Shining. What you get in the Apple TV+ miniseries is what you got in the 2006 novel — trying to find wildlife while visiting a farm, but at least you are assured of a good night's sleep. The TV adaptation of Lisey's Story is something longtime Stephen King fans will enjoy. It's an honest portrayal of an honest novel.