Life is too short to do anything to please someone else: Kriti Kharbanda
After receiving praise for her act in Taish last year, the actor now shifts gears to star in 14 Phere, co-starring Vikrant Massey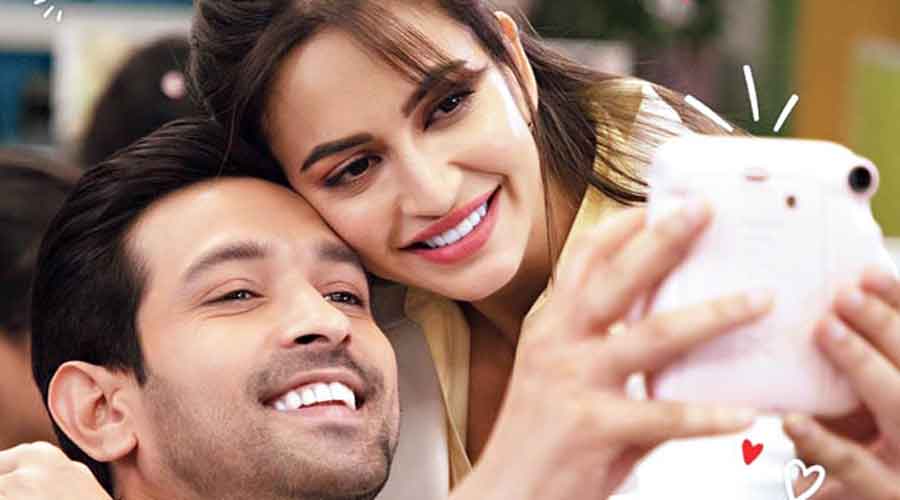 ---
Published 23.07.21, 12:06 AM
|
---
After receiving praise for her act in Taish last year, Kriti Kharbanda now shifts gears to star in 14 Phere, co-starring Vikrant Massey. Releasing today on Zee5, the film has Kriti and Vikrant playing a couple in love who have to pull out all the stops to win over their respective families in order to get married. The Telegraph caught up with Kriti to know how much things have changed for her since Taish, her new film and why she's hungrier this year!
The last time we spoke, it was just a day before Taish's release. How much has the positive talk around Taish changed things for you in terms of the offers that are now coming your way?
I did Taish not just because of the script but also because I was getting to work with (director) Bejoy Nambiar... I love his style of storytelling and the way he portrays his characters. Taish had so many characters and yet everyone had equal amount of space and there was clarity in the portrayal of each character.
When Bejoy first came to me with the part, he told me, 'I am feeling awkward because it's just a 20-minute role'. But I told him that it's not the length of the character that matters to me. That's the reason why I also did Karwaan... it was a five-minute role but people found it so beautiful.
The same was the case with Aarfa in Taish. There are so many film-makers who watched that film and now when I go for meetings with them, they tell me, 'It's great what you managed to accomplish in the last one year'. I am glad that along with talking about Taish, people have also spoken about Aarfa.
You just spoke about the kind of work you've done in the last one year. How have you evolved as an artiste and as a person in that period?
As a person, I have become far more self-reliant than I used to be. I have started appreciating the smaller things in life, and those things that give me happiness. Life is too short to do anything to please someone else. I have accepted the fact that no matter what you do, there will be someone who will not be happy about it. You can't please everyone, and that's also something I have learnt as an artiste.
You won't see too much of me on screen because I am very clear about the fact that I will only work on projects that really excite me. I have worked very hard to now be in a place where I can make that choice. There was a time when I couldn't afford it. I had just come to Bombay and I had to pay my rent — I still have to pay rent and EMIs (laughs) — and at the end of the day, even now, I still have the heart of a typical middle-class girl who is careful about how she spends her money because she knows how difficult it is to earn that money. In the last one year, I have realised that money is important, but what I give energy to is also important.
Your new film 14 Phere is looking good!
It's probably the most positive feedback I have ever received for a trailer of mine, to be honest. There hasn't been anyone who's turned around and told me, 'Nahin, yeh sirf theek hain. Yeh different ho sakta tha'. This is the first time where the reactions have been so unanimously positive. I have also experimented with my look in the film... I went a little overboard and thought, 'Thoda different karte hain'.
The biggest compliment we got is people telling us that when they saw the poster, they initially thought it was a wedding film in the Rajshri (Productions) mould. And when they saw the trailer, they were zapped because it gives a completely different vibe. It's a story about a complicated family, which is exactly how most of our Indian families are. In our country, shaadi is mostly not about two people, but about two families coming together. The thing is that the couple in question wants to make everyone happy. The point of the film is that sab khush rahein, including the dulha-dulhan. The idea of the film eventually is that love triumphs over all.
Initially, even I got the vibe of Shaadi Mein Zaroor Aana, which is a film that worked well for you...
Yeah, I get what you are saying. Devanshu (Singh, the film's director) was very clear that he wanted me to audition for Aditi because she's a very complicated character. Aditi is so headstrong and so emotionally unavailable that while she will listen and understand what you have to say, she will not make any decisions of her own emotionally. She very casually handles a situation which would probably make others cry. When I read the script and discovered that Aditi's character is very different and very complex from what I have ever played before, I was hoping that I had done well in the audition. I had only reached the interval point in the script and I thought, 'Oh my God! I really want to do this film because I want to know what happens next!'
The journey of Aditi and Sanjay (Vikrant Massey) is what makes this film different. It's not just another shaadi film. But the theme of shaadi has actually been very lucky for me... a lot of similar films have worked for me. And whenever my name starts with 'A' in a film it really works! (Laughs) Be it Anaya (Guest Iin London), be it Aarfa, be it Aarti (Shaadi Mein Zaroora Aana) and now Aditi....
Given that she's so confident and no-nonsense, how much do you resonate with Aditi?
I resonate with her in more ways than one. Like her, I am a very practical person. The only thing about her that I don't resonate with is how strong she is emotionally. I am very, very emotional. But ever since I have played Aditi, I feel I have got more clarity in life... ki kis baat pe rona chahiye aur kis baat pe nahin. Where you need to bring your practicality into place and where not. She is someone who believes in all or nothing and I am exactly like that in life. I will get involved in something — be it love, relationships, a film — only when I know I can give my 100 per cent to it.
In the relationships that you have had, how important has family approval been for you?
As much as we all want to be modern, at the end of the day, we always want our families to be happy about our relationships and to come around and accept the person we love. Unfortunately, sometimes they don't and then the couple has no choice but to do what they think best. I am someone who will listen to my family if their reasoning is practical enough, but if not, then there is nothing I can do about it.
How was it like working with Vikrant Massey who is such a powerhouse on screen?
Honestly, mujhe nahin lagta ki main kuch kum hoon! (Laughs out loud) But it was a lot of fun. He's a wonderful co-actor. I have always believed that acting is nothing but reacting. Aap ke co-star ke saath ek jugalbandi banna bahut zaroori hota hain. Vikrant and I hit it from the word go. The first time we met, I asked him, 'Lunch mein kya khaana hain main order kar deti hoon'. And his reply was, 'Tere mein ek maa ki aatma basi hain!' (Laughs) That broke the ice immediately.
As you mentioned, he's a powerhouse of an actor. He's so good at what he does. Two days into shoot, we both started feeling like Sanjay and Aditi. And now I think I miss Sanju more than I miss Vikrant. I keep telling him that!
Why isn't all that yummy MasterChef-styled cooking happening like it was last year? Your Instagram feed was drool-worthy!
(Laughs) Frankly, I have been neck-deep in work. April and May were tough months personally. I have been now promoting my film and reading a lot of scripts. Honestly, I feel this year I have become a little more hungry. So khana bann te hi main kha leti hoon, and then I realise, 'Oh shit, I haven't taken pictures! (Laughs)
Which is your favourite Kriti Kharbanda role? Tell t2@abp.in