Li'l Robin joins the army
t2 joined the Robin Hood army's #mission1million in Calcutta and here's how it all went down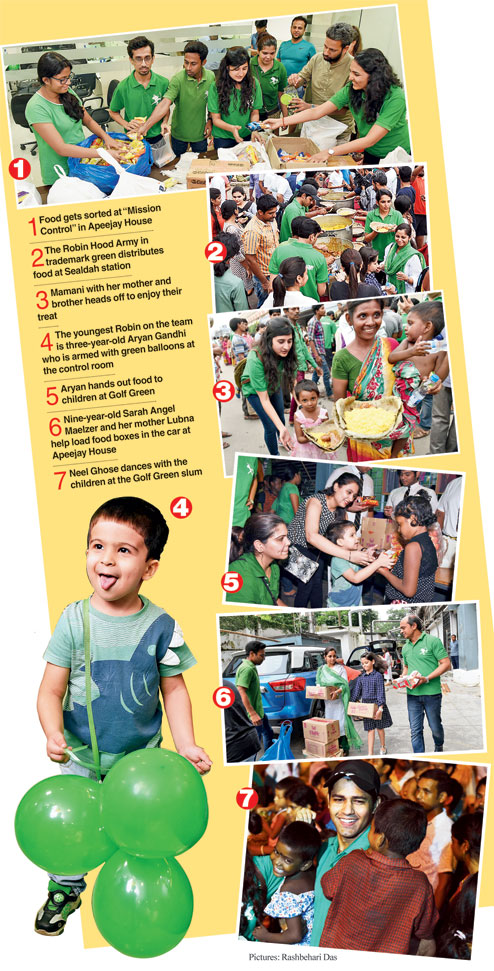 ---
Published 19.08.17, 12:00 AM
|
---
MISSION CONTROL
When I arrive around 2pm, Apeejay House on Park Street is a sea of green T-shirts. Volunteers from the Robin Hood Army (RHA) are running around, innovatively wheeling office chairs stacked with donated produce into elevators so the goods can be loaded into cars. Uber, who partnered with the RHA, has provided the vehicles that will transport the goods and volunteers to various locations around Calcutta. Two teams have already gone out before noon — one to a school for the visually impaired, another to a Jadavpur slum. There are two more locations left — Sealdah station, and then a Golf Green slum in Tollygunge.
Despite the hectic surroundings, Ashwika Kapur, who is a wildlife documentary maker as well as a RHA volunteer, finds time to chat to me about the cause and introduce me to the people who are making this incredible project possible. Ashwika also gives me a sneak peek at the 'Boiler Room', a WhatsApp group chat used to co-ordinate the different 'chapters' (groups of volunteers) across India and Pakistan. The teams share pictures of the people they are feeding, motivational messages for one another, as well as some bizarre requests — such as a call for 17 people who are good at swimming to help deliver food to people on a settlement in the middle of the Yamuna river! It certainly seems to me from my brief immersion in their world that the RHA will stop at nothing to reach their goal of eliminating world hunger.
In the mission control room at Apeejay House, the team pack bags of snacks to be distributed to slum children, all the while chatting and laughing with one another. One of the most enthusiastic helpers is Aryan Gandhi, all of three years old and here today with his parents. The trio have been trying to volunteer two Sundays a month here in Calcutta, and think it is important for Aryan to be involved with charity from a young age because so many children do not know how lucky they are. Aryan's father, Rahul, tells me that the family are planning to move to Bangalore soon where they plan to continue volunteering with the RHA chapter there. I try to figure out if Aryan understands what he's doing today and he answers me with sincere, knowing eyes, "I'm feeding poor children." This little Gandhi will undoubtedly go on to be one of the stars of the day, as he stays up way past his bedtime to help give out snacks and treats to children in the Golf Green slum.
SEALDAH STATION
So far the day has been full steam ahead, but when we arrive at our first destination, Sealdah station, we encounter a slight bump in the road. The police are reluctant to let us set up our food station even though the RHA was careful to obtain permission for their work well in advance. As the afternoon progresses, the police eventually join in, helping to manage the queues of people waiting to be served. Seeing the police go from being hesitant about getting involved to being active participants is symptomatic of the fact that what the Robins are doing is infectious — you can't see their work and not want to make a difference yourself.
As we wait to confirm whether we can proceed, I speak to RHA founder Neel Ghose, who set up the Army in Delhi in 2014, but is here today to help the Calcutta chapter in his hometown. Two other volunteers who are here today, Ashwika and Ankita, grew up with Neel and have seen the project grow from an idea in his head to a tangible reality that is helping to draw attention to the astronomical problem that is world hunger. Ashwika tells me she wanted to get involved because "the idea came from a driven and passionate person who could put the idea into practice". Despite such praise, Ghose is extremely modest; after I approach him to talk about what great work he is responsible for, he is very keen to stress that it has been a collective effort from day one.
I can confirm that it is definitely a collective effort: everyone who wants a turn serving food can have one, no matter how old they are. Sarah Angel Maelzer is nine years old and attends La Martiniere for Girls, and she stands on the frontline at Sealdah station for a large part of the afternoon, handing food out to women and children who reach out for the plates with warm smiles. She tells me that it makes her sad to see other children her age who are this hungry.
One of the children we feed here is Mamani, who is wearing a beautiful pink princess dress as she looks up at the volunteers with big wide eyes and a curious smile on her face. It is almost possible to believe that she has never seen food before. This feeling is compounded by the fact that some of these poor people are so excited to go and eat their food that they forget to take their bottle of water with them.
Sarah's mother, Lubna, is the founder of Girl Power Empowerment, a Calcutta-based organisation which was launched on International Women's Day this year and aims to uplift both privileged and underprivileged women. Although she is here today with her daughter and sister (Laboni Khatun), she tells me that her team will definitely be supporting the RHA at all future events. "This is the best way I have ever celebrated Independence Day. I love to see people smile, but the smiles that we are bringing to the faces of these underprivileged kids is priceless."
Smiles are in no shortage, that's for certain. Throughout the day I can't help but notice that whenever I meet the eye of a Robin he or she breaks out into an incredibly broad grin. Hamza Hussein is one of the cheeriest members of the RHA team. This is his second year volunteering and he first found out about the initiative through his brother. He tells me how the project is definitely spreading by word of mouth and gaining more and more traction each day. He is a little worried that we won't have enough food to feed everybody, but he needn't fear — there is more than enough to go around.
GOLF GREEN SLUM
As it starts to get dark, and the seemingly bottomless food supplies are finally depleted in Sealdah, it is time for the team to move on to the next location. We leave behind around 1,500 people who will not sleep hungry tonight because of us.
The kids at the Golf Green slum are entertained with a magic show, before they entertain us by singing the National Anthem.
After a good old sing-song and dance, the food is ready to be distributed and the children scramble into a queue, desperate to get their hands on cakes, juice and other rare treats. Ashwika tells me it's not about the nutritious value of the things the RHA is handing out, it's simply about making these kids' day that bit better. Brother and sister Nandini and Dipankar Roy are just two of the kids that are excited to get their hands on such goodies.
Tumpa Shaw has been a member of this Army for approximately eight months. She tells me that seeing happy kids like these — dancing, smiling, without a care in the world — made her want to carry on participating. "It's an outrage that so many people in Calcutta go without food three times a day."
At this final location, the RHA volunteers are also joined by a group of local students from La Martiniere for Boys. The students are part of a school club that has been appointed to help at the slum, and they are doing an excellent job of keeping the kids in an orderly line. The first-time volunteers with the RHA tell me that their favourite thing about the experience has been witnessing the happiness that these children have in spite of their situation.
Although Sealdah was an eye-opening experience for me in terms of highlighting the sheer levels of poverty and hunger here in Calcutta, my experience in this slum was also eye-opening, but in a more positive way. Many of the children I spoke to in the second location were able to speak some English. Several of the children are going to school. These kids came up to me to ask me what my name is, and how I was doing. It's heartening to see that in light of their basic living conditions, some of these children are getting an education, and trying to better their situations.
In many ways, that's what the RHA's work comes down to: by using days like today to raise awareness about the world hunger crisis, the organisation is striving to create a better future for everyone. They envision a world where food isn't wasted, where people don't go to sleep hungry, and where people look out for their neighbours. It has been an absolute privilege to be a part of that work here in Calcutta.
Bethany Kirkbride
(A student of the University of Oxford, who is interning with t2)