Lever siblings all set to stand on their own ground
Johny Lever has been a celebrated personality of bollywood industry for a coon's age, now it is time for his kids to come up with what they have prepared in the cauldron for their future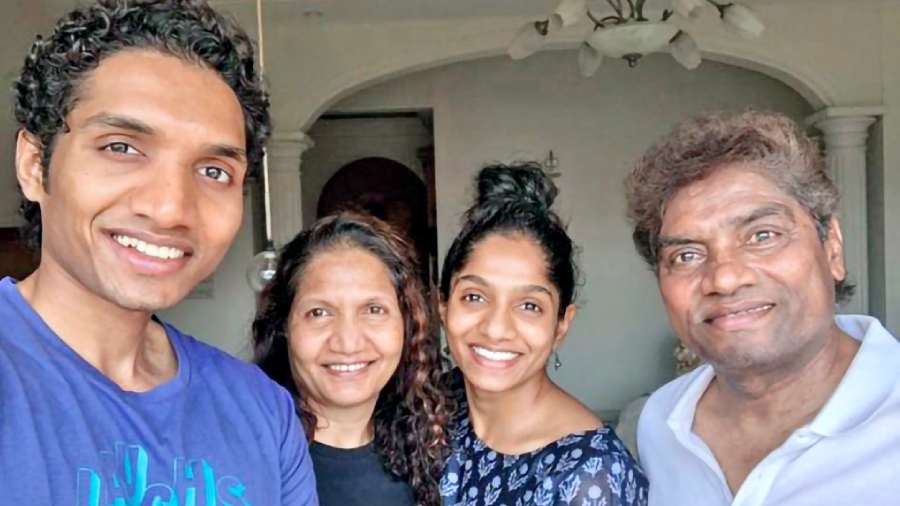 Jesse and Jamie with dad Johny Lever and mother Sujata
---
Published 20.01.23, 06:05 PM
|
---
Their dad may be the legendary Johny Lever, but Jamie and Jesse Lever are performers in their own right. The siblings now get together for the first time on screen to co-host a travel show named A Spin Around Dubai on MX Player, where they explore the country's unique and lesser-known experiences. The Telegraph chat.
What's the feedback to A SpinAround Dubai been like so far?
Jamie Lever: We have asked a lot of our friends and family who have watched the show. They were all very proud to see the two of us together on a show like this. Having a brother-sister duo hosting a travel show like this is very fresh. Because we come with this whole humour element very naturally, there is laughter and jokes, which doesn't normally happen on a travel show. We have been told it works because it's a quick, snappy watch of just three episodes. It offers a peek into the unique experiences that Dubai
offers and not really the run-of-the-mill kind of stuff.
Jesse Lever: PeopleJesse want more!
Jamie: Ya, they have asked us:'When is the next one coming?'
The chemistry that you share is organic. But is there anything you had to put an effort into considering you were doing something like this together onscreen for the first time?
Jamie: It's the first time that Jesse and I have shot together professionally. We had to be ourselves, but also, since this is for the camera, we had to bring out more of our fun side. We were also learning how to naturally be ourselves on a show like this and enjoy ourselves while being on camera. It was a great learningexperience for us ki hum saathmein kaam kar sakte hain! (Laughs)That we can tolerate each other(laughs).
Jesse: Not many people get opportunities like this to travel and see different places....
Were you guys always on the same page?
Jesse: No, not always! (Both laugh)Jamie: We had some tiffs here and there, but everything was done in a productive way. We wanted each other to do better... we were literally looking out for each other. We wanted each other to look good. We are happy with the results.
What among your experiences in Dubai blew you away?
Jesse: Before this show, we didn't know that Dubai had so many interesting activities. I didn't know about the hot air balloon activity there... safari is something that people have always done there. The hot air balloon ride gives one a chance to see the sunrise.
Also, the 53rd-floor Sky Views Observatory gave us the opportunity to hang by a rope. We were challenged to dance on the ledge walk (laughs). We thought it would be scary, but we actually managed it. It was so safe and really fun!
Jamie: Dubai is always associated with big towers and buildings, but we captured a different side of it. I loved how MX Player had created this beautiful itinerary for us where we could experience new things. Like The Museum of the Future, where the interiors are so beautiful.
We saw some fancy robots and basically experienced what the future would look like. We never thought that Dubai could have such serene views. We saw the desert from way up in the sky... the gazelles, the sunrise....There is so much beauty in Dubai.
Jesse: We showcased activities that even locals had no idea about. They were like: 'Really?! There is a hot air balloon ride here?!'
If you had a chance to visit another country for a similar series, what would you pick?
Jamie: Because we did one close by, I think they should take us to Europe or Australia. We have realised on this trip that we are pretty adventurous, we don't mind trying new things... we are game for stuff like bungee jumping. We would like to go to Australia where there is so much nature.
What is it about the chemistry that you share as siblings that makes you so entertaining in the videos that you put up on social media?
Jamie: When we were younger, we used to fight a lot. Like all other siblings, there would be a lot of hitting and hair pulling and leg-pulling, complaining to mummy and daddy... the 'he said, she said kind of thing. But after growing up, we have developed a great friendship. Being in the same field has also helped because we help each other. Either Jesse will be shooting my Reels for me or I will help him with his audition tapes. We read dialogues together.
Jesse: Growing up, we never thought we would be able to work with each other; we thought we would still be fighting! We were also very scared of our dad (JohnyLever) but now that we have made so many videos with him, all three of us have got comfortable with each other. It's God's unique way of chill. We can go out and enjoy ourselves. Mummy is the disciplinarian.
When did the two of you realise you were funny? It's not something that one can learn or train for...
Jesse: Bachpan se hi. We used to watch dad performing at live shows and we knew the punches by heart. We were allowed to watch one or two movies of his every year and he was our hero, he still is... and we both wanted to be funny like him. Even our mother has become a comedian at home now! (Laughs) My uncle (Jimmy Moses) is also a stand-up comedian. Everyone at home is almost always laughing and joking....
Jamie: Growing up, entertainment in our family involved bachhon ko dress up Karo Aur unse dance karwao... or let's put on the camera and make them do something and film us. Jesse would be asked to mimic dad. This was when we were five-six years old.
Jesse: We had natural training. We have many home videos...
Jamie: Dad says that growing up, he always knew we had that kitanuin us to perform (laughs).
Jesse: He would also get us DVDsof Rowan Atkinson as Mr. Bean. He would travel so much that he would get us Beyonce and Shakira's DVDs... Jamie is also an amazing singer. Dad ensured that we were exposed to the best artistes and learnt from them.