Laal Singh Chaddha: Maxima Basu on dressing Aamir Khan, Kareena Kapoor Khan, Naga Chaitanya
An adaptation of Forrest Gump, the Advait Chandan-directed film releases on August 11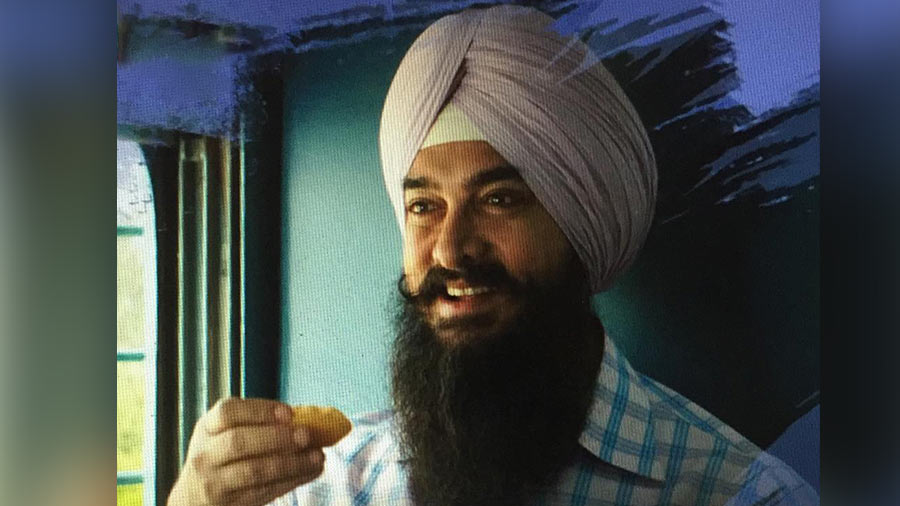 Aamir Khan in a still from Laal Singh Chaddha.
Twitter
---
Calcutta
|
Published 09.08.22, 04:55 PM
|
---
Maxima Basu, the costume designer for Aamir Khan's Laal Singh Chaddha, was tasked with the most difficult thing – to make simple look beautiful. She had earlier collaborated with Aamir on Dangal and Peepli Live (produced by Aamir). The Bengali girl from Delhi shares with us her experience of working on Laal Singh Chaddha at multiple locations along with her daughter for over three-and-a-half years, dressing not just Aamir but also Kareena Kapoor Khan, Naga Chaitanya and Mona Singh. 
Despite the reference to Forrest Gump, designing costumes for all the characters in Laal Singh Chaddha must have been challenging…
Maxima Basu: Yes! It was a fresh start. Forrest Gump was a reference for the mood of Laal Singh Chaddha. India is so colourful, and our environment is very different. Laal Singh Chaddha is an adaptation, so we never wanted to run away from it or lose the softness and the neutral tone attached to the original. Costume and production design were very important to the film. We wanted to create something very pleasant to the eye, not comical but not everyday wear as well. It was a great discovery for all of us on the crew as we moved from different countries. Every set was created as we went through a different period. It looks simple but it's not so! Aamir (Khan) wanted to give time to every phase. It was very soulful.
Aamir Khan gets emotionally invested in all his projects, so tell us how it was collaborating with him again after Dangal. What were his inputs for Laal Singh Chaddha?
Maxima Basu: It was a collaborative effort. Aamir had a lot of feedback. He was clear that we didn't want to breach the visual quality or the idea of the original screenplay. The first time we met Aamir for the film, Advait Chandan (director) was also there. It was clear that we were not going to make a film based on hardcore reality. It was always that we were making a love story about a simple man, who is deeply in love with a woman, so he needs to be likable. We needed to show that despite the challenges, he is such an achiever. We wanted to see what he could do. It's about Laal's heart and his heart is like a feather, so there is no point to show him in misery.
What was the thought behind Aamir's basic yet so endearing look?
Maxima Basu: Look for a person who is simple-minded like Laal, he would repeat his clothes, right? If he is an army man or working on his farm, he would wear what is accessible to him. We were driven by what Laal knows and what he can get but he has to look good.
Kareena Kapoor as Rupa looks so refreshing. It wouldn't have been very difficult to make her look pretty.
Maxima Basu: The easiest thing is to make Kareena pretty. It's not a task. (Laughs) So, if Laal's look was basic and repetitive, Rupa was dynamic and pretty much like Jenny (from Forrest Gump). Other situations included shooting during the pandemic, and Kareena getting pregnant. Interestingly, when she was the fittest, she had to play a 40-year-old and when she was heavily pregnant, she had to play a young girl. She is a great actor.
As you were working with her for the first time, were there any inputs from Kareena?
Maxima Basu: Kareena is a delightful actor. She is gifted with a great body and height, so we never had problems doing the fittings. She trusted Aamir and she always felt how Laal sees Rupa, his love, and his dream of being with her is important. Rupa is Laal's fairy tale.
Mona Singh, who plays Laal's mother, looks cut out for the role. How was the experience of dressing her?
Maxima Basu: Mona is my favourite. She is a rock star of an actor. She stands out in the film. She is the one to look out for. It was like Laal would do well with a mother like that. She looks like a proper Punjabi farmer woman. Mona was bang on. Many times, she said that her family members dressed up like what we gave her in the film.
This marks Akkineni Naga Chaitanya's Bollywood debut, so how was it working with the heartthrob?
Maxima Basu: It was a delight. Chai is so accommodating and gets into the skin of the character. We were trying to make him not-so-good-looking. (Laughs) He is such a sport and so easy to work with. For a handsome man to agree to play someone with false teeth and odd clothes to become Bala, he did it so smoothly. He is very giving and very disciplined.
The journey of Balaraju .. will always stay super special to me ! So so thankful to the team of #LaalSinghChaddha for taking me through it . Love you all !! https://t.co/eb7aF7q4Mu pic.twitter.com/2n3YgFCWIf

— chaitanya akkineni (@chay_akkineni) July 29, 2022
We saw an Instagram post where you mentioned that you travelled with your daughter all along while shooting Laal Singh Chaddha. Working mothers would relate to you…
Maxima Basu: (Cuts in) …Yes, I couldn't take away those three-and-a-half years from my little girl as those were her formative years. Aamir Khan Productions was one of the most accommodating places to work with. Aamir was generous to make me be able to travel with my daughter. It was very forward-thinking and forthcoming of them. This becomes a sort of an example for those who choose not to take up this responsibility and allow changing the thought that being a mother means going back in the career. I am glad that I didn't have to choose between being a mother and being a professional. 
We had started shooting when my daughter was feeding and wasn't even a year old and by the time the film finished, she was three-and-a-half years old. Taimur (Kareena's elder son) would travel (with his mother), and Kareena was pregnant on the sets, so she had set another example. There would be Azad (Aamir and Kiran's son) so many times and Advait's kids as well on the sets. The whole environment was such that the crew that had dedicated so many years to the film was provided with support to carry on with their lives during the shoot.
What's next for you?
Maxima Basu: I just came back from Europe after shooting Nitesh Tiwari's Bawaal with Varun Dhawan and Janhvi Kapoor for two-and-a-half months along with my daughter. I want to take a short break and pick up something after six months. I also did Grahan, Raat Rani (Shonali Bose's film in Modern Love Mumbai on Amazon Prime Video) and Maharaj (yet to release) with Jaideep Ahlawat and Junaid Khan (yes, Aamir Khan's elder son).