Kubbra Sait on her transgender role in Sacred Games
The actor feels transformed after playing Ganesh Gaitonde's moll in the Netflix original series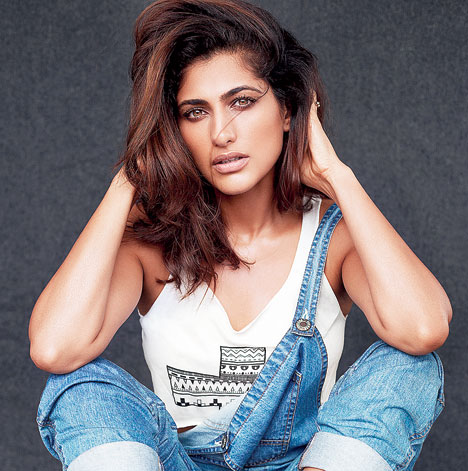 ---
Published 28.07.18, 12:00 AM
|
---
Sacred Games, Netflix India's first original series, is a bonafide hit and a large chunk of the praise has come in for Kubbra Sait, who plays Kukoo. Starting off as a gangster's moll, Kukoo is a transgender who falls in love with criminal Ganesh Gaitonde (played by Nawazuddin Siddiqui).

t2 caught up with Kubbra — an anchor who's acted in films like Ready and Sultan — on how being Kukoo has changed her life.
Kukoo has created an impact socially and also triggered debates and discussions. What do you think worked for the character?
Everybody has seen the humane side of Kukoo as well as the humane side of the third gender. The pride, the joy, the confidence that anyone, including a transgender, can have. Of course, it's fiction at the end of the day and the director (Anurag Kashyap) decided to kill off the character, but that also worked for me because Kukoo's death created a deep impact on the viewer. In Kukoo's journey, there's been so much said without being said. Thankfully, no one told me, 'But you had a small role'. Believe me, that's something I've been hearing all my life… 'That small role you did, na?' I have now come to the conclusion that there's no character that's small.
While making Sacred Games, did you think Kukoo would have this kind of an impact?
I was unaware of how big Kukoo would become. But when I was doing the revelation scene (where Kukoo reveals to her lover Ganesh Gaitonde that she's a transgender), I was just flowing with it because internally I felt every emotion of the character.

When you sometimes live a character so closely, then you kind of become aware of the impact it might just create. But I just became Kukoo… when I was dancing I was enjoying myself, when I was sad, I was genuinely sad. There were some instances when I thought this was a very impactful character, but I didn't know it's going to create such a platform of discussion, debate, conversation…. What it's done is just lovely.
Honestly, I was never confident of the job I did as Kukoo. While I was shooting, I didn't go to the monitor and see even one frame of mine. I only saw one shot while I was dancing and Anurag told me, 'Are you seeing how f****** beautiful you are looking right now? That's all that's important. Now go and kill it!'
I just left myself completely in Anurag's hands… he did his job, while I did mine. I remember him telling me, 'When everyone watches Kukoo and calls you, then you come and talk to me because you have no idea of the magic you've created'. So I think more than Kukoo ka jaadu, there's a lot of Anurag ka jaadu in there.
What was your mindset like getting into the revelation scene, which is one of the standout scenes in Sacred Games?
For me, that scene was a very personal narration of having to let go of someone you deeply love. Kukoo wants to stay with Gaitonde; he loves her too in his own way, but they can't be together because the world thinks she isn't good enough for him. The love that Kukoo has for Gaitonde is very close to the way that I love the people I love. That's made me genuinely feel for her loss. I had to step out of Kubbra's shoes and wear Kukoo's shoes, but the journey was still mine.
Saif Ali Khan (who plays Sartaj Singh), in a recent interview, has said that one scene — which he wasn't even a part of — has made him glad that he's a part of the show. Isn't that amazing?! Wow! It blew my mind!
What crossed your mind when you were told that there would be nudity?

I didn't have any apprehensions… I had complete freedom and trust in the team I was working with. I was very sure that this was a beautiful show to be a part of. I knew the nudity would be shot aesthetically. I was just apprehensive that if I did a shoddy job, then it would look cheap. I needed to believe in what I was doing. Why does porn look different from lovemaking with someone you love? That's because it's love… you don't think twice about the way you look, your body or your curves. The same thing looks atrocious when it's a porn film.
I knew that my frontal nudity is not porn. I was narrating a story and that scene was a part of Kukoo's journey in the show. Kukoo was helpless. Her love was being taken away from her. For her, it wasn't porn, it was expression; Kukoo was baring her soul… my body was just a vehicle. Kukoo's tears, her feelings can't go unnoticed. I don't know how some people can only notice the frontal nudity bit. Is that how shallow we are?
There was also some talk that a transgender should have played the role…
In the beginning, there was only praise and then someone started this whole thing of why didn't a transgender play the role?! It also coincided with worldwide criticism against Scarlett Johansson for agreeing to play a transgender (in Rub & Tug, from which she has bowed out now after the backlash). Honestly, I am an actor. When I was a kid and was asked to play a cloud, I did it. I never asked, 'Why don't you bring a real cloud?!' No one said that they were offended that Kubbra played the role… everyone praised me.
If I was a viewer and a transgender person had played it, I would have stood up and lauded that person. After it all started, I reached out to Anurag and asked, 'Did you not audition any transgender?' And he said he did and that they refused to play a transgender. That was quite shocking for me.
So many people had been auditioned for this role. I'm just glad they felt I had the honesty to play Kukoo. I just got lucky.
Has playing Kukoo changed you as a person?

I think it's made me very tolerant and very open. I can now absorb more, hear people more…. I've had people call me and tell me, 'You've given me courage'. It's fantastic… it's heart-warming to know you can be a ray of hope in somebody's life. Now I have to be more aware of what I say and what I do… the responsibility and the respect has increased. My confidence has risen. In a world that is constantly talking about equality, it's the right time for Kukoo to happen.
You are more successful as an anchor than as an actor. Will Sacred Games be the turning point for Kubbra the actor?
One hundred per cent! For the first time in my life, I am being treated as an actor, I am getting that respect. Even while doing the show, I had the freedom to have a conversation with my director, to have a viewpoint. The success of Kukoo has shown me that I am asking the right questions.

In my previous work, I was nothing but a glorified prop. I am looking at acting in a different way now. I always looked at it as equity to build the other things I was doing; now I consider it a career. I am going to take it more seriously, for sure. I plan to take time out and read, learn and absorb more about acting. Yes, this is a turning point for me, but I am going to keep diversifying because that keeps me busy, sane and happy.