Kriti Sanon on her film Mimi, Pankaj Tripathi & more
'When you let go as an actor, that's when magic happens'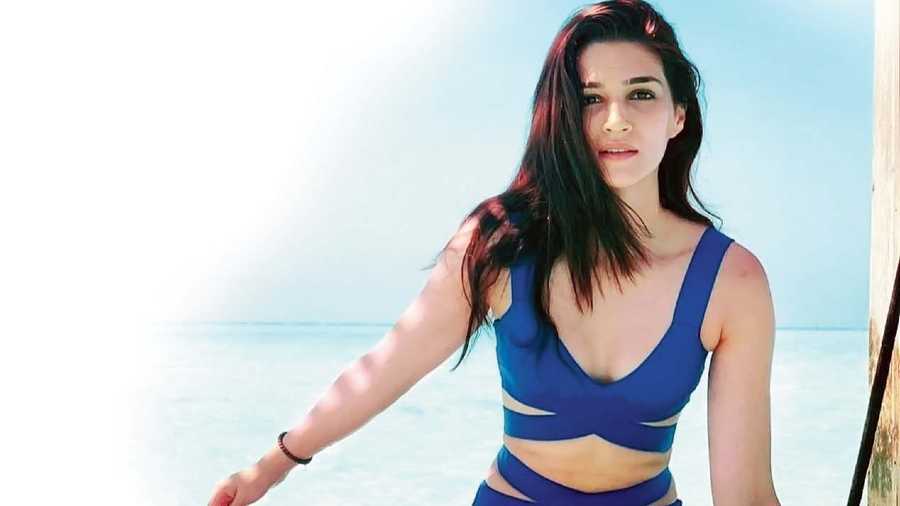 ---
Published 28.07.21, 11:39 PM
|
---
Mimi may have met with mixed reactions, but Kriti Sanon's performance in the title role has been unanimously praised. Playing a young girl in Rajasthan who has to give up on her starry dreams when the foreigner couple she turns surrogate for abandons her and the baby in her womb, Kriti's act as Mimi is both confident and strong on emotions. The Telegraph caught up for a chat with the actor on what she calls the 'most difficult role' in her career yet. Mimi is now streaming on JioCinema and Netflix.
What's the response been like so far?
People invariably expect a film on surrogacy to be serious and intense and kind of in the arty space. They definitely don't expect humour or a certain lightness of touch or for a film like this to be in the commercial space. That has been a bit of a surprise for the audience. That's why we went for the tagline: 'Nothing like what you are expecting.' The film has loads of entertainment, and still a lot of heart. 
Were these the primary factors that made you sign on?
When I heard the one-line pitch that there is this girl and a foreigner couple comes and she becomes their surrogate for money and then they leave midway with the child in her womb... that, in itself, touched my heart. Mimi came to me when I was looking for a film to dig my heels in a little deeper and go in for a part that gave me a lot more scope to perform. I have done a few challenging roles, but I was craving to perform a lot more. Somewhere in my head, I was ready to take on a really special film. Mimi happened to come to me at the right time. I knew that this was a film I had to do.
You've gone on record to say that this has been the most difficult role of your career. Physically, we can see the amount of weight you had to put on to play a pregnant woman, but what kind of prep went in emotionally?
The first half of the film is quite light and breezy, but when the couple runs away leaving her with the child, there is a drastic change in Mimi's mental state and the tone of the film. For me, it became very intense emotionally. There was a lot of emotion, intensity, many breaking down scenes.... Dealing with that 5kg belly was, of course, a whole different task....
Emotionally, I had to firstly understand the psyche of a girl who is becoming a mother when she isn't ready at all. That, in itself, felt very complicated. I don't understand how a girl feels when she just becomes a mother because I haven't gone through that emotion myself. But then again, I had to understand that she wasn't ready for it.
During pregnancy, women go through a gamut of emotions... there are huge hormonal changes, mood swings and so on. And in the case of Mimi, she finds that suddenly her life has changed and her dreams have been shattered. To understand her psyche at that point, I had long conversations with my director (Laxman Utekar), I worked on every scene....
She goes through the peak of anger, frustration, sadness, the feeling of being stuck. She wanted to be an actor, she's supposed to be the most beautiful girl in that town and then she looks at herself in the mirror and wonders what has she done to herself. She starts powdering her face out of frustration.... There are posters of film stars in Mimi's room and in that state of frustration, I asked Laxman sir if I could tear them, and he gave me a go-ahead. But after that I realised I had to tear them in one take (laughs)... I couldn't have more takes. Once they are gone, they are gone. As an actor, I was nervous because I was getting just one take for such an intense scene and I had to crack it in the middle of such heightened emotion.
Every actor has a process, or at least we think we have a process. I have always been that switch on-switch off person, you know. I used to hear things about how actors can draw from their emotional memory and from things that have happened in their personal lives. That never happened with me. I have always felt like the characters I have played and performed like them.
Before that particular scene, I had some time in my vanity (van) and I was going down an emotional memory lane and was trying to pep myself. I was very emotional and then I was told that the shot was ready. But as I was walking on to the set, the whole emotion and tension suddenly left my body. I was like, 'Shit, I am not feeling it any more.' And then I told myself, 'Stop experimenting, Kriti... just do your thing.' I started thinking like Mimi, I played some music and then started performing as Mimi. When I screamed and I tore the posters, I started crying and even when 'cut' was called, I just couldn't stop crying. And that came as a shock to me because that's just not me! But somewhere because I had psyched myself, it was subconsciously there. And I wasn't able to stop crying. Laxman sir came up to me and when he saw me in that state, he just promptly took a U-turn and walked away (laughs).
What I did there caught me by surprise because that's very different from what my usual process is. And it felt liberating as an actor because then I told myself, 'Okay Kriti, you can do something like this also.' We don't really need to limit ourselves to a certain process. When you let go as an actor, that's when magic happens.
There were many such moments. Like there's that scene where I have to beat up someone. Maine kisi ko life mein thappad bhi nahin maara hain. I was like, 'How do I do it?!' Sometimes we fake it. Like in that scene with Pankaj sir (Tripathi, who plays Bhanu), I don't really slap him... it's the camera angle that makes one feel that. But in the scene where I had to beat up another actor, the camera was handheld and it was kind of going around. So I had to hit him and then I apologised 10,000 times after! (Laughs)
Before Mimi, has any other role helped you open up as much as an artiste and a person?
One learns and grows with every role... at least, I attempt to. My only learning has been on set. I have not gone to any film school or had theatre experience. For me, this is my workshop. I have always attempted to get better at what I am doing. After Raabta — even though the film didn't do well —  the way in which I say my dialogues changed. I opened up as an actor and as a person. In Bareilly (Ki Barfi), it was a different world altogether. That, again, made me push my boundaries. In Panipat, I played a Marathi character belonging to a different time. I am a Punjabi girl and for me, the character was very different from who I am. That called for a different process. With every part, I consciously try to grow and evolve.
Coming back to Mimi, given that you have such good metabolism, how do you manage to put on that much weight? Was it a good time given you were getting to eat all that you probably couldn't otherwise?
I have always been a person who eats everything. It's not that I eat junk food every day... no one wants to eat pizza all 30 days of the month, right? I will eat pizza for one meal and then eat khichdi in the next meal. While transforming physically for this film, the difference was that I wasn't allowed to eat khichdi. The only way for me to put on weight was that I had to increase my appetite. I had to increase the amount of calories in every meal.
I was eating even when I wasn't hungry. So I was practically stuffing myself. I had fried food, cheesy food all the time... sweets after every meal. Even when I was having water, something was added to it. Sometimes I felt so pukish, I can't tell you!
Plus, I wasn't allowed to work out or even do yoga. Once I put on some weight, even getting up from a sitting position on the floor took so much effort. When I climbed stairs, my knees would start hurting. It was scary! And then I had to lug around — and sometimes run — with a belly which weighed around five-six kilos. So 15kg of me, plus the belly. I had to run in chappals with that weight.
The bigger problem was, of course, losing that weight. Because my appetite had gone up while putting on weight, I was feeling hungry all the time. I had to curb that. I had given my body so much sugar in three months, that it just kept craving sugar. I also had to get back to mobility... it was like starting from zero. It's definitely not something I would like to do again! (Laughs) Unless I get a great role like this again!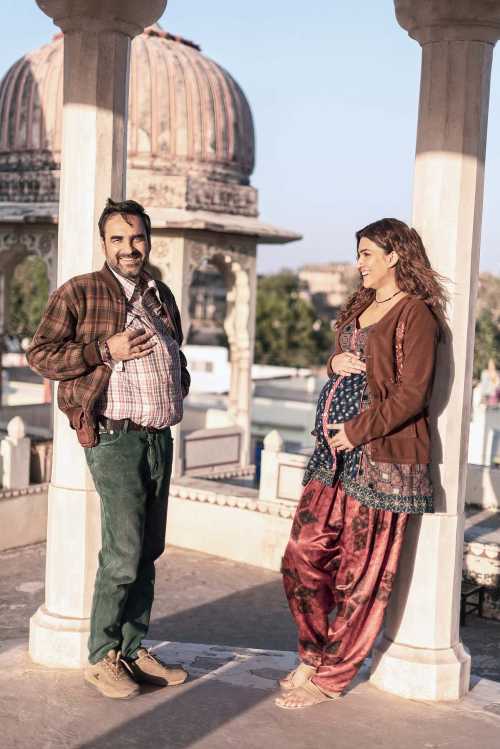 The chemistry between you and Pankaj Tripathi is very endearing. What was it like reuniting with him on screen?
He's become kind of a lucky charm for me (laughs). The chemistry we shared in Bareilly was really appreciated and it was a very liberal father-daughter relationship. In Mimi, we have an equation that you can't really put in a category. We end up labeling every relationship. But here, there is a very pure human relationship our characters share. My comfort level with him is great, and we collaborate seamlessly. When we started working on Mimi, he initially called me Bitti (her character in Bareilly Ki Barfi) and then it slowly changed.
This is a rare film with a multi-platform release, showing both on JioCinema and Netflix. What does that mean to you?
At least it's getting that because for all of us, this is a very special film. Yes, it's a female-led film, but it's also extremely commercial. It's a family film. We wanted this film to reach all parts of the country, especially the rural belt. But I don't know when theatres are going to open. Even when they open, if people will be comfortable enough to go initially. So I am very glad it's got a multi-platform release. I also feel that the audience for JioCinema and Netflix are mutually exclusive, and hence it has the potential to reach out to a large number of people in different groups.
BLURB
My only learning has been on set. I have not gone to any film school or had theatre experience. For me, this is my workshop. After Raabta, the way in which I say my dialogues changed. I opened up as an actor and as a person. In Bareilly (Ki Barfi), it was a different world altogether. That, again, made me push my boundaries. In Panipat, I played a Marathi character belonging to a different time
He's (Pankaj Tripathi) become kind of a lucky charm for me. The chemistry we shared in Bareilly was really appreciated and it was a very liberal father-daughter relationship. In Mimi, we have an equation that you can't really put in a category. We end up labeling every relationship. But here, there is a very pure human relationship our characters share. My comfort level with him is great, and we collaborate seamlessly