Koel Mallick on motherhood and her Puja film Rawkto Rawhoshyo
'Every time I see his gleeful face, it seems life is a miracle'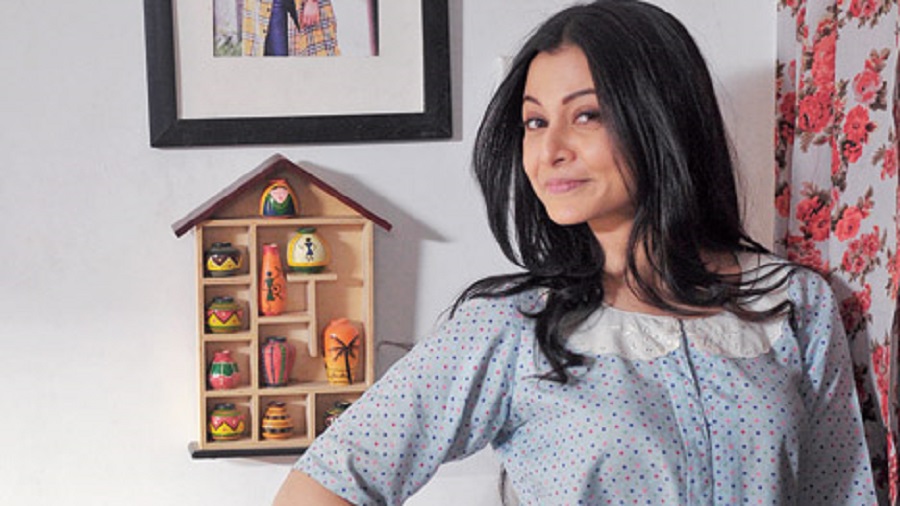 ---
Published 19.10.20, 09:06 PM
|
---
Secrets are locked away and multiple strands are at play in the emotionally charged thriller Rawkto Rawhoshyo, starring Koel Mallick. A chat with new mom Koel, who also plays a mom in the October 21 film...

How have the last few months been for you?
It's been extremely exciting. The most overwhelming factor was becoming a mother. The entire perspective of life changes overnight. It's like a paradigm shift of priorities, deciphering every sign language that my other self merrily expresses in his own divine ways... gurgling, babbling, and it goes on. Best thing is that he doesn't need any reason to giggle! And for me, life pauses there, at that very second.
 
We know that Rane (husband Nispal Singh) has started cooking.
He discovered it in the last few months... from doing some serious online shopping of spices, he showed off his culinary skills, calling himself the head chef and conveniently making me his chief assistant! He makes all kinds of cuisines and he is really good!  
 
You have also started gymming. What kind of exercises do you like to do in the gym now?
I have got back to my fitness training after more than a year. Three months after delivery, I started doing Zumba and by the fifth month I got into cardio and strength training.

Are you now sticking to a strict daily routine?
Yes, pretty much so, not that I like it so much... it is really not easy to be pushing myself every day, especially when I know that earlier I could easily do my deadlifts and dumb-bells with heavier weights that now seem impossible for me to do. But I think it is just going to get better now.

What is the best thing about watching your son grow up and what are the things that you love to do together?
Every time I see his gleeful face, it seems life is a miracle. It is fun to see him grow so fast... it is his crawling stage, so he keeps flipping, turning, trying to communicate in his own beautiful ways. Rane is a big help... he is a hands-on father, sometimes delightfully changing nappies. It is wonderful to see him play, especially when he plays with us. He in fact prefers to play with us more than playing with his soft toys!  

Was there any handy tip that you got from your mother?
Quite a few tips came in handy, from his sleep training to taking rest during the time the baby sleeps. Though it is not easy for me, I am still getting into the habit of it. I cannot take rest during the day, no matter how fatigued I am. It is the best way, so that you can attend to the child while he is awake.

What is me-time like for you now?
I can't see any me-time at this moment (smiles)! My days of sitting at the verandah, lost in my world, is over now. It is a continuous process of us-time.
 
What was it about Rawkto Rawhoshyo that made you say yes to the film?
The best part about the film is its innocence and simplicity. It is way more than a thriller. The EQ of the film is so delicate. The soft side of the story is what fascinated me the most.

How did you start preparing for your role?
It covers a span of six years in her life. I read my script as many times as possible to see the different characteristic traits of Swarnaja; she is vulnerable, way too sacrificing and chooses to see the goodness of the world. The naive, carefree, girl-next-door Swarnaja evolves into what she eventually becomes — a woman on the pursuit of unravelling a mystery, where she really becomes tough. I would feel her every time I read the script.  
 
You had to shoot various emotional scenes at different points of time. How did you manage to consistently maintain the emotional graph of the character throughout?
When you are living a character, the emotional graph comes pretty organically. We started the shoot with a post-interval scene; on the second day there was the scene where Swarnaja breaks down, which is close to the climax... my way of fitting into the emotional graph was with the costume change. As I would change my costume, I would get into the headspace of the character of that particular scene.  

What was the biggest challenge of playing Swarnaja?
I was massively, emotionally attached to Swarnaja. There were many charged-up scenes that triggered many emotions... it got painful at times.

How was (director) Soukarya Ghosal to work with?
It was a delight working with Soukarya. He is so passionate about film-making; he is incredibly focused and so very meticulous. Sometimes while explaining a scene he would also explain the background score of that scene.

The film is also about celebrating the hero within. What's your message to the people who will watch this film?
The film has a deeper message — that one doesn't need to be sly, clever, calculative to be successful; let your goodness shine and eventually you will become the winner. It's a beautiful, emotional film, more than just a thriller.  
 
When do you feel you'll return to shooting?
Sometime by next year for sure!