Koel Mallick and Parambrata Chattopadhyay on Sagardwipey Jawker Dhan, their acting methods and enjoying veiled wit!
While Koel plays Ruby Chatterjee, a doctor, Parambrata and Gaurav Chakrabarty play adventurers Bimal and Kumar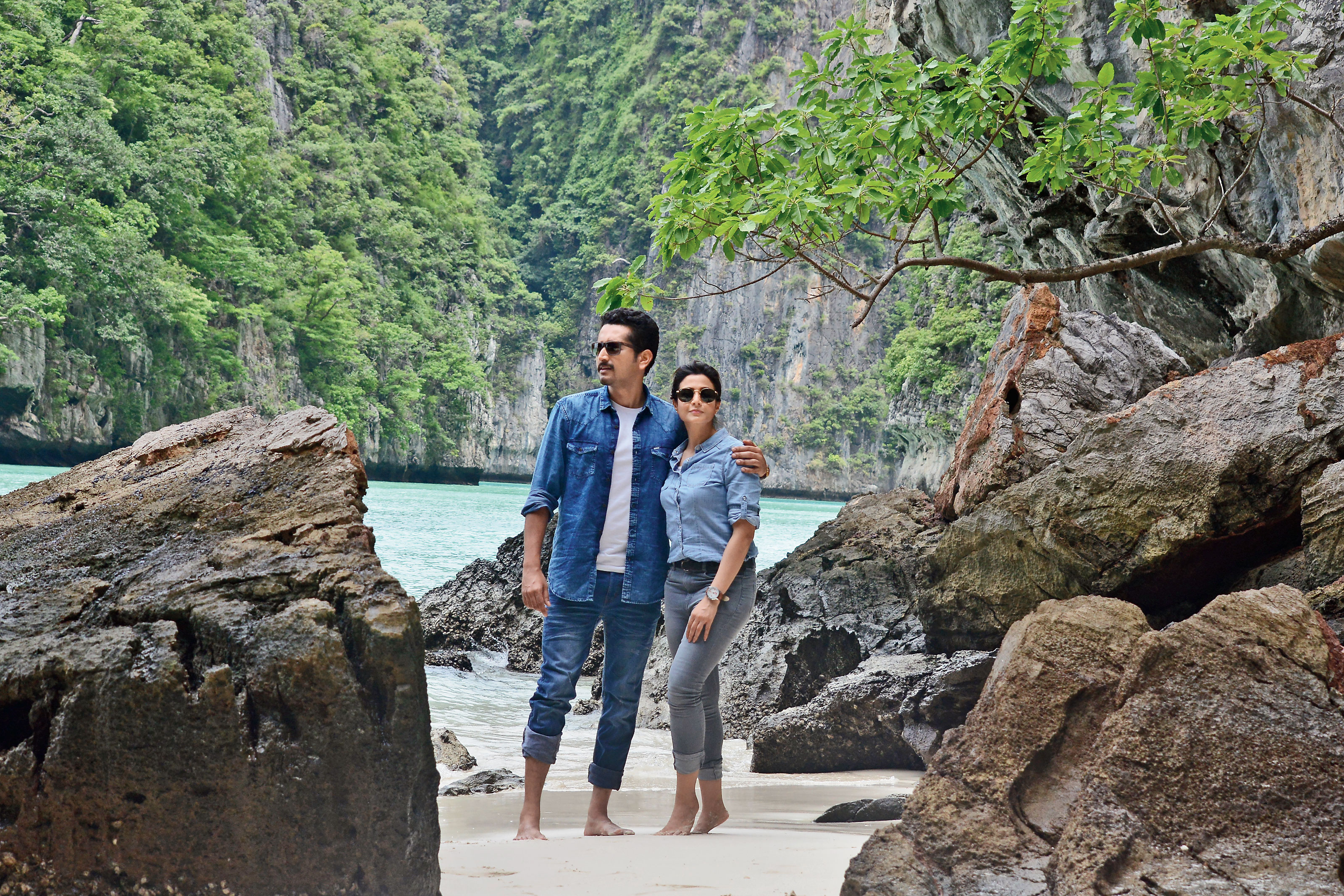 ---
|
Calcutta
|
Published 24.11.19, 07:58 PM
---
The starting point was books! While Koel Mallick's first memory of Parambrata Chattopadhyay is of the actor immersed in a book on the sets of Shubhodrishti (2005), the 2014 film Highway, starring Koel and Parambrata, opened with a scene that had Koel reading Milan Kundera's Laughable Loves. They got to know each other during the shoot of Hemlock Society, and the bond of friendship was cemented during the Highway shoot. Now, the December 6 film Sagardwipey Jawker Dhan (directed by Sayantan Ghosal) sees them going on a treasure hunt. While Koel plays Ruby Chatterjee, a doctor, Parambrata and Gaurav Chakrabarty play adventurers Bimal and Kumar. A t2 chat with Koel and Parambrata at The Park...
What's the one thing that you got to discover about each other during the shoot of Sagardwipey Jawker Dhan?
Parambrata: Koel is an extremely effortless, easygoing and seamless actor, who doesn't make too much of a scene about anything... it is more about understanding it well within and going and doing your job. I have always felt that is what she is. And that is something I felt more and more when I directed her in Bony. She is a very focused actress. That faith or that idea or that realisation got enhanced. As a co-actor I understand her. We are more friendly now than what we were at the start of the film Highway. I feel she has opened up a lot more, we talk a lot more, she engages in conversations about different things a lot more.
Koel: With the Highway outdoor shoot, we started talking more. Understanding each other has become stronger… you understand the person and his expressions… whether it is a nod or a slight sarcastic thing. He is so focused as an actor. It is absolutely wonderful working with him. He has this great clarity of thought and vision.
Parambrata: Both of us are really good at enjoying veiled wit.
Koel: We were exchanging looks on stage (at a recent event) and we exactly knew what we were talking about!
Parambrata: Koel's humour is very unsaid and I really appreciate that. Her sense of humour and her sense of propriety joriye achhey. You cannot separate the two.
In Hollywood, the romcoms and family dramas are going straight to Netflix or Amazon Prime. Do you see more Bengali adventure films and more spectacles hitting theatres in the future following the Hollywood model? Or do we have space for intimate films as well that will be shown in theatres?
Parambrata: The intimate films, like Shiboprosad Mukhopadhyay and Nandita Roy's films, are making a lot of money. Along with that we have seen the adventure genre coming up. There is a sort of a clear mandate from the audience. When it comes to dramas, it better be like Shiboprosad and Nandita's. Otherwise it's about going for family adventure films, so 2019 is going to end on a very nice note for all of us since Sagardwipey... has all the ingredients… it can make for a very nice family watch. The shoot was breathtakingly beautiful. We shot in places where people usually don't shoot... on absolutely unknown islands, in the middle of the ocean.
Koel: There is a space for all sorts of films because the audience wants to watch all kinds of films at the end of the day. Since many years the audience have been opening up to watching and engaging with experimental films and interesting concepts. Sagardwipey... is a treasure hunt film, which has not been explored that much in Bengali cinema. Sagardwipey... is a visually big film. Family dramas will be in demand since people like to relate to the key characters in such films. At the same time they also want to watch a dream-come-true kind of an affair.
Are they the new-age, sophisticated version of what used to be masala films? Are adventure films the 2.0 version of masala films?
Koel: Nationally, masala films like Simmba still have audiences flocking to theatres. In Bengal, there has been a paradigm shift… it's great that different kinds of films are being appreciated now by the mass audience. Going by that definition, they are definitely becoming the next level of commercial films.
Parambrata: I just feel that we haven't managed to give the audience enough original content in the zone of commercial blockbusters. Along with that Bangali nijer jatiyo choritro and gorbo ta ke abar notun korey dekhar cheshta korchhey through these sleuths, detective and adventure films.
Is there a sense of wish-fulfilment then?
Parambrata: Absolutely. Wish-fulfilment also on the arc of the socio-politics of the audience. As a race, they are discovering their importance.
And the family dramas?
Parambrata: They aspire to be connected to each other.
Koel: When a film engages a lot of family members, then automatically a sense of nostalgia works for them. That once upon a time they were a part of a joint family.
Parambrata: Also, a lot of these films are based on literary pieces and people in Bengal read a lot of indigenous works of literature.
How seriously do you take social media feedback? Do you factor that in when deciding on the film you would like to work in next?
Parambrata: I still believe that the percentage of people writing on Bengali cinema on social media is small. The percentage of those who go and watch the films is much greater. Only 10 per cent of those who watch the films write about it on social media.
Koel: There are many facets to it… there are many other factors connected to assessing the work that's happening around. Before social media happened, I remember speaking to people on Sundays for an hour over the phone. I would take in feedback… just to get a basic reaction. Same thing goes for social media now. I like to see their reactions and from where it is coming. It is not like I am going to take a decision based on that. But there is a part of me that wants to know what they like and not like.
Tell us more about your process of acting… how has it evolved over the years? How do you approach a scene now? Do you overthink it? Do you go with the flow?
Koel: I don't like to overthink. I don't want to take it as a task. When I get my script in hand, I make it a point to completely know my script well. It is something that comes automatically to me. That is my basic homework. I know all that there is to know about my character… for example, the background she is coming from. It is important to get the graph right of the person you are portraying. Life experiences help in understanding the character. And many things come to your mind regarding the character sketch when you read the script as many times as possible.
Parambrata: With age, maturity and experience, I have learnt that it is not always very feasible to overthink. In case of characters you really wish to sink your teeth into, you intellectualise it and then it is important to unlearn that completely and just do your own stuff. Earlier I used to overintellectualise things… because I am probably a bit of an intellectual-minded person. If you overintellectualise, then you start developing preconceived notions about the character and how that shoot is going to happen. Ultimately you are going there as an actor. You really cannot dictate all that stuff. Borojor tumi ekta poramorsho ditey paro. Think about it… but go there as a clean slate. Your slate also has to learn to absorb feedback from others. As an actor, you may not like it but then kichhu korar nei. That person is the director, you have to rely on him or her at the end of the day. I feel finally, it is just about going there and getting it done.
Do you explore different facets of your personality to bring out certain shades in a character?
Koel: It depends on the characters that I am getting. I usually don't bring my characters back home. I remember I started getting sleepless nights when prepping for a particular character. There was a huge amount of betrayal (in the storyline)… I have never played a bechara meye in films. When that level started fluctuating, it started disturbing my psyche. There is a particular point where as an actor you really need to stop yourself. Otherwise it gets too disturbing in your regular life.
If you could revisit one of your roles, would you like to play it differently or change anything about it?
Koel: All of them (smiles). The interpretation of the roles will be different. With maturity and experience, you approach them differently. You understand the layers even better.
Parambrata: In that case many steps in different areas of life could have been different!
If you could go back to the past and change certain things…
Parambrata: There is a beautiful film that deals with this idea… called About Time.
Koel, talking about adventure, what's the most adventurous scene you have done in your films?
Koel: It's a seduction scene in Highway and Param was there with me. I was not actually seducing… I was playacting the scene. And it was very funny for me. I had never done something like that before. When I was reading those lines in my living room, I thought that I would just try to say it out loud and see how it is working out. Rane was there and he started laughing (smiles)!
Koel, what was the most challenging part to shoot in Thailand for Sagardwipey Jawker Dhan?
Koel: We had to wade through water to get on to a ship. And there was all the camera equipment around, and we were racing against time. Finally, we got on to one of the extra boats that big ships carry and reached our ship.
In the film, we go inside a cave to meet a person who stays there. It's a very important sequence. It's an amazing place! After a certain point we leave the boat and start walking. It's like a dungeon. And whenever there was any movement in the water near our feet, I would start thinking of all sorts of things. But no matter how much you are scared, you cannot do anything. The camera was rolling. We had to stay calm and put up this cool demeanour. But inside, my heart was beating fast. Meanwhile, the sea was extremely turbulent. We were on speedboats and would just go up and down! It was something else.