Kishore Kumar -- the legend lives on
Kishore Kumar Junior is indeed a musical fantasy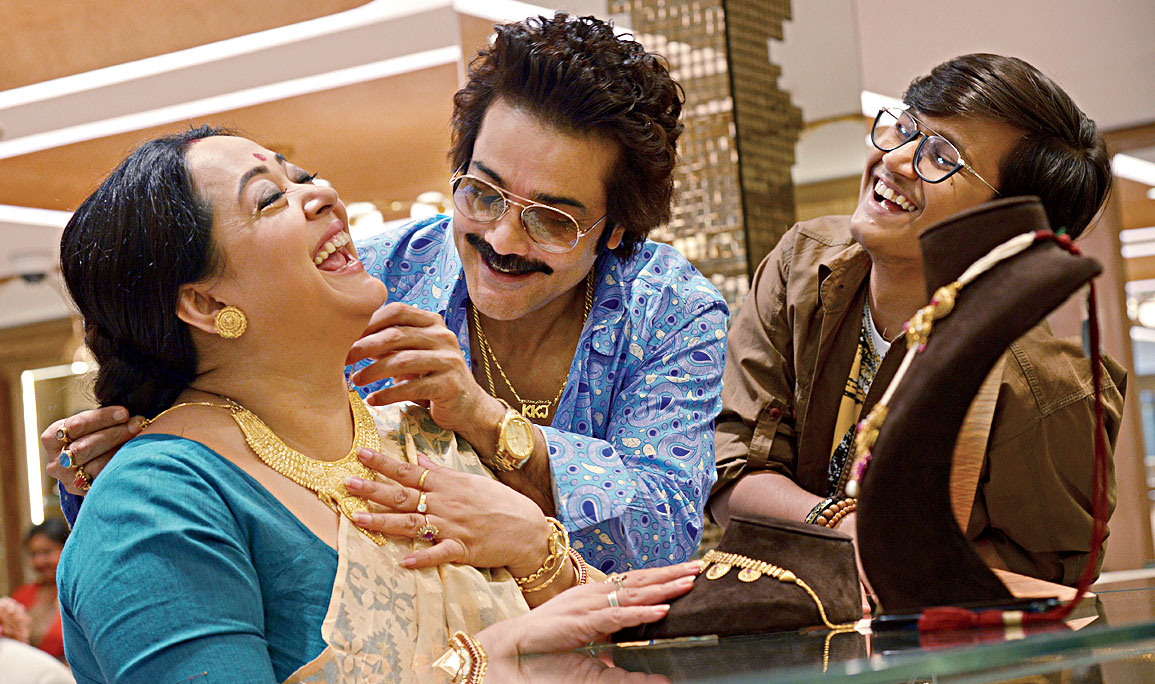 Aparajita Adhya, Prosenjit and Rwitobroto Mukherjee in Kishore Kumar Junior
Agency picture
---
Published 30.10.18, 05:11 PM
|
---
I strongly believe that a genius like Kishore Kumar is born once in a millennium. In the world of music, he was unique.
When I was young, I used to think that if I ever became a singer, I should be like Kishore Kumar. I was too young then to make any value judgement. But now I know what attracted me most was his independent spirit and spontaneity. Kishore Kumar's philosophy of life was a little different from others. His was an open mind. And thus, it became a treasure trove of emotions — answers to all questions. While some were full of laughter, others were full of tragedy. How easily he mixed the 'gharanas' of the world. A leader in all fields. An all-round performing artiste. The only one I can compare him to is Michael Jackson. Unputdownable.
As an actor, too, Kishore remained unparalleled. He was beyond all acting trends, beyond all comparison. Kishore's natural smartness must have been the envy of all. He seemed to be an unearthly persona.
I have never written on Kishore Kumar and I am not doing so now. His film and music direction are not the aim of this article. This is about a recent film called Kishore Kumar Junior.
Like me, the protagonist of the film, too, believes that a Kishore Kumar is born once in a thousand years. This statement comes out during a heated exchange of words between protagonist Kishore Kumar Junior (Prosenjit) and his teenaged son (Rwitobroto Mukherjee). The father is famous but an extremely immoderate person. He wants to give up alcohol but cannot. His drinking creates a distance between the father and the son. As a result, the young man fails to understand why a Kishore Kumar happens once in a thousand years.
Incidentally, the son also is a musician and as you might have guessed, he is mesmerised by band music. In the beginning of the film there is an effort, though in a lighter vein, to strike a combative atmosphere between the two genres of music.
In my opinion, in reality nothing of that sort exists. I have been involved in band music for a pretty long time. I have never seen any such difference. But undoubtedly the film plot may thicken with such confrontations. This is the expected formula. The director (Kaushik Ganguly) realises in time that Kishore Kumar and band music are never fighting adversaries.
Hence enters Kishore Kumar vs Md. Rafi. We see Kishore-voiced Prosenjit and Rafi-voiced Lama (interestingly Lama resembles Md. Rafi when he sings a Rafi song) sing a duet — Bane chahe dushman from the film Dostana — to resolve the issue. Additionally, the audience are made aware of the film song where Rafi did the playback for Kishore Kumar, and that is that — the end of all quarrels. (Though this film gives the example of one such song, I did not know there were many such songs, till I googled. I must thank Kaushik Ganguly for initiating the quest.)
Then, who are the main rivals in the film? Who else but the arch-enemies India and Pakistan. In the film our singer and his troupe are abducted by extremists or dacoits from Pakistan. The Indian troupe was on its way to participating in a unity concert on a desert land. The kidnappers, who didn't seem like dacoits and at times didn't seem like terrorists either, successfully brought in the problems.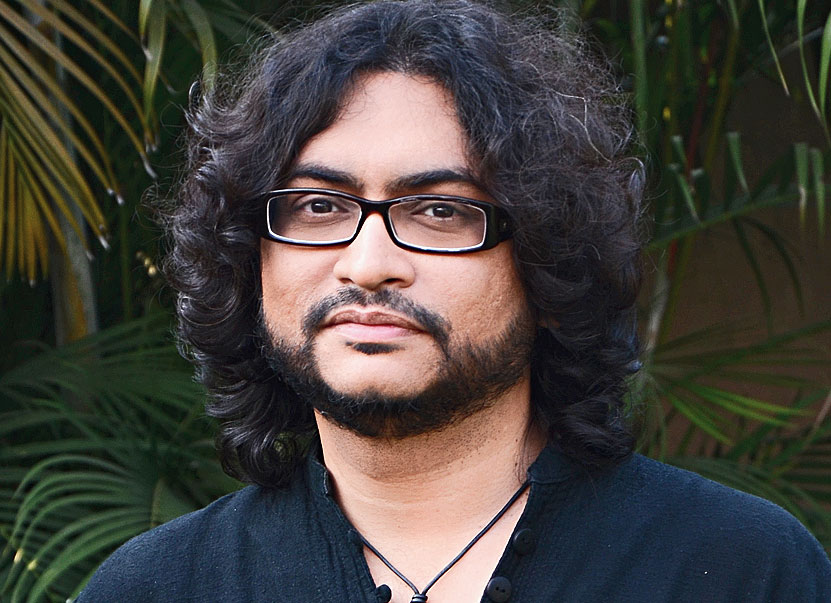 In the climax, we see the troupe trying to reach a solution across the Jaisalmer desert as they ride on camels. A wave of nostalgia hits me. Of course! In Bengali films, the hero is often seen drowning in nostalgia, looking vacantly out of the window, spectacles in hand. In this film, too, the spectacles play a major role.
I am a fan of Kishore Kumar, but my only direct connection to him is through a song called Sing nei tobu naam tar singha from the film Lukochuri. In the early days of my playback career, I sang this song for the film Shukno Lanka. Mithun Chakraborty danced in the film's sequence. In Kishore Kumar Junior, this song resurfaces. This time Prosenjit in his own unparalled style makes the song come alive. To call him extra-ordinary in Kishore Kumar Junior will also be an understatement.
Prosenjit himself is an institution. For over four decades he has acted in diverse films portraying completely different characters. I am fortunate to have done playback for a few popular songs for Bumbada's films. But I get nostalgic more with the songs from Bumbada's Kakababu films, where I sang the Kakababu theme songs for both the films.
In this particular film Prosenjit's majestic moustache resembles Kakababu's, so does the thick curly hair on his head (though the style is different). What remains are the thick-framed spectacles, which Kishore Kumar Junior wears towards the end.
Why am I bringing up Kakababu? Because like adventure thrillers, Kishore Kumar Junior too is an adventure thriller. The basic theme is very much the same. There is a kidnapping by a band of criminals and the key characters find their way out by their presence of mind. For Kakababu, his weapon is his knowledge and common sense. For Kishore Kumar Junior, it is Kishore Kumar's songs.
This film is a Puja release. For my generation, the pre-Puja days were linked to 'Kishore-konthi' Kumar Sanu's modern Bengali song albums. Surer Rajanigandha and Priyotama Mone Rekho were superhit Sanu albums. But the underlying legacy evoked through these melodies, the lyrics and the voice was undoubtedly of Kishore. Puja songs, jalsas, adventure stories — these are the main ingredients for creating an exciting concoction named Kishore Kumar Junior.
Bringing back Kumar Sanu is another masterstroke. So what if the film's story is not very realistic? Did we expect realism in the pujabarshiki stories? We wanted to be immersed in pure, unbounded fantasy! And this film is indeed a musical fantasy.
Kishore Kumar Junior begins with family quarrels but ends in strong family ties. Those who will see this film with their families will not miss the underlying message.
Music director Indraadip Dasgupta has skillfully re-crafted the classic songs. I especially liked the presentation of Ye shyam kuch ajeeb thi and Ei je hethaye kunja chhayae. In a concert sequence, Bangla rock band Prithibi's song has been used. Its words and tune merge completely with the film's theme. In one word, the contribution of everyone in the making of the film is excellent.
The other person who deserves equal accolade is Aparajita Adhya. She, too, is excellent.