Kartik Aaryan is the bright spot in a boring 'Love Aaj Kal 2020'
Predictable and done to death, the narrative translates into zero aftertaste and rumination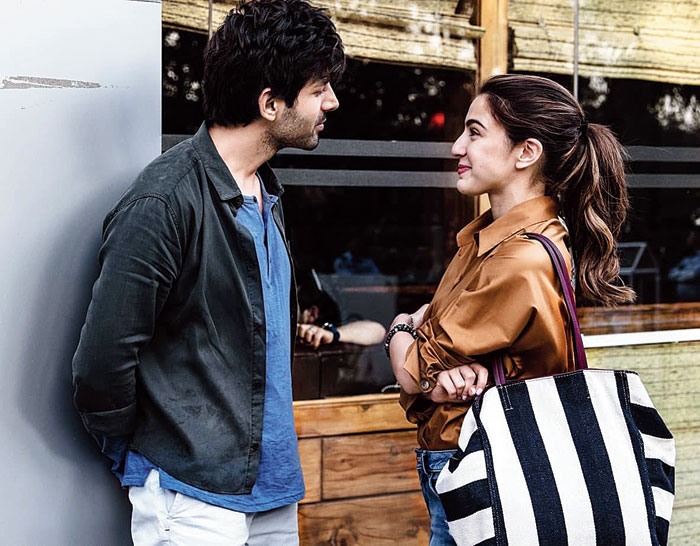 Kartik Aaryan, Sara Ali Khan in Love Aaj Kal 2020
Still from the film
---
Published 14.02.20, 01:14 PM
|
---
Just like Sara Ali Khan's Zoe Chauhan, who had 'planned' not to fall in love but only 'explore' till she finds stability in her career, I had made up my mind to not revisit Love Aaj Kal from 2009. And, I didn't. Till the end credits to Love Aaj Kal 2020 rolled to Twist. Neeraj Shridhar had me foot-tapping in no time and the impish Saif Ali Khan was smiling at me from the YouTube video on my phone screen. 'And we twist… we twist… we twist'. The catchy tune. Fresh. So much better!
Okay fine. Let's not compare. That's not sporting. Different films. Different decades. A different set of actors. But... the same old Imtiaz Ali. On the loop. Boring. Love. Longing. Unrequited Love. Eternal love. On the loop.
Munching on my ghee-and-sea salt makhana, my dimaag ki batti lit up with some more Imtiaz Ali tropes.
Predictable and done to death, which sadly translate into zero aftertaste and rumination. This after 141 minutes of your life. Why, Imtiaz Ali, why?
Anushka Sharma had once said in an interview in the run-up to the release of Ae Dil Hai Mushkil that she finds people like Ranbir Kapoor's Ayan from the film grating on her nerves. We felt a little like that obstinate lover who refuses to take the hint. We love Imtiaz Ali. We truly do. Our heart went out to Ranbir Kapoor's Jordan from Rockstar even though we didn't quite get his anguish. We loved the flawed Veronica from Cocktail, played superbly by Deepika Padukone. She held up a mirror to our inner demons. Alia Bhatt's Veera from Highway made us cringe-cry. Jab We Met's Geet is our all-time favourite. Love is lovely Imtiaz, but like too many cooks spoil the broth, too much love and longing can actually feel suffocating.
A little like what the career-oriented Zoe — whose mom says money is important — feels when faced with the complex situation of LOVE. She has no time for love. On the other hand, we have the eternal optimist Veer (Kartik Aaryan). When they meet… they obviously fall in love. But Zoe is confused. She doesn't want commitment. He doesn't want her to compromise and wants her in entirety. Ufffffff!!!
There is Randeep Hooda's Raghu too. And, his pyanpyanani! The flashback narrates how Raghu leaves home for love, for Leena, only to lose her. He let her go. Willingly. And then cries bucketful for 10 minutes every day, before going to bed. This after bedding many women. Of course he repents and, of course, he tells Zoe not to make the same mistake. 'Whatever'!
We don't really have to tell you what happens in the end. Two hours-21 minutes and a packet of makhana later, I was left wondering why I was watching this film. What was the point? And, most importantly, oh my god I have to write 500 words about this 50-word wafer-thin plot.
Kartik Aaryan comes to the rescue. Yes, really. He is the best bit about Love Aaj Kal. Endearing as a younger Raghu and huggable as Veer, Kartik's performance is earnest.
Sara has her moments, but is screechy and the exuberance is over the top. The big bright smile and the spunk is infectious but belies the 'spontaneous overflow of powerful feelings'. She looks gorgeous though.
The screen blanks out with a lover waiting to catch a glimpse of his beloved, just like old times. We, the Imtiaz Ali fans, are also waiting. There has to be twist in the tale, Imtiaz!
Did you like/not like Love Aaj Kal 2020... Tell t2@abp.in