Karan Tacker on how he became Amit Lodha in Khakee: The Bihar Chapter
The Telegraph chatted with the actor, who also came in for praise for his turn as Farookh in Neeraj Pandey's Special Ops, on the show and more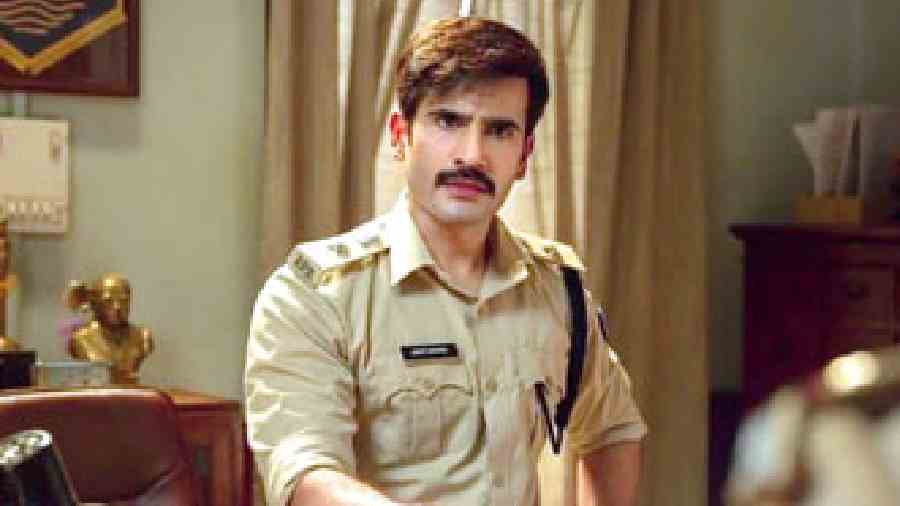 Karan Tacker in Khakee:The Bihar Chapter, streaming on Netflix
---
Published 30.11.22, 02:40 AM
|
---
Actor Karan Tacker frontlines Khakee: The Bihar Chapter. The seven-episode series, now streaming on Netflix, is created by ace producer-director Neeraj Pandey and pits Karan's upright cop Amit Lodha against a gangster named Chandan Mahto (played by Avinash Tiwary) in the Bihar heartland. Loosely based on real life and the book Bihar Diaries, penned by real-life cop Amit Lodha that Karan plays, Khakee: The Bihar Chapter has met with positive reviews. The Telegraph chatted with Karan, who also came in for praise for his turn as Farookh in Neeraj Pandey's Special Ops, on the show and more.
When we had spoken after Special Ops came out, you had told me that you were so consumed by the process of making the show that the nervousness of how big it was hit you much later. Have the emotions been the same with Khakee: The Bihar Chapter?
Two years down the line, nothing has changed... it's pretty much the same! As actors, we have so much fun shooting a project that we forget ki kabhi na kabhi kisi ko isko dekhna bhi hain! (Laughs)
Making Khakee has been quite a long process. The process of writing this show started almost two years ago and then we went through so many waves of the pandemic. We went on the floors and then had to stop shooting and coming back as and when the waves hit.... It's been so long that one tends to forget what one has done. Like when I watched the trailer for the first time, I felt like I was watching someone else's show!
Whenever any work of mine comes out, I am always an overexcited kid. Honestly, it's very embarrassing because I think I need to learn how to behave like a very calm and composed actor (smiles) and start owning my space. But it's so difficult for me because I love the job that I do and I am so passionate about film-making in general, that every time I watch myself on screen, I become an audience myself.
With Khakee, you must be on surer ground since this is the same team with which you had such a massive success like Special Ops?
A hundred per cent. Even during Special Ops, I was quite confident we had a great product because it was coming from the stable of a National Award-winning director like Neeraj Pandey... the man behind projects like A Wednesday! Special 26... and who made Akshay Kumar as we see him today.... After working with Neeraj sir, of course, I realised the true potential of the man even more.
Frankly, it's a huge validation for me to get a second opportunity to work with the same director. As an actor, it gives one the surety that you are doing something right if a film-maker of his calibre wants to work with you again. I will always be indebted to him for the first opportunity, as well as for Khakee. I hope that when people talk about strong, constant collaborations between a director-actor duo, they also mention Neeraj sir and me, perhaps sometime in the future.
What was it like inhabiting this cop in Khakee? You have not only changed your look but also your body language...
I had no brief at all! (Laughs) We all found the character along the way. I am quite surprised everyone is talking about my look in Khakee because, quite frankly, the intention was never to look different. I am happy that somewhere organically that has happened. So much so that when I look at myself in the show, I feel, 'Bada alag lag raha hoon'. Even when I was shooting, I called up my mom and said that I feel even my expressions are different.
I think the look of a character stems a lot from the writing. When you rely on the writing a lot, then your mind starts thinking differently. There is a very interesting theory called neuroplasticity, which in a nutshell, says ki jaisa aap soch te hain waisa aap bann jaate hain. So I feel that once you start thinking in a particular way, your face, body, mannerisms start mirroring that.  I am very happy that my look as Amit Lodha has resonated with viewers, and yet they have been able to identify me as Karan Tacker.
There is a reason why there is a moustache for the character. In my first meeting with the writer Umashankar and Bhav Dhulia, who is the director of the series, we were jamming on how Amit Lodha should look... whether he should have spectacles, whether he should be clean-shaven.... Umashankar then said that a moustache is a sign of someone's rutba, and if Amit Lodha had to have it, it had to be worked in creatively. When the character achieves a certain respect and status in the story, that's when he starts sporting a moustache. So that's the kind of nuanced thinking that went into every aspect of this series.
When you sport a moustache, when you do your hair differently, when you wear certain clothes on screen that you wouldn't wear in real life, then that helps immensely as an actor. That's why when we do workshops, we wear shoes of other people, quite literally, so that we get a feel of who we are playing. And when we shoot in real locations, that helps even more. Were you in a different headspace while playing him?
For sure. The journey that the real-life Amit Lodha has had and what he has written in the book (Bihar Diaries: The True Story of How Bihar's Most Dangerous Criminal Was Caught) and what the makers of this show adapted into a screenplay, puts one in a different state of mind. There are many instances in this show that kind of lead the emotional chord of my character. I am poles apart from the character and in real life, there is nothing stoic about me... I am just a very fun-loving, shorts and chappal wearing sort of guy.... But Amit Lodha is a very, very stoic, well-read and a hugely decorated cop in Bihar. Getting into the kind of mindset that he has had to make me become someone who doesn't let situations dominate him, who has to become a rock through everything. That's the job of what everyone who is in uniform actually... one never knows what kind of a storm is raging inside a man in uniform.
So I had to travel deep into myself to get that out. I had to look into other peoples' stories. I looked a lot at my father for inspiration because he has been rock-solid through every journey that he's had in life... he has had ups and downs and he never shows any emotion irrespective of what he's going through.
Amit Lodha is not a muscled guy... all his brawn is in his head. Nothing fazes him. It takes a lot to come to that point in life. So I did a bunch of things which may sound too stupid to talk about (laughs) and I tried to adapt the character in my real relationships in life, which sometimes really backfired! (Laughs)
So what are the 'stupid' things that you did?
I went into an ice-cold shower just to put my body and mind through the tough situations in the series. Marcus Aurelius (philosopher of Stoicism) has said that one should take one ice-cold bath a day because it really challenges your mind and tells it that it's the body which is actually in power and it tells the body that the mind is in power. So I did a few things like this here and there and then the material took over and helped me shape the person.
Is this the maximum that you have pushed yourself for a character so far?
Maximum is a matter of perspective, but relatively speaking, this character has been one to which I could truly give my all. I have always treated all my characters with a lot of respect, lekin is mein mujhe karne ko bahut kuch mila.
You quit television quite a few years ago. How has the work that you have done on the web space so far validated that decision?
When I left television seven-and-a-half years ago, there was only TV or films and no one in films was launching anyone like me. Films were predominantly for superstars or for actors from film families. Toh mujh jaise actor ke paas toh koi kaam hi nahin tha. So the OTT space opening up has been beneficial for people like me.
First and foremost, it's the medium that puts you into everybody's bedroom because being consumed as an actor on a large scale is important because that's what gives you reach. Plus, OTT has garnered huge respect over the years for creating high-quality content. I am glad I get to be a part of this space.