Kapil Sharma's first Netflix special, has more heart than humour
'I am not done yet' – is a special where the jokes don't really have to land as much as tug at the heartstrings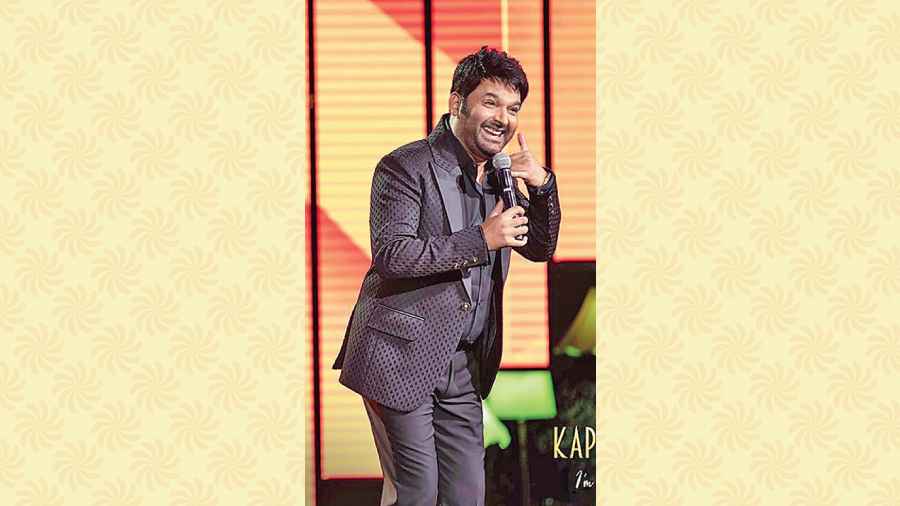 Kapil Sharma
Sourced by the correspondent
---
Published 01.02.22, 12:21 AM
|
---
Kapil Sharma's first Netflix special is impossible to bracket in a box. Unlike (most) conventional stand-up comedy acts where the jokes have to be the biggest crowd-puller irrespective of the man (or woman) at the mic delivering them, Kapil Sharma's rock star status looms large over this special. This is a special where the jokes don't really have to land as much as tug at the heartstrings. A special where the story of an underdog whose meteoric rise from humble beginnings is front and centre, with the laughs being incidental. Where honesty, emotionality and relatability are relied upon to hold one's attention for the better part of its 55-minute runtime, with puns and punchlines relegated to secondary status.
Oddly, I found myself enjoying I Am Not Done Yet. First because, as stated above, it breaks the norms of a stand-up act, and second, because even in its most rehearsed moments, Kapil's vulnerability and irreverence shine through. Commissioned by Netflix to reach out to a wider audience base — the millions who double up in laughter at Kapil's antics on his TV show weekend after weekend — I Am Not Done Yet is never rip-roaringly funny. It definitely has its ha-ha moments, but is more a journey through Kapil's life and in a way, a clean-up exercise for a past and present tarred by allegations of arrogance, public fights with colleagues and drunk tweets.
Kapil's tweets under the influence — whitewashed as 'liquid courage' in Netflix's synopsis of I Am Not Done Yet — dominate a large part of the special. After all, the man's midnight tweets to the Prime Minister of the country, no less, alleging corruption in certain quarters of the administration had kicked up a storm a few years ago. Kapil reveals both backstory and fallout of the tweets, laced with his brand of self-deprecating humour, confessing that he had no idea what media OB vans were and thought that fire engines were parked below his home the morning after he shot off the tweets to PM Modi (one of which read: "Yeh hain aapke achhe din?") A moment later, he brought the house down blaming the tweets on "gentlemen" named 'Jack Daniels' and 'Johnny Walker'".
I Am Not Done Yet is a carefully packaged performance, and it shows. Kapil's rough-around-the-edges expertise (now that's an oxymoron, if there ever was one) on stage has a long way to go before it acquires the confidence of his sketch acts. But there is a certain heartwarming quality that pervades his time on stage, especially when he focuses on his battle with depression and the pain of having lost his father early in life.
There are the funny moments too. Like the bit about Mumbai's fixation for poha, the Punjabi predilection for alcohol, the Krishi Darshan days of Doordarshan.... A latent fearlessness also marks the act in which he — tongue firmly in cheek — pokes fun at the high and mighty of the land, including alluding to 8pm national announcements, making a passing reference to 'mann ki baat' and expressing trepidation that kulcha may soon be banned in favour of dhokla. These are all but veiled references, but they do drive home the point. And do bring on their fair share of laughs.
With his undisputed access to Bollywood and beyond, one would have expected the special to throw up some popular names. But barring a mention of how Nita Ambani grumpily sat through an early act of his for her Mumbai Indians IPL team and a Shah Rukh Khan story of the star's benevolence and coolness (there's an entire Twitter thread on SRK's magical trysts with people from all over the world, and Kapil's story just adds to it), there is not much that can be found here.
Which circles back to the fact that the 'I' in I Am Not Done Yet is the focal point of the special. Kapil's rags-to-riches story touches upon various aspects of his life, with his wife Ginni even chirping in from the audience why the rich girl in her decided to marry a 'poor man' like him. It keeps going back to the influence that Kapil's late father — a cop with an interest in the arts — had on him, unpredictably ending with a song that the man dedicates to his father and sings it for him. The sentiment is laudable... the song, not so much.
Netflix will perhaps have Kapil return for a few more specials, for something tells us that the man 'is not done yet'. We look forward. Just skip the song.