Kajol: Judgment never bothered me
The cinestar returns this Friday with netflix film Tribhanga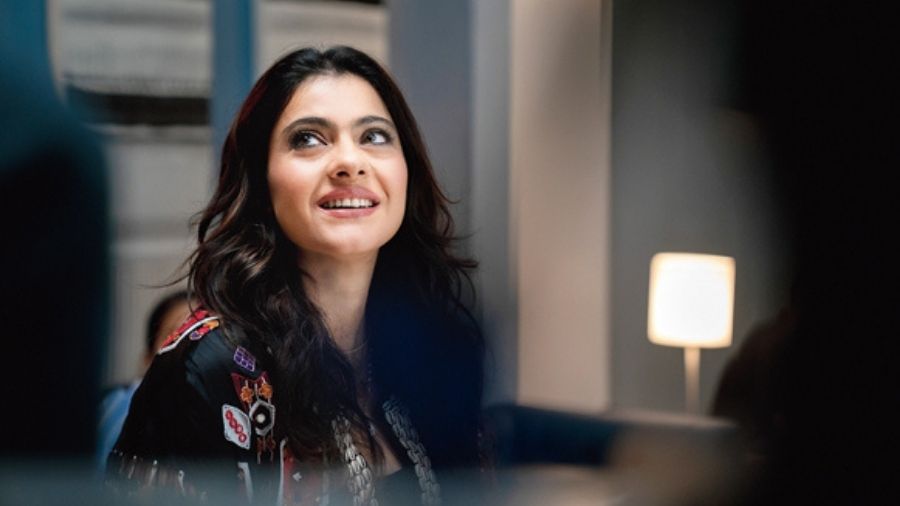 Kajol goes back to the world of books on a Zoom call.
---
Published 13.01.21, 11:29 PM
|
---
After a brief part in the blockbuster Tanhaji last year, Kajol returns this Friday with Tribhanga. Directed by actor Renuka Shahane, Tribhanga (which refers to a dance position in Odissi) is the story of a dysfunctional family peopled by women, with Kajol's headstrong Anu navigating a tenuous relationship with her mother Nayan (played by Tanvi Azmi). Mithila Palkar plays Anu's daughter Masha.
Over a Zoom call from Singapore where she's parked herself for the last few months in the company of her 17-year-old daughter Nysa, Kajol chatted with The Telegraph on the film (streaming on Netflix from January 15), why she wants to do a comedy next and about going back to the familiar world of books.
Forthright, assertive, opinionated and a woman of the world — your Anu in Tribhanga seems like a version of you!
(Laughs) Honestly, she is a lot like me... I definitely have to agree with that. But I think Anu is a lot more... she's a little over-the-top, honestly, in a nice way as you will get to see through the course of the film, and with reasons for it. I really loved the script... I loved Renuka's (Shahane) clarity about the script and I knew for a fact that we would make a good film out of it. For me, everything about a film has to feel right... it can't only be about one character. I need the whole thing... the script, the director, I need everything to be completely in place for me to sign on. This film gave me that.
Anu, Nayan (played by Tanvi Azmi) and Masha (played by Mithila Palkar) not only represent three generations of women, but also different facets of feminism. Does Anu's idea of feminism resonate with you?
All three characters, as you have rightly put it, have very strong ideas about what they want to say, who they are and what it means to be a woman... and they act upon it. That, in itself, is a huge step towards feminism. Nobody is stopping them from doing what they do, even though you have a lot of people judging them. But nothing's really stopping them. They are all completely different, and each of them believes that what they are doing is for the right reason. That's what's common between all the three characters.
Did the interpersonal relationships between the three women remind you in any way of the equation that you share with your mother and daughter?
I found the characters very similar because my mother (Tanuja) is a very individualistic person, like Nayan. She's pretty much made her own choices. There are some very strong women with individualistic personalities in my family, and I found that in this film too. But I could also see where it could just have gone wrong. In the balance of the two very opinionated and individualistic characters that Anu and Nayan are, you can see where it went wrong between them, resulting in the tenuous relationship they have.
My mom and I have a fab relationship, no two ways about that. But this film showed me that if we didn't, where it could have possibly gone wrong. And yes, I totally got Anu and Nayan's characters, their conflict, and what led to it. I also got where Anu comes from totally, in the way that she is.
Do you see this individualistic streak in your daughter Nysa?
Oh yes, definitely! She's had an opinion from the time she was three... from what she wanted to eat to who she wanted to be, she was very clear about it, and still is. I fight with her, but I am also very proud of her. She has a definite opinion about things, and it doesn't match with mine at all. And we keep wondering where she's got these opinions from... they are not mine and they are not Ajay's (Devgn, husband)… I don't know where she got them from. Not only does she has a viewpoint, she can also debate on it and argue with you about it. I am very proud of her. I am also proud of myself! (Laughs)
What women want is the core of Tribhanga. For someone like you who has always had a voice and the platform to say what you want, has it still been a struggle and does judgment bother you in any way?
Judgment has never bothered me, honestly. I think that comes from the fact that my mom has lived her life the way she wanted to and so did my grandma (Shobhana Samarth). Neither of them bothered about who is judging them, with or without social media.
Honestly, in this day and age, I think, leave alone women, it's difficult for anyone to have an opinion. They just fall upon you like rabid dogs if you have an opinion on anything! (Laughs) And if you are walking the line and trying to keep a balanced opinion, it's even worse. So I purposely try to stay out of it. For me, it doesn't make sense to invite that kind of backlash. Yes, if it's for a reason that means something to me, then I will take it. But not if I am discussing something like the weather (laughs).
Coming back to Tribhanga, what was it like being on a set which had so much female energy?
It was amazing, it was great fun! But to be honest, one of the major reasons why I do the films that I do is that I also have a great time working on them. I have to be able to enjoy myself while working on a film... otherwise, I wouldn't like to do it. I had an absolute blast working in Tribhanga because we had so many strong women working in strong places. It's one thing to have a lot of women on set, but it's very different when you have women in strong places in the working of the film.
There was so much estrogen on that set... the testosterone took a full backseat! (Laughs) All the guys on set were just a little bit shook up. You know the feeling that men have when they can't crack the jokes they want to because of the women on set? It was the other way round on this set (laughs). I had a blast! The BTS (behind-the-scenes) video of this film is crazy, you should watch it!
One thing we know is that we do want to watch much more of you on screen...
I would love to do a comedy next. I want to do something light-hearted. It's been a very, very serious year and everyone's struggled. So I would like to do something funny, but then that also depends on what script I am offered, where it's coming from, what kind of character I get to play....
Your last release Tanhaji turned one on January 10, and you shared a post saying it's been 'the longest year'. What's it been like for you?
It's been a really, really long year... I don't think any year has passed so slowly. It's also been so strange because sitting and chilling at home is different, but being forced to stay at home because of fear is something else altogether. Someone asked me about my New Year resolution and asked me where I would like to travel this year. And I was like it really doesn't matter where I travel to... the only thing I hope is that we can all travel without fear. I want to be able to live this year without this constant shadow and threat hanging over my head 24x7. I want to be able to breathe easy.
You've always been a voracious reader. Did you turn more to your books in the trying times we've had over the last year?
I have been reading and reading and reading... I have actually been re-reading my library! I am having a blast doing it because I have so many old books. After five years, you remember a book vaguely but you need to go back to it, and that's what I have been doing. Going back to my books feels so familiar... it's like meeting my old friends.
Do your kids share your passion for reading?
My daughter does. My son Yug is not as big a reader like me and Nysa. Nysa is a lot like me, we both have our Kindle and we both sit in our respective corners and read for hours. And I am also converting her into becoming a coffee addict like me! (Laughs)