Prabha Khaitan Foundation's virtual session, Sur Aur Saaz, featured ace singer Kailash Kher, who indulged in a hearty conversation with Kathak exponent Shinjini Kulkarni on World Music Day. The enthralling session was initiated by Ehsaas Woman of Ahmedabad Priyanshi Patel.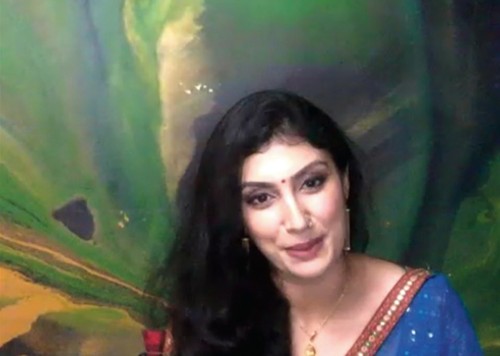 Shinjini Kulkarni Sourced by the correspondent
In the session, we came to know that the acclaimed Sufi singer never had any formal training in music yet Kailash has performed in 20 different languages, singing more than 1,500 songs. Selected by Prime Minister Narendra Modi, he is the voice behind many of the government's socio-cultural endeavours. Born in a humble Brahmin family, Kailash always wanted to pursue music. In search of a guru, he came to Mumbai. There, he was not accepted by anyone and had to settle doing odd jobs, even menial jobs. He also started listening to music stalwarts and used to record performances on a portable cassette player.
He started his own export business to European countries. But after his business suffered major losses, he came back to music, in Uttarakhand. Kailash described that event as a divine intervention, where God failed him so he could go back to music. Kailash said he uses simple language to convey his feelings. He recalled when he first performed in front of a live audience at Delhi's Pragati Maidan. It was here that he composed and sung the now-famous Teri deewani. According to him, the words and composition of Teri deewani came to him right there and he went with the flow. When he started gaining recognition, he himself did not know the genre he sang but music critics and journalists started calling his music as Sufi.
Kailash said since he never had an opportunity to learn music formally, he has a desire to train the upcoming generation. He has established the Kailash Kher Academy for Learning Arts (KKALA) in Mumbai. At his academy, he wants to highlight the humane side of training, which unfortunately he never received. He was always on the receiving end of brickbats and humiliation in his initial days. Kailash said that a rude comment can make or break someone. For him, first one has to be a good human being, the rest will follow.
Kailash has composed a song, Gratitude, recently, which has been sung by various artistes, including Shankar Mahadevan, Sonu Nigam, Shaan, Daler Mehendi, Chitra and Kailash himself. There are six internationally renowned musicians in this endeavour as well, two from South Africa, one from UK, one from Namibia and one from Nigeria. Kailash reiterates that music breaks all barriers and touches all. He also talked about his initiative to revive the dying folk music in the country and its associated musical instruments.
The singer is a big Shiv devotee and can recite shlokas on the go. He believes the creator has entrusted in him the duty to serve music and help those who want to serve music. Kailash believes in universalising music. "Music should not be concentrated in one genre, it should be free-flowing, not being bound by any restrictions." He reiterates that music speaks only one language, which is of emotions, of feelings. He added that both filmi and ilmi (the Arabic word for knowledge) music are important and rather than differentiating, they can actually complement each other.
In the question-answer session, Kailash revealed that surrendering to the supreme being is the only way of worship. Behind his Bam laheri song, Kailsh worships Mahadev, who is the creator as well as the destructor. In a question where he had to choose between film music and independent music, Kailash says there cannot be a choice between these two. Both are equally important, as through films his music got recognition, and subsequently people got to know about his independent music.
Vandana Singh of Swar gave a vote of thanks at the conclusion of the session. The session was organised by Prabha Khaitan foundation presented by Shree Cement Limited, in association with East Zonal Cultural Centre and Swar.